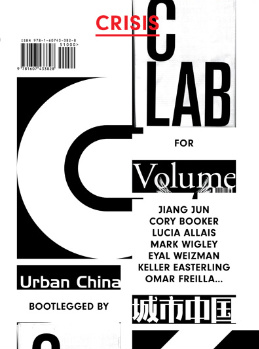 Urban China Bootlegged by C-Lab for Volume, available off and online.
What they say: As the second installment in an ongoing editorial project between Urban China and Volume, we have produced this limited edition publication on the occasion of the exhibition Informal Cities at the New Museum. Inspired by the unofficial compilations sold by fans at music concerts, we offer a bootleg issue of Urban China. The bootleg is a DIY format for assembling and disseminating work within a circle of hardcore fans, typically consisting of live work recorded, sequenced and edited by the concertgoer. Unlike a pirated copy or fake which tries to assume the identity of an authorized product and is motivated by a desire for profit, a bootleg announces itself as an improvised, illegitimate work and is largely motivated by a wish to share. Given the urgency of the topic, C-Lab has borrowed the bootleg format to quickly distribute observations, initiated in dialogue with Urban China, on the crisis and its management.
From the cover i thought i was in for some joyful read from page 1 to page 160. Bootlegged, Urban, China, these words are music to my ears. Just like Volume. I love Volume (did you get your hands on issue 18: After Zero?), if i were a tree to be cut i'd beg to be turned into a pile of Volume.
Then i caught the red letters CRISIS on top of the title, opened the magazine and realized that no one would take me by the hand and explain that the crisis is nothing but a bad dream we're going to wake up from very soon. Jeffrey Inaba crushes any doubt you might have about that by giving its introduction to the issue the title: Things Will Get Worse Before They Get Better. Very few stones are left unturned in the crisis panorama: heritage (more precisely the fate of cultural landmark in the event of war), the planning dilemmas posed by refugee camps, modernization in the deployment of borders for political ends, Obama urbanism, modernization in China, movements of (forced) mass migration, urban marathons through political geographies, the fate of Biosphere 2, etc.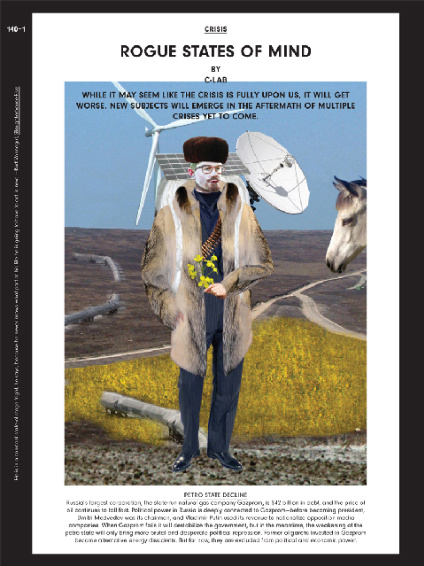 Illustration from Rogue States of Mind, By C-Lab
But that shouldn't stop you to read the magazine, even if you're the kind of person who'd rather keep their head in the sand than be informed and prepared. To quote Inaba again, Understanding crisis may help us to judge the unfolding situation and maintain a realistic measure of faith. Besides, who could shun the pleasure to read smart and informative (these two do not normally go hand in hand, alas!) essays and interviews but also because the magazine is much more invigorating than depressing. SLAB even managed to see the tongue-in-cheek side of crisis by listing a series of possible "Crisis Devices" that provide a sense of security, they range from a Pepper-Spray Ring to the Bat Phone or the Trophy Wife. The articles translated from Urban China issues can even be described as heartening. Sandwiched between the ones related more closely to the U.S. situation (maybe they are supposed to embrace a global picture but i found them very U.S.-centered), they are rather short and describe local but ready to be adopted elsewhere experiences such as Shigeru Ban's paper-tube houses, Etopia's knowledge of post-disaster reconstruction.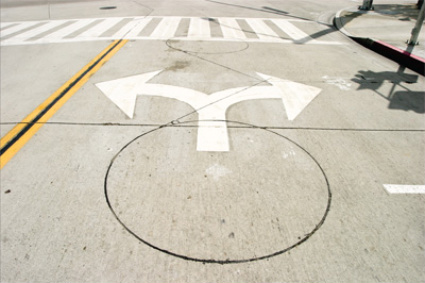 Then there's the design of the magazine. The layout reflect the bootleg spirit of the publication with photos that seem to start on the bottom on one page and end on the top of the next one.
And if you don't trust me (why would you?), check out a few articles available online: Space In Crisis – Mark Wigley | Design for the Apocalypse -John McMorrough | International Style Heritage – Lucia Allais Unfriendly Skies – C-Lab | Rogue States of Mind – C-Lab l Systems Gone Wild: Infrastructure After Modernity – Kazys Varnelis.
Related: Book review – Verb Crisis.