COOKING WITH THE ELEMENTS: intuitive immersive interfaces for augmented reality environments, a research project by Leonardo Amerigo Bonanni of the MIT Media Lab, looks at what happens if you represent the behaviour of the appliances in the kitchen in a visually meaningful way using augmented reality.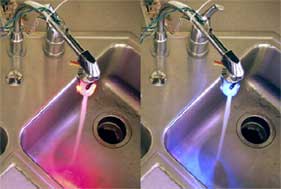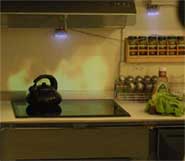 Limited elbow room and too much information can make following virtual cooking instructions projected into real space impractical and people are better with a paper recipe card. But combining ambience and augmented reality could produce useful peripheral information to kitchen users.
Among his proposals:
– in the "Heat Sink", a light turns blue the moment that the cold tap runs cold but red when the water is hot. This simple proposal Iwas found to cut the amount of time that the tap was left running.
– a cooker that shows flames when hot,
– a fridge that displays falling snow when open (during the tests, 44% of users reported feeling cold and/or rushed to close the freezer door.)
The visuals produced similar levels of comprehension and some environmental benefits – less waste, and less chance of scalds and burns.
"A projected fire costs more than a small red light, but it's better. It's a chance to spice up these mundance appliances a little. It brings back some of the sensory pleasure of cooking without the fire, smoke and other disadvantages," Bonanni said, "but it also changes what people do."
The researcher is now running a test with 20 people in their homes to see if the beneficial effects wear off as the novelty does.

PDF.
Via Usernomics.
UPDATE: if you speak italian, don't miss the interview of Leonardo Amerigo Bonanni in Gadgetblog.