Media Invaders , by Barcelona-based Cuatic, is an ironic version of Space Invaders. Players move a big luminous arrow to defend themselves against the attacks of the media. The aim is to earn as many euros as possible.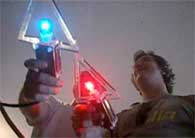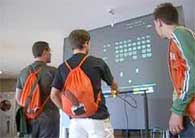 The press will get you 10 euros, the radio 20 and TV 40. Once they have reached a sufficient amount of euros, players can use the "budget" for a banner gif 10×10 px, maximum 1k (2 colours); an online campaign, complete with sites, banners, virals, a guaranteed award at an advert competition, etc.
Each time, they loose a life, players get a small –and Painstation-like– electroshock in the hand.
Via Processing Blog.