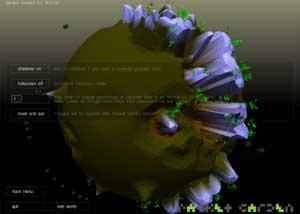 Packet Garden, developed by Julian Oliver, captures information about how you use the internet and uses it to grow a private world you can later explore.
The (free) software keeps track of all the servers you visit, their geographical location and the kinds of data you access. Uploads make hills and downloads valleys, their location determined by numbers taken from internet address itself. The size of each hill or valley is based on how much data is sent or received. Plants are also grown for each protocol detected by the software; if you visit a website, an 'HTTP plant' is grown. If you share some files via eMule, a 'Peer to Peer plant' is grown, and so on.
None of this information is made public or shared in any way, it's your own private landscape.
Somewhat related, Visualization of statistics in computergames, by Michael Zoellner and Daniel Kupczyk, tracks and projects the behaviour of German internet users in a 3D world. Topics as different as politics, sex, sports, environment or economy are translated into the appearance, behaviour, and the sounds of an avatar. As the stream of data creates and changes, so does the population of this world, unvealing a mirror image of the net society.
The game consists of three scenarios with different levels of interactivity and abstraction. The first level shows a landscape of islands, each island representing a subject area, coded by colours and textures connected to the topic. the avatars feel attracted by the topic islands to which they belong and stay close to them.
The second level gives the player more possibilities for interaction and to influence what is happening in the game.
The third level represents a realistic environment, a scene in the street with a supermarket, cars and lawns. This representation projects the statistics in a real world. in a later further development the game could be experienced in an augmented reality environment, meaning that the avatar would be projected in a real scenery.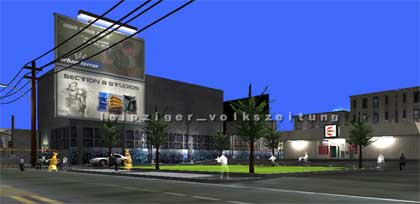 Search words which date back further in the past are represented by ghost-avatars. One can recognize very fast how different weekdays and daytimes influence the search words and hereby the significance of the categories. On a Sunday morning you will find another population as during the nightly hours of a working day.
Via a comment by Bjoern, information aesthetics and selectpark + La petite Claudine.