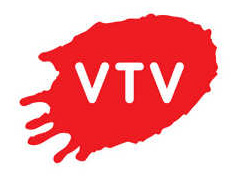 On February 6 to 9, VernissageTV will celebrate the publication of its 1000th video by inviting its fans to a party and a video marathon. The screening will take place online and at its new studio in Basel.
I doubt there are many people in the room who have never heard of VernissageTV. The online channel covers in a very professional and surprisingly fast and elegant way the opening receptions (vernissages) of exhibitions and events and i'm grateful to them for that. I profess an intense dislike for vernissages where people seemed to be more passionate about tepid wine and showing off their mere presence than about the artworks on show…. but that doesn't mean i'm not curious about vernissages. VTV also covers performances, artists talks, interviews artists, architects and designers.
Although he was super busy working on their VTV turns 1000 event, Heinrich Schmidt managed to find some time to answer my questions:
Vernissage TV is covering the cultural scene almost all over the world. Who forms the core of Vernissage TV? How much of the work do you cover yourself? Do you have collaborators all over the world? How does one collaborate with you?
Karolina, Geoff and I form the core of VernissageTV. Karolina is mainly in charge of the financial side of the project and communications, Geoff takes care of the website programming and I'm doing the filming, editing, etc. The three of us cover the most part of the work, but we also have collaborators in Berlin, Munich, and Paris. If someone is interested in collaborating, we send her or him information about the project and check whether we fit together. Then we make a test run with an opening we agree upon to cover and if that was successful, the collaborators work more independently.
Do you 'curate' the videos? For example would you consider bypassing a major exhibition of a world-renowed artist just because you do not like his or her work? Or do you give more space to young talents in the hope that the visibility you give them will boast their career?
What we select is based on intuition. We always say that chance is our best friend. Sometimes we are attracted by a big name, sometimes by an interesting exhibition concept, and sometimes we just run into an opening. If we cover a world-renowned artist, that doesn't mean that we like his or her work – and vice versa.
And a somewhat related question: One of Vernissage TV's main section is No Comment. Aren't you tempted to be polemical, critical, take a stand? Isn't it irresistible sometimes?
Oh yes! Sometimes it's really hard to resist taking a stand. We are not seldom polemic (or enthusiastic) when we drive home after a show. But one of the core concepts of VernissageTV is to stand back and let the audience build their own opinion. That's why people love VernissageTV and we won't deceive them.
What do you think is your place in the contemporary art press? Have you ever found that you get less attention and regard from PR offices because you are 'only' an online media? Do you see an evolution in the credit and respect given to online media?
Apart from two funny experiences we are happy with the regard we get from PR offices. Two years ago we wanted to cover an exhibition at the Cooper-Hewitt which was declined because they said that they had an exclusive deal with another internet tv station. And last year we weren't allowed to cover the Murakami show in Frankfurt, because they only wanted national media. But I love such experiences, because they tell a lot about the art industry. Rewarding material for my novel I intend to write when I'm 95 years old. But you are right, we get more attention now than when we started, but I assume this is partly due to the fact that more people know us now. I also saw that some museums actively encourage bloggers to cover their shows, so I think there is an evolution.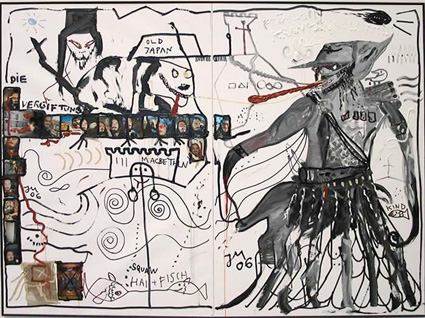 Jonathan Meese, Mama Johnny. Deichtorhallen Hamburg 2006 (via)
Can you name us 5 videos which, for some reason, have played an important part in the history of Vernissage TV? Could you tell us why?
The most important one is definitively the very first one, when we filmed the Zaha Hadid exhibition at the Swiss Architecture Museum in Basel. The experience was such a good one that we thought it would be a great idea to do this more often. Without this video, VernissageTV would never have happened. The second one, Christoph Büchel's show at the Kunsthalle Basel added to this because it was such fun to film this labyrinth he installed there – one had to climb a ladder, creep through holes. With this video, we got addicted. Equally important, because it was the next step, was the coverage of the art fair FIAC in Paris because it was the first location outside Basel. Jonathan Meese's exhibition at Deichtorhallen in Hamburg was one of the largest shows we covered until then. We filmed the exhibition as well as the play Kokain for which Meese did the stage design, and the after show party. That was great fun and everything went so well that it gave us a lot more confidence in our work. Video number 5 is our video number 1000. I'm not a fan of numbers, but when I look back, I can't help to be a little bit proud of it. I only wish I had a little more time to re-watch the videos. That's why we decided to do this non-stop online-screening to celebrate our 1000th video – increases the chance that I'm able to have a look at the videos again…
What is the typical process of a Vernissage TV video? Where do you start, how much preparation and editing is necessary, etc.
After we have decided to cover a show we think about the equipment we use: small or big camera, tripod or not, external mic or not – it depends on whether we shoot a video for our Interview or our No Comment series, on how much equipment we are able or willing to carry. When we stay at a location for several days, like in New York or Berlin, the planning of the schedule begins weeks ahead and is very time consuming – and sometimes the whole schedule gets messed up because we decide on site to cover other or additional events. As for the editing: This can take an hour or several days. When we film, we try to edit in our heads already. For openings, this sometimes works surprisingly well and then we don't have too much work with the editing. For larger exhibitions or performances, like Doug Aitken's Sonic Happening at 303 Gallery it's far more complicated because you have to bring across the atmosphere of an hour of performance to 8 minutes: where do you set the transitions of music and image. This is especially challenging if you have only one camera and not an additional B-roll. But if the result is good, then these are the most rewarding videos.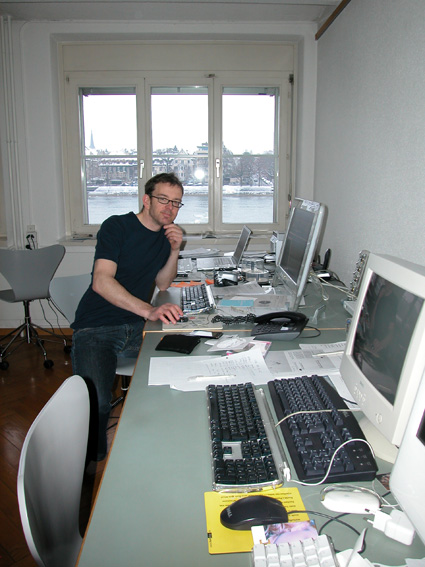 May i have a photo of your working space for publication? If the answer is yes, do you have any comment about your office (too cluttered? too small? feng-shui designed?)
Our office in Basel: just perfect. It's in an old house (built in 1386) on the bank of the river Rhine. It's pretty relaxing to watch the barges passing by slowly. We love it. We have built a second office in a small town near Basel, which we will use as studio and space for video screenings. It's totally different from the one in Basel city, made of fair-faced concrete and glass and designed by Austrian architects gernergernerplus.
Thanks Heinrich!
Image on the homepage Harburg Art Channel: Jonathan Meese, Mama Johnny , Deichtorhallen Hamburg.