The Insitute of Contemporary Art in London is organising the first UK exhibition of Kami-Robo.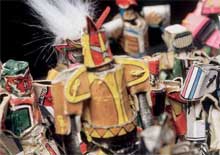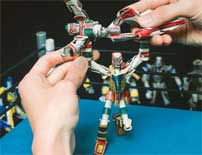 Designed by Tomohiro Yasui over the past 23 years, the hundreds of paper toy wrestling figures partake in a multi leagued wrestling federation. Each 15cm tall kami-robo has a name and its own personality and in the decades that they have been fighting, friendships and alliances have been formed and broken.
In collaboration with Japanese creative agency Butterfly-Stroke, Kami-Robo has gone digital and developed into a computer animation.
Kami-Robo Expo '06 includes Kami-Robo designs, iconography, paraphernalia and a film about the Kami-Robo phenomenon. Runs till April 22 (the Butterfly-Stroke retrospective runs till 30/04).
Ends Saturday 22 April [daily 12 – 7:30pm]
Via Kultureflash.