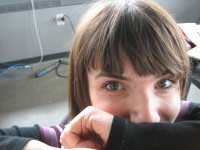 Di Mainstone is an insanely talented fashion designer. She trained in fashion design at Central Saint Martins College of Art, London. Her work was soon sold at Selfridges, Urbanoutfitters and Harvey Nichols. Further design collaborations included illustrations at Jimmy Choo. Following a series of experimental fashion collaborations with engineers, dancers and architects, Di joined Sara Diamond at the Banff New Media Institute to investigate wearable technology and create a series of electronic fashion garments, Company Keeper and Emotional Ties. Shortly afterwards Di started collaborating with founder of XS Labs and electronic textiles expert Joey Berzowska. Together they produced Skorpions, a set of kinetic electronic garments that move on the body in slow motions. Acting like parasites of the skin, they breathe and pulse, controlled by their own internal programming.
I found this statement on the project website particularly interesting: SKORPIONS reference the history of garments as instruments of pain and desire. They hurt you and distort your body the same way as corsets and foot binding. They emphasize our lack of control over our garments and our digital technologies. Our clothes shift and change in ways that we do not anticipate. Our electronics malfunction and become obsolete.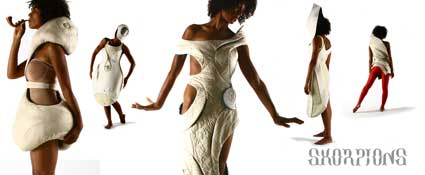 You specialize in interactive couture, not the geeky kind but rather a stylish and feminine one. On the other hand you've worked for modern and mainstream labels such as Urban Outfitters and Topshop. Do you foresee a (near) future when we will be able to buy the kind of interactive or kinetic garment you create on the high street?
The more fashion-led work that I'm interested in may take a little longer to be embraced by the high street, as its whimsical approach is wedged somewhere between fashion, technology and art. Not so long ago I designed a series of therapeutic emotion-sensing garments called Company Keeper and Emotional Ties, with a team at the Banff New Media Institute. Whist the project was avant-garde in its concept; specific technological and aesthetic elements of the dresses were seen as being highly marketable: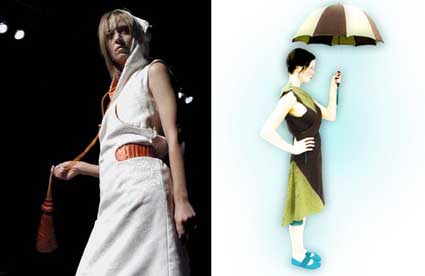 Company Keeper and Emotional Ties (BNMI 2005) by Di Mainstone, Sara Diamond, Tom Donaldson, David Gauthier, Jan Erkku, Greg Judleman, Jeroen Kaijser, Mireille Dore and Haydar Saaied
I love to work in this way, and believe that unabashed, fearless experimentation is necessary to pioneer new concepts and mechanisms that may ultimately become commercial. This said, interactive fashion is certainly getting increased industry profile – established investigative fashion designer Hussein Chalayan has tickled the imagination of the fashion world over the past seasons with his electronic couture experiments, whilst newcomer Angel Chang is designing technology driven fashion as the basis of her range. With this gradual and inevitable evolution, both the fashion industry and the consumer need to be allowed to fully absorb the meaning and possibilities of electronic and interactive fashion. Collections will not only have to be exhibited with fresh vision, to highlight the interactive nature of the clothing, but also be manufactured in an entirely modern way. Because of potential production issues it may be a year ors two before we see intricate electronic fashion in outlets such as UrbanOutfitters and Topshop, however I feel certain that the consumer is ready to accept new modes of fashion interactivity, with or without electronics. Clothing that can be reconfigured for example, to offer two or more purposes, or DIY fashion that invites the wearer to design and manipulate the silhouette and aesthetic of the garment: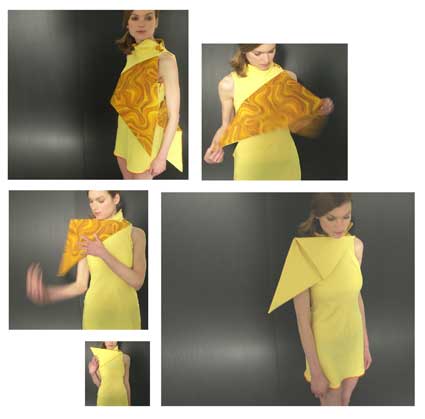 Reconfigurable Dress by Di Mainstone, made at XS Labs
I love the idea of modular clothing that can be linked to a friend or friends to tell a story or reveal new function, or clothing that can slot into the urban environment to offer shelter, privacy or entertainment. In short, we need more future-forward, playful, therapeutic attire that can be used to dissolve social distance, raise topical issues and most importantly unleash conversation!
Apart from the cost of developing an interactive garment, what stands between creating avant-guarde prototypes of garments and their mass-production?
Having spent 4 years as lead design at London fashion house Soochi, I am painfully aware of the hazards of manufacturing even the simplest item of clothing! All manner of mayhem can occur when constructing a basic printed t-shirt, so to then expect traditional clothing manufacturers to sew electronics into garments without a string of potential catastrophes is unrealistic.
If successful mass-production of electronic fashion is to come about there needs to be a three-way merger between the interactive research environments, the fashion industry and the consumer electronics companies. A mutual dialogue and infrastructure needs to be set, outlining modern methodologies for safe construction of smart garments, basic electronics training for clothing manufacturers and appropriate cross-disciplinary working environments for sampling and experimentation. Many of these methodologies are already in practice on a micro-scale in research labs such as XS Labs, Philips Design and Distance Lab.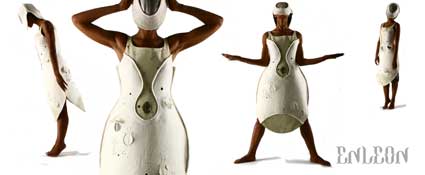 The Skorpions collection, which you developed together with Joey Berzowska, is amazingly beautiful. Do you see them more as sculptures or pieces of clothing?
I see the Skorpions as portable body sculptures! Canada Council for the Arts largely funded the collection, and as such Joey and I preferred to approach the project with a conceptual, artistic vision. As an investigative fashion designer this was a fantastic opportunity for pioneering experimentation – technically in terms of engineering fabric and Nitinol (the shape memory alloy that enabled movement in the dresses) and architecturally through garment construction and radical pattern cutting. I was able to treat the body as a canvas or landscape to explore, manipulate and distort, without focusing on the immediate comfort and usability of the everyday.
Are they comfortable to wear during a whole evening?
Although Skorpions are designed using soft natural textiles such as leather, raw silk and felt, the dresses are not intended for daily usability, instead their shell-like forms roam the body like a rampant fungus, wrapping, restricting, concealing and exposing!
Having worn all of the dresses, I can tell you that each evokes a unique ambience in the wearer.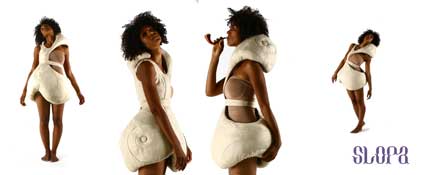 Slofa (the portable upholstered sofa-frock!) is deliriously squashy with its bulbous skirt and curvaceous headrest…after wearing the dress for 10 minutes it leaves you feeling giddy, relaxed, lethargic and seriously ready for a doze.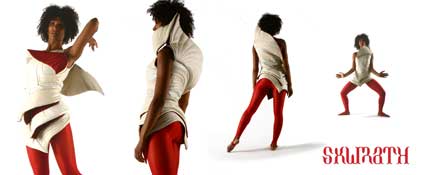 Skwrath, on the other hand is constructed with quilted leather, its amour-like bodice holds you upright like a warrior, whilst rigid interlocking plates encircle the thighs, making you feel robust and indestructible, until you need to go to the loo… then you're in trouble. So in answer to your question – no Skorpions are not ideal evening attire!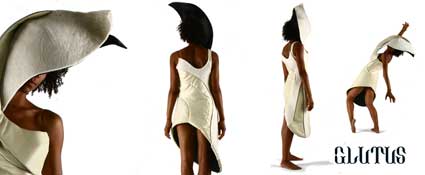 In a paper presented at Ubicomp 07, you and the XSLABS team wrote that the garments "have intentionality". Can you explain us what you mean?
When Joey and I embarked on the Skorpions project we decided that we did not want the dresses to respond to any kind of environmental sensory data, but instead to have their own internal programming. We likened the dresses to organisms that clamp to the wearer or host like parasitic body adornment moving and pulsing to express a particular sensation or feeling! With so much current focus on sensory data we were happy to shift away from this, enjoying the Skorpions lack of control and the uneasy sense of anticipation felt by both the occupant of the dress and those in close proximity.
Video of Enleon: kinetic electronic garment
What or who inspired the Skorpions collection?
The Skorpions collection was created in a collaborative environment at XS Labs, part of the Hexagram research institute in Montréal; as such it is a wonderful catalogue of ideas and possibilities.
Technology was our starting point; Joey who had recently worked with the team to produce Kukkia, a dress that integrated filaments of the shape-shifting alloy Nitinol, was keen to further her experimentation with this material. Intrigued by the concept of kinetic couture, we were both eager to explore how Nitinol might be used to distort and reconfigure the body. Early on in the development of Skorpions we began to weave a narrative thread, which bore a family of five dysfunctional animal-inspired creatures: Skwrath, Slofa, Luttergill, Enleon and Glutus. These mythical souls allowed us to build a series of dynamic character moulds, which subsequently dictated the architecture, colour, mood, and movement of each dress.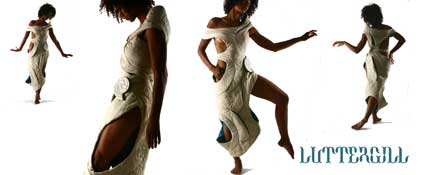 Another artistic direction came from my then recent trip to Barcelona, where I found myself captivated by the work of Spanish architect Gaudí. This influence became evident whilst defining the dress silhouettes – instead of following traditional pattern cutting methodologies, I treated the garments as malleable architectural structures, encasing the mannequin with foam and fabric to create 3-dimensional skins, immediately sketching on their surface to define the seams, sometimes using only one spiraling line to intersect much of the body:
Joey and I would not have been able to develop the Skorpions without the brilliance of the XS Labs collective, a talented team of dynamic individuals, all of whom held a pivotal role in the design and implementation of the collection. These were: Daviid Gauthier, Marguerite Bromley, Marcelo Coelho, Valerie Boxer, Francis Raymond and Damir Cheremisov.
Thanks Di!
Don't miss the videos of Di discussing the inspiration behind the Pioneering Skopions collection: Enleon– a kinetic dress from the Skorpions collection; Di talks about the concept behind the name Enleon; Luttergill – a kinetic dress from the Skorpions collection; Di sews conductive thread and Nitinol into Glutus; Di makes a kinetic hat.
All images courtesy of Di Mainstone.