I discovered the work of Bart Hess just a year ago, at the Salone del Mobile 2007. The video of his graduation project A Hunt for Hightech was shown as part of Family of Form, the exhibition that the Design Academy Eindhoven had organized in Milan that year. Just one video on a small screen and several people glued to it, fascinated and sometimes slightly horrified. The images showed mutant skins, breathing shoes, living furs and metallic gloves. My vocabulary is actually even more limited than ever when it comes to describe the futuristic fabrics and textures that the young designer had imagined. As his website won't give much details about him and his work, i decided to write Bart and pester him with my questions: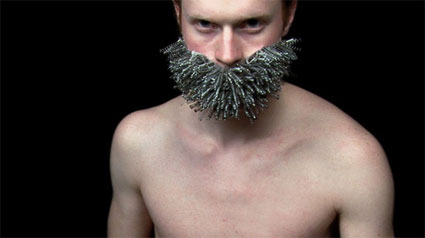 Hi Bart, i found little info about yourself online. Would you mind telling us who you are, what your background is and what you do right now?
I'm Bart Hess, I graduated a year ago from the Design Academy, Eindhoven in the Man and Identity department. This department looks at finding new materials, forecasting trends in fashion and culture. I have always had a fascination with photography, painting and fashion. Some people would say that I am shy and introvert, but when you see my work it reveals an opposite personality. I think I'm not so good at storytelling with words, but rather expressing myself with stories through images and visuals.
Right now I'm working for myself exploring several fields that straddle textile, fashion and animation, these fall within the commercial and art world.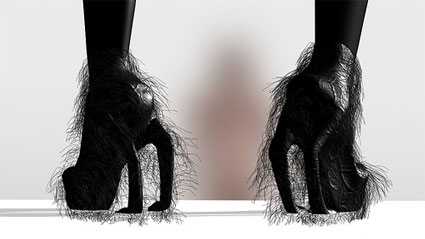 In the description of A Hunt for Hightech you write that it is "more interesting to imitate an imaginary world"? Why is that?
With a Hunt for Hightech I made a collection of fake fur that touches on elements of fetishism, human instinct and new animal archetypes. With that collection I did not try to mimic real animal kingdoms but create a fantasy world of my own. The way this started was through the process of imagining fantasy animals; animals that could be genetically manipulated, part robot, part organic, how they would move in their environment and what they felt like to touch. I then took my (imagined) gun and 'hunted' them, looking for their extra ordinary, high tech furs. I thought about tactile qualities like reflection, the way the hair grows and three dimensionality and took these characteristics, magnified them, manipulated and exaggerated them.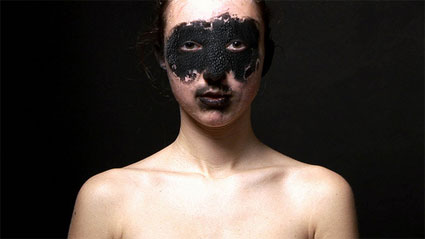 Can you explain us which kind of materials you have designed for the project A Hunt for Hightech?
I used materials that were not organic or commonly seen in the fashion world, and blended plastics, metallic's, silicon's and technical foils. With these materials I tried to manipulate and re-create the same qualities and tactile feeling my fantasy animal kingdom has.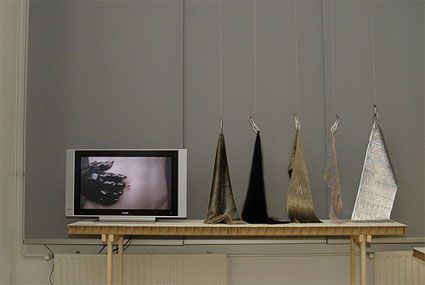 Which technological discoveries have inspired the whole project in general?
Prosthetic technology, where robot or machine meets with human nerve ending and flesh is definitely an inspiration but not an obvious link when you see the result of my project. Genetic manipulation has a clearer connection where it allows or dictates a new or changing evolution. This combination of nature, technology and evolution inspired me to create my own new animal archetypes. In my "Hunt for Hightech Animal Kingdom", animals can change their prints to distract predators, or grow their hair meters longer to appear bigger.
Your work has been exhibited in many venues and magazines. How does the public react to it?
There seemed to be two reactions from the public, there were people who were not freaked out at all and found it very attractive. These were the people who investigated and were intrigued by the furs and discovered the fabrics were quite soft, even though they were made from needles and sharp metallic's. The other type of people were scared and shocked with the idea of breathing shoes, these were the people who would get hurt touching the furs. One of my intentions was to communicate tactility and spire an emotion between the viewer and the furs, and this happened in both cases.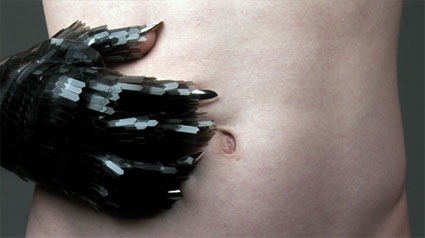 The models you present in A Hunt for Hightech are futuristic and fascinating. Do you see them more as sculptures or future pieces of clothing?
I really believe these are the fashion furs of the future. Why kill an animal and re-form the fur into a shape? Why not have the animal already shaped to your body, have it living and breathing around you, like the shoes. Whilst the technology is not there yet, in the meantime the animation is used as an inspiration for the fashion industry. At the moment I'm consulting at the Stijlinstituut in Amsterdam making animation and photographic collages to express and create future atmospheres. This gives me the opportunity to re-create ideas that really do have an impact on trends in the future, be it fashion, product or architecture.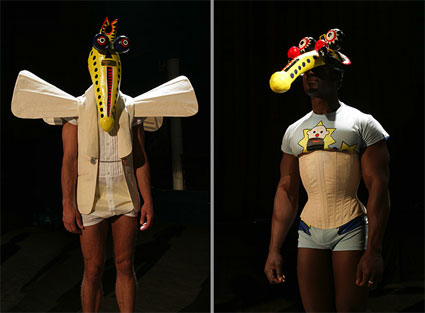 Walter Van Beirendonck, Men's collection Spring/Summer 2008 – SEXCLOWN
You also collaborated with my favourite fashion designer, Walter van Beirendonck. What was your role in the development of his collection? Can you tell us a few words about the collections you participated to?
I started working with Walter van Beirendonck for my internship. For six months I worked on the "Stop Terrorising our World" collection doing computer illustrations for prints. This was where it all started and I have been collaborating with Walter ever since. For the "Sex Clowns" collection, Walter had the idea to create avatars and he asked me to visualize his illustrations into 3d drawings. The Sex clowns collection combines new digital life-form, with an all time classic fascination of Walter, fetishism. Fantasising about new types of Fetishism, he created a group of self-conscious men, proudly presenting their masculinity and body diversity.

In some of your work it seems that the garment or shoe is almost part of the wearer's body. How do you think new technologies could impact the body aesthetically and fashion-wise?
I think a good example of where technology and the body meet, is a project that `I have worked on with Philips Design Probes team, a provocation for an Electronic Tattoo. In this scenario a tattoo traverses across the landscape of the body moving and morphing with touch and gesture. In this case the tattoo becomes a fashion accessory using the body as canvas for moving image, where the technology opens up new forms of communication between two people.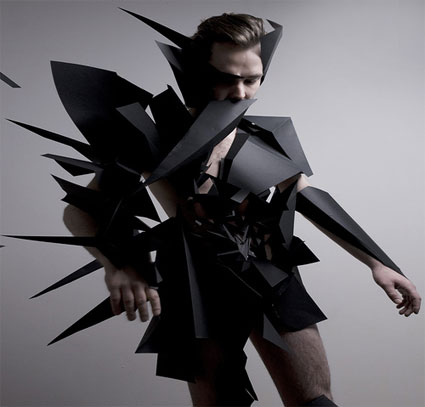 The photographies you make together with Lucy McRae present alternative bodies or body accessories, cosmetic surgery, etc. Where does your inspiration come from?
I work with Lucy McRae in a primitive and limitless way. We work with our instinct and start by using a material on our body, exploring volumes and ways of re-shaping the human silhouette. We work fast, for one day at the end of the week expelling all our creative energy and stress, making a series of photos that capture an atmosphere. We share a fascination with genetic manipulation and beauty expression, but it is not our intention to communicate this. I think unconsciously our work touches upon these themes, we create future human shapes and new body form's. LucyandBart is blindly discovering a low – tech prosthetic way for human enhancement.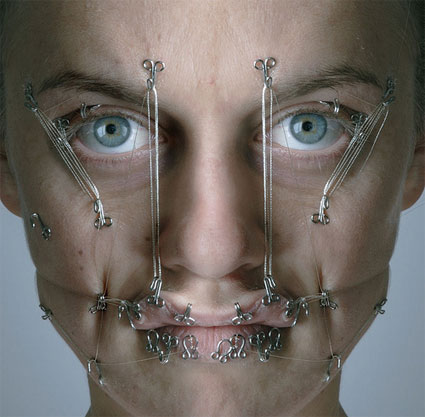 Any upcoming project you could share with us?
I have an exhibition coming up in the Summer in Fort Asperen called 'Closer to the Skin'. For this show I'm making large scale furs, approximately two metres square, I have developed a method for making the furs automatically that enables me to create the pieces much faster and bigger. I'm also starting a project now with the Textile Museum in Tilburg where I am designing my own collection of textiles using a 3d knitting machine, laser cutting and a loom. There are several other projects I am working on, but unfortunately I can't mention them yet, they will be on my website when they are finished!
Thanks Bart!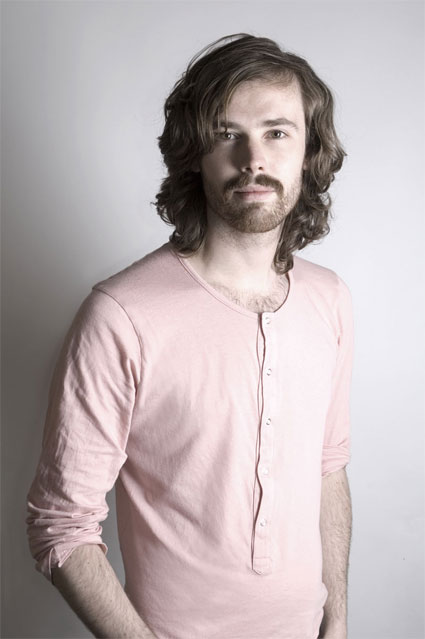 Portrait of Bart Heiss
Related: Lucy McRae's talk at NEXT.