If you liked the Laughing Swing, you might appreciate this one…
After observing children swinging their legs in rhythm while seated, Robert Phillips (in collaboration with Chris Hand) decided to create a communication tool for the playground, a Musical Bench which would get children who are strangers to play together. Each movement of a kid's swinging leg plays a sampled sound.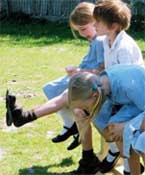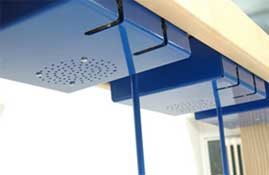 Arne Hendriks just sent me a link to a totally different type of bench. Mateusz Herczka's Enhanced Benches is a line of furniture that modify what's happening in their environment with encapsulated biochemistry.
The main invention lies in a new kind of plastic which encapsulates and emits fragrance or other chemical compounds for around 20 years. The chemical emission is tailored to subtly manipulate people, animals or insects in the immediate surroundings.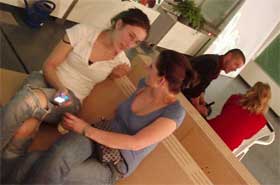 Bench 01 emits a mixture of fragrance and human hormones which enhances social interaction. The fact that fragrances influence mood is well known and used in shopping centers. For instance, the scent of cinnamon buns is shown to increase a man's predisposition towards women. Human hormones such as alpha and beta androstenol are currently suspected to influence social behaviour. The right mix of fragrances and hormones mildly enhance social contact like a glass of wine.
Bench 02 affects the menstrual cycles of women. Two human pheromones exist which either accelerate the cycle, or slow it down. Bench 02 makes a complementing pair, one for "sooner", the other for "later". The benches allow women enhanced control of their cycles simply by sitting for a while.
Bench 03 attracts butterflies. Pheromones are responsible for mating, navigation, swarming, attraction and many other behaviours. In butterfly-rich areas, the butterflies soon start flocking around the bench.
A prototype of Bench 01 is on display at Mediamatic (Amsterdam) in the Night Garden & Micro-Green Restaurant exhibition.
More benches: Skateable furniture, Bench'Mark, The Lonely Home bench, Bins & Benches