Eyebeam's Ecovisualiz Design Challenge panel (part 1)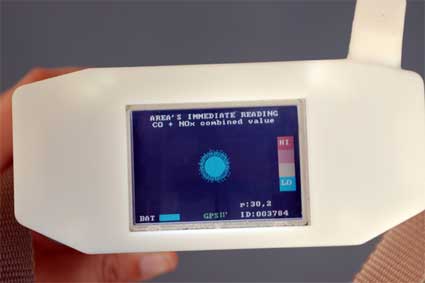 The AIR device display
Brooke Singer gave the lowdown on both Area´s Immediate Reading, a project she launched during Conflux last year, and her brand new project Superfund 365, A Site-A-Day.
Each day for a year, this online data visualization application will visit one toxic site currently active in the Superfund program run by the U.S. Both the contaminant and the responsible party are represented. There are about 1300 toxic sites on the Superfund's National Priorities List (NPL), the project archive will only spotlight a fraction of them. Superfund 365 features video interviews with people involved with or impacted by Superfund, RSS feeds, the possibility for people living near the site to leave comments and add images, etc.
Brooke highlighted 2 of the toxic site: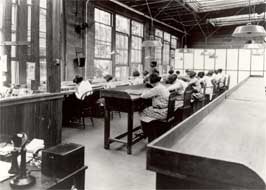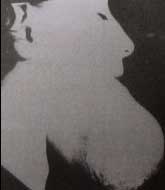 US Radium Corp. in New Jersey. Until the ´60s radium was used to make the clock-dial luminous. An illness termed "radium jaw" was first seen in the mid-1920 amongst young women who painted the clock-dials. They had the habit of licking their brushes to make the bristles form a point. Over time their jawbones were disintegrating, their teeth were fracturing and falling out, and they were suffering from awful mouth and gum infections and ulcers (via).
The Old Roosvelt Field Contaminated GW Area where Charles Lindberg took off for his solo transatlantic flight.
The panel closed with Eve Mosher's presentation of her work in progress High Water Line which is based on the forecasts on global warming and more particularly the rise of the water (10-feet above sea) level and its consequences on the New York landscape.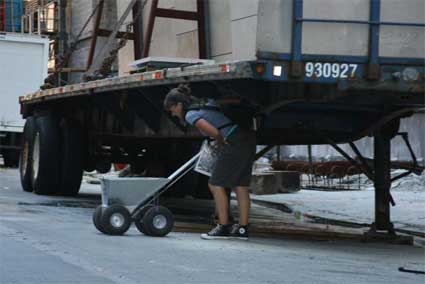 Since May 2007, Mosher is translating the issue into a dramatic visualization: a chalk line that shows the impact of the sea level rise on neighborhoods, commercial zones, private residences, traffic infrastructure, etc.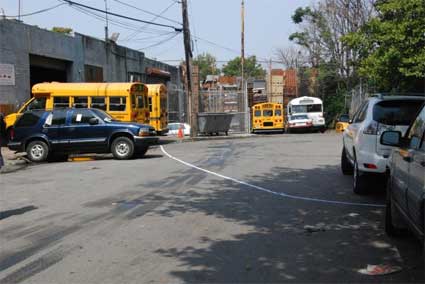 Anything below the line that she draws either by walking or using a tricycle becomes inhabitable. So far she completed the whole area south of Brooklyn. Her performance is a great way to generate discussion and while she is out she handles pamphlet to people. Inside they can get information about what they can do to be more eco-savvy either at home or at work, who they can talk to, etc.