In the the last session of the day, 6 pairs of students from different European interaction design-courses had 10 minutes each to present their projects.
Alex Nako showed a few projects from Ravensbourne College London. Whenever allows you to record a sound and throw it a virtual arena and thus allow you to leave an echo in the same way that people leave their crossword-puzzles on the bus. Whoever allows you to catch little circles by shouting. Wherever is an application "Sua Voz" that allows a voice-debate about politics in Brazil that you can call from any public phone-booth and participate in a discussion or just leave a rant, confession-style.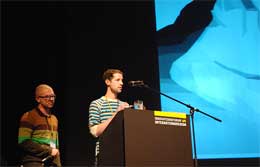 The University of Applied Science and Arts Zürich (HGKZ) sent Daniel Voelzke and Daniel Fischer. They showed DeCoding Space which is an examination of how people use urban space. They analyzed patterns of usage of a square in Zürich and build foam models and virtual simulations, layering the information. Schattenhorn takes on the painting "Matterhorn" by Thorben Giehler which shows the famous mountain. Schattenhorn allows you to cast a shadow on a 3D-model of the mountain which in turn will be projected on the painting itself.
Two students from RCA's Design Interactions program showed their projects and explained a bit the recent re-naming of the course. Michiko Nitta's Extreme Green Guerillas is an imaginary group of eco-activists who propose using electronically tagged animals for transatlantic communication instead of the classic channels of communication which they reject as being infested by consumerism.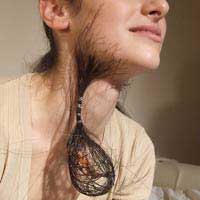 Michael Burton proclaimed that the the age of biophilia is near. Over-hygienic environments lead to over-sensitivity of the body so some might want to expose themselves to bacteria or even invite them to symbiosis as Mitochondria which are now parts of each of our cells did millions of years ago. Others might even want to grow nests for crickets on their body.
Markus Kison showed some projects from UDK Berlin's digital media class, for example Martin Frey's JITWatch or Jens Wunderling's way of the cross. His own project Touched Echo which will be realized in Dresden this summer, allows people to hear the engines of the RAF's bombers which destroyed the city in 1945 through bone-conduction when they put their elbows on the railings at a scenic point. Andre Stubbe presented his and Markus Lerner's robotic piece Outerspace which many might have seen at Ars Electronica 2006. Still Valid Tickets is another briefly presented great project by Markus Kison.

Touched Echo
Malmö University in Sweden regards itself as a "Digital Bauhaus". One of their projects is aimed at the supporters of Football team Malmö FF. Users can interact with their phones, waving them and such and all gathered information is connected to certain radio shows and other services that the fans can directly interact with through shaking their devices.
The hosts, FH Potsdam had Moritz Stefaner and Fabian Hemmert present their projects. Visual Tools for the socio-semantic web was one of them which builds interfaces on top of "mountains of data" that make up the Long Tail and might result in a newsreader that takes the various contexts of streams' into account, see Moritz' blog for more. Fabian's project Those Who Want to See Must Close Their Eyes analyzes a users face and will activate different functions in applications when he or she closes their eyes, for example OS X's Exposé or a sniper scope in a shooter game.
Images of the projects on Flickr.