For the Tokyo Designers Block 2004, 18 Israeli designers were asked to create 40 pairs of shoes, each pair alluding to an imaginary individual who might wear them.
The visitors were invited to add their shoes to the exhibition, creating the feeling of entering into a design sanctum.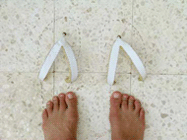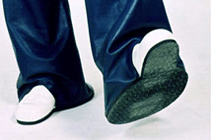 'Floor shoes' by artist Nati Shamia Opher and 'Shoe pants' by fashion designer Shani Bar.
Other pictures in designboom.