A new jacket from German clothing firm Rosner incorporates a 128-megabyte MP3 player controlled through cloth buttons on the left sleeve. The collar harbors both headphones and a hands-free Bluetooth mobile phone microphone.
The jacket was developed with German computer chip maker Infineon Technologies AG (who had teamed up up with O'Neill to come up with an MP3-equipped snowboarding jacket), and will be available through the Rosner web site starting in August for delivery in February at 599 euros ($725.)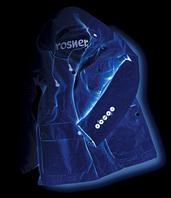 From Philly Burbs, via Ringtonia.
Press Release.