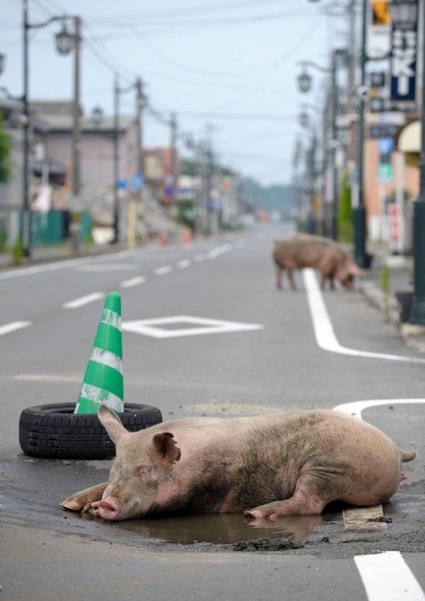 Yasusuke Ota, Namie-machi. On one hot July day, pigs that escaped from a pig barn were trying to cool themselves down in a small pool of water.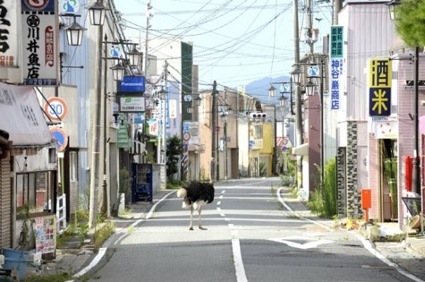 Yasusuke Ota, Okuma-machi. One ostrich escaped from the Ostriches Farm. Lucky that he's an omnivorous animal, he's living off on dried pet food that was left by volunteers inside the area.
During my short stay in Amsterdam, i enthusiastically entered the exhibition
Yasusuke Ota: The Abandoned Animals of Fukushima. What had i imagined that i'd see? Birds flying over beautiful urban ruins? Pets sauntering gaily on car roofs and pigs fooling around in empty supermarkets? I couldn't have been more mistaken.
A day after the tsunami damaged a nuclear reactor at Fukushima on 11 March 2011, inhabitants living within 20km of the power plant were forcibly evacuated. They were not allowed to take their personal belongings, pets and farm animals with them. On 14 March, the hydrogen explosion at the power plant made it unlikely that the evacuees might be allowed to return home on time to find their animals alive.
A few weeks after the disaster, Japanese photographer Yasusuke Ota accompanied a group of volunteers who entered the 'No go' area at risk to their own life to bring food and water to the animals. They 'found themselves in a hell on earth.' I'm not brave enough to copy paste the details of the tragedies they witnessed but you can find more information on the exhibition page.
The surviving animals are still – 18 months later – patiently waiting for owners to come back.
'This tragedy was for some reason not reported by the Japanese media at first, and the truth is that there has been no proper help given to these animals even after one and a half years. I felt I needed to inform the world and leave evidence of what really happened. So I started to take photos of this while going inside the zone on rescue,' writes Ota. 'Please don't turn your eyes away from the reality.'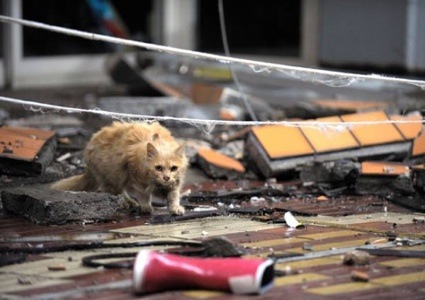 Yasusuke Ota, Namie-machi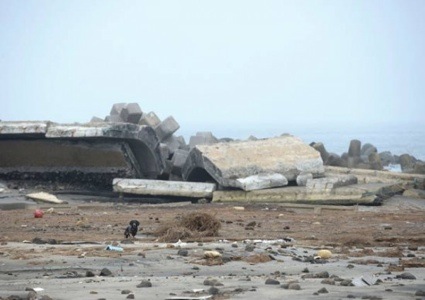 Yasusuke Ota, Odaka-ku. Minisama City. I named this miniature dachshund 'Kurumi' that stayed at a dike that was destroyed by the Tsunami. We tried to rescue her on several occasions, but her death was confirmed in September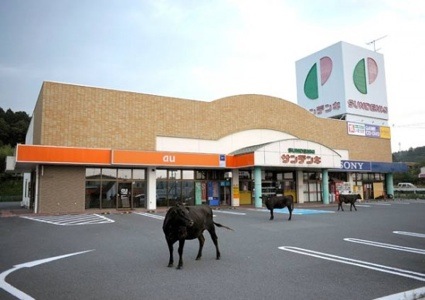 Yasusuke Ota, Tomioka-machi. Some cows were roaming in the parking lot of Mega Electronic Appliances Store along Route 6. A bizarre scene we can hardly see in everyday life.
Yasusuke Ota: The Abandoned Animals of Fukushima, is a 'pop-up' exhibition by Huis Marseille. You can visit it until October 14 at Atelier 408 at Herengracht 408 in Amsterdam.