With swingUp Games, Olav Val (who also created the Mignon Game Kit) developed a computer game at minimal expense, using transparent plastic film, bicycle lamps, a small circuit board and a few electrical parts.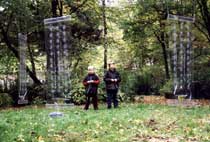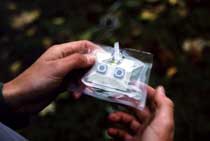 Three plastic films give shape to these three computer games. By using the keyboard, the player moves the only point of light from right to left. Based on the principle of a moving light, weak points of light move up and down in the same vibrations on the three shrink-wrapped vertically set light chains. The goal of the game is to head for the vibrating lights so that the bright points of light are pushed to the top.
The work reminds of the first video games in the pocket format, which came out in the 80ies, and could stay on the market as cheap products until today besides Game Boy and games for cell phones.
The work is part of Pong-Mythos, an exhibition about one ball, two bats and our life in a digital world. The show presents over 30 works that revolve around the computer game Pong, including the Painstation, Pongmechanik, Blinkenlight, Tft Tennis v180°, the Pong Clock, etc.
There's also a mysterious BioPong where the ball has been replaced by a cockroach (video)
11 February – 30 April 2006, Württembergischen Kunstverein, Stuttgart (Germany.)