"Who Wants to Be a Millionaire? Vote!� Mark Osterloh, promoter of the Arizona Voter Reward Act, proposes to increase voter participation in the State by awarding $1 million in every general election to one lucky resident, chosen by lottery, simply for voting. He collected 185,902 signatures of registered voters, far more than the 122,612 required, and last week the secretary of state certified the measure for the ballot in November.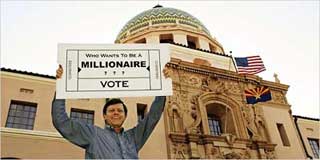 However, passage of the initiative would supersede a state law barring any exchange of a vote for money, legal experts agreed, but whether it would get around similar federal laws was a matter of debate.
Osterloh, who has a law degree, and the lawyer who helped write the initiative, Anthony B. Ching, said the laws were meant to stop individuals from buying or selling votes for particular candidates or parties. In this case, it would be a state-sanctioned program with a high purpose and, they add, offering the chance to win was not the same as giving everybody money to vote.
Via benetton talk < the new york times.
Now this is so surreal, i first thought it might be some "new media art" project ;-) I couldn't help but think of [V]ote-auction, by Austrian group Ubermorgen. During the 2000 election campaign opposing Al Gore to George W. Bush, the online auctioning platform gave voters the opportunity to sell their vote to the highest bidder. "Bringing capitalism and democracy closer together" was Ubermorgen's statement.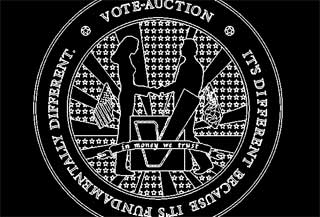 None of the votes were actually sold, any transaction would have involved too many risks for Ubermorgen as well as for the sellers (who would have commited a criminal offence). The group erased the data immediately so there was no trace of any transaction.
Very quickly, the legal system started an investigation in 14 States, so did the FBI, the CIA, etc. Different US public prosecutors announced a total of thirteen court cases filed against Ubermorgen.com, and in four US states, real proceedings were initiated (Missouri, Chicago, Massachusetts, and Wisconsin) and temporary injunctions pronounced. The project also gained enormous media attention. During the three months preceding the elections, Ubermorgen gave as many as five radio and television interviews on a daily basis, and up to twenty interviews per E-mail and telephone. Don't miss the video of the CNN programme Burden of Proof dedicated to VoteAuction.
Ubermorgen later created The Injunction Generator, a software module which claims to make on request legal injunctions and personalized documentation in .rtf/.pdf format to force a site into taking its contents offline (just like ubermorgen was obliged to do with Vote auction).