While having a walk in splashy and not too classy Via della Spiga on Thursday, i stumbled upon "GINO the DOG" by GAIA&GINO. It's at the Sportmax shop and shows dog products designed by
Yves Béhar's students at the California College of the Arts.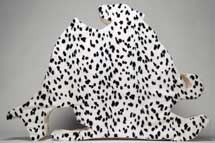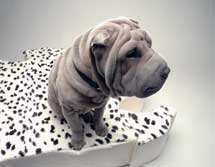 I really liked Imaginary Friend by Isamu Yoda, a synthetic fur fabric with Dalmatian pattern and foam interior. Inspired by the silhouette of three dogs chasing themselves head to tail, the dog bed clearly stands out from the ground so that it has the presence of imaginary friends for the dog.
Two rubber and plastic accessories for house-cum-dog, designed by Jennifer Yoko Olson.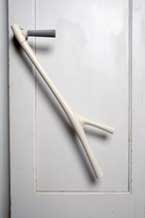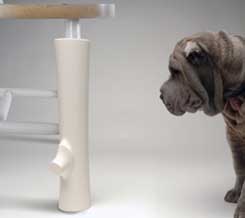 Open is a doorhandle that reaches down to dogs' level. Attach to human doorhandles on the doors that you want your dog to go in and out freely.
The Chew stick wraps around wooden legs of furniture for dogs to chew.
This collection will be then launched in New York during ICFF in late May and be released for retail sale in 2007. My pics.