Asked to imagine a "what if…?" scenario that highlight some of the key issues surrounding nanoscience and nanotechnology, especially its potential impacts on society, Alice Wang decided to focus on an hypothetic negative application of nanotechnology.
In her Nanoweapon story, everyday domestic objects become dreadful weapons that make victims suffer slowly, they loose hair, are disfigured by an awful rash, their veins stiffen and pierce their skin, etc.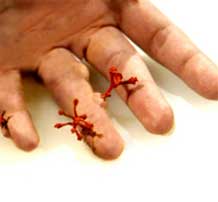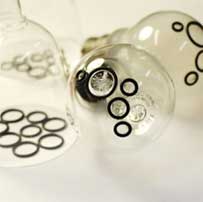 The symptom and the weapon
Government officials attempted to cover up these cases to save country's future nanotechnology development; however, research shows similar attacks are starting to spin out of control. Since nanoweapons do not require special equipments to produce, experts worry information may end up illegally available as open sources online resulting in further attacks.
After all… what do we really know about nanotechnology?
The idea reminded me those stories i used to read about kings or powerful ecclesiastics who were slowly poisoned by leafing through their favourite book or breathing the arsenic poured onto their bedroom wallpaper. Arsenic was sometimes used during the Renaissance as a poison as it was undetectable when administered over a long period of time.
Before sending me a link to the video of the project, Alice wrote me "Warn your readers that they might be grossed out."