Dave Slocombe and Natasha Sopieva, from the Interactive Design Institute in Ivrea, have updated an old Fiat 500 with a multimedia high tech soul.
First, the car open only if you send it an SMS (by keying in the registration number on your mobile); it replies by flashing its headlights and sending a message of acknowledgement from the owner, with comments such as: "Good evening, welcome back! By the way, I'm thirsty, I'm out of fuel…"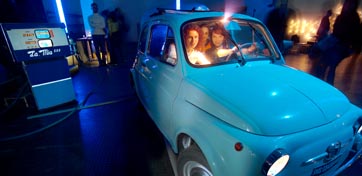 Its sun visors feature make-up mirrors on the back, with TV cameras to film and/or photograph the crew, while the rear windows are screens on which you can draw or write emails and text messages to be sent in real time. "Through wireless networks and with GPRS connections", says Natasha, "messages, sketches and images are stored on the car's website".
When hooked up to a fuel pump to fill up with petrol, the vehicle can download mp3 files from a jukebox inside the pump.
And when the FIat is parked, a device installed between the two headlights, project its memories to the outside -films and images stored during ist daily trips.
The Fiat is displayed at the Piazza delle Feste in Genoa (Northern Italy), till November 8.