Unpleasant Design by Gordan Savicic and Selena Savic. Publisher: G.L.O.R.I.A (Belgrade.)
Available on Amazon USA. Sorry, I couldn't find it on amazon UK.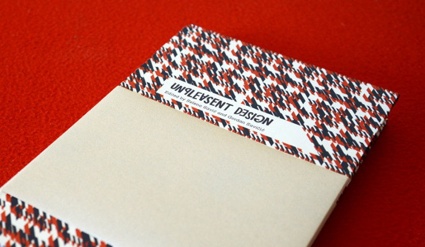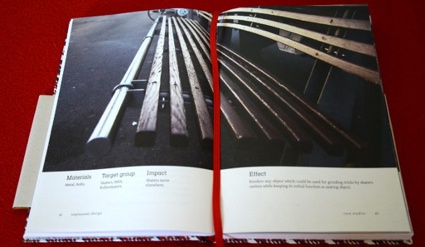 Book Description: The "Unpleasant Design" book is a collection of different research approaches to a phenomenon experienced by all of us. Unpleasant design is a global fashion with many examples to be found across cities worldwide, manifested in the form of "silent agents" that take care of behaviour in public space, without the explicit presence of authorities. Photographs, essays and case studies of unpleasant urban spaces, urban furniture and communication strategies reveal this pervasive phenomenon. With contributions by Adam Rothstein, Francesco Morace and Heather Stewart Feldman, Vladan Jeremic, Dan Lockton, Yasmine Abbas, Gilles Paté, Adam Harvey and many others, the book is in an attempt to recognise this nascent discipline within contemporary design taxonomies.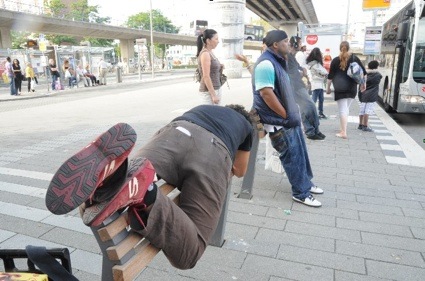 Re-enactment of Fakir's Rest in Rotterdam on a so-called Leaning Bench, Rotterdam 2011
Unpleasant Design landed on my doorsteps a few days ago. I opened the envelope, grabbed the book and uttered a loud "Who's the idiot who designed this?!?" because the sleeve around the cover was made of sandpaper. Sandpaper!
I then read the title of the book and had to admit that it was a very clever idea.
Each of us has met examples of unpleasant design as we go through the city. The bench that is uncomfortable to sit on for more than 10 minutes, the trash can specially designed so that you can't sit on it nor stuff big bag of garbage inside, the anti-sticker coating on lamp posts, etc. I guess most of us don't really pay attention but they do coerce us to use the city in a prescribed, restricted way. And then there's unpleasant design for the unhappy few: benches with armrests in the middle so that the homeless can't lay down and sleep on it, blue lights in bathrooms and tunnels preventing drug users to spot their veins, an aluminium bar with spikes on it found in corners of buildings and alleys that is angled so that pee would end on your feet (a popular design in The Netherlands apparently), structures to remind pigeons that they are not welcome in town, or CCTV cameras that target specific race and age groups. And of course, there's that notorious mosquito device.
Unpleasant Design dresses the portraits of bullying urban furniture, looks at the specific strategies behind its design, comments on the use and control of public and semi-public spaces. After having had the book in your sandpapered hands, you won't look at your city with the same eyes, i'm sure.
The book documents and casts a critical eye on design motivated by policies of exclusion but, and that's what makes the book such an inspiring lecture, it also looks at how individuals, artists, activists are responding to urban unpleasantness.
Authors Gordan Savicic and Selena Savic have spent over a year researching forms of social unpleasantness, taking photos wherever they went, writing down ideas and talking with people who are also denouncing and resisting unpleasant design. The resulting essays and interviews are enclosed in the book. Among my favourite are: Survival Group's photos and comments about Anti-Sites (the spaces designed to prevent homeless people or simply weary passersby to sit down and have a rest), Vladan Jeremic's look at the hidden politics of garbage removal in Belgrade, an interview with the insightful and witty urban hacktivist Florian Rivière, a discussion with 'neo-nomad' Yasmine Abbas, another one with Dan Lockton of Design with Intent, the interview with Gilles Paté, the 'fakir' of urban spaces, etc. Add to that, plenty of case studies, examples of artistic devices and ideas that create and fight unpleasant design but also the outcome of a competition about unpleasant design.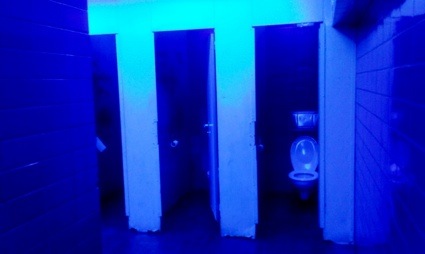 Blue lights in a public toilet at Bonn central station. Photo: Jurjen van Enter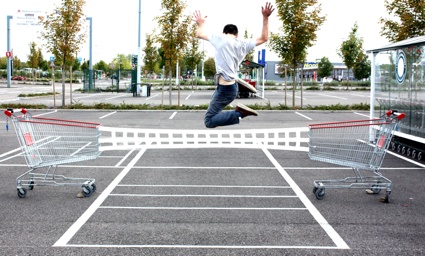 Florian Rivière, Don't pay, play!, 2011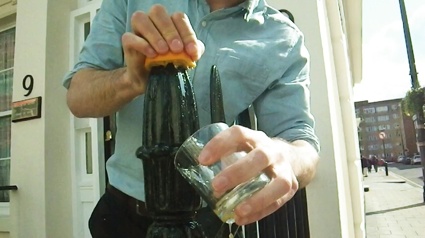 Florian Rivière, Juicer, 2012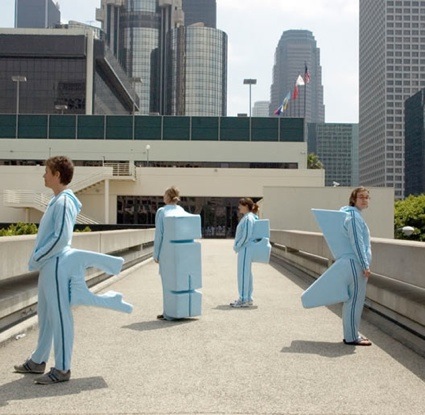 Sarah Ross, Archisuits, 2008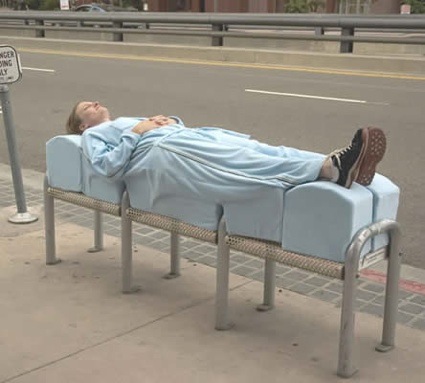 Sarah Ross, Archisuits, 2008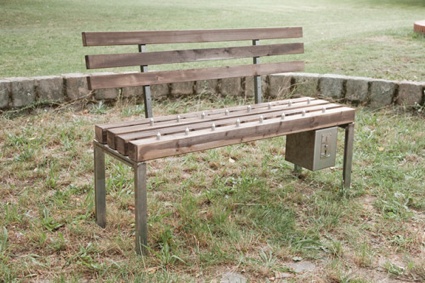 Fabian Brunsing, Pay & Sit – the Private Bench, 2008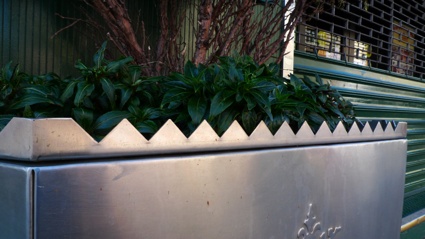 Survival Group, Anti-Sites, a collection of anti-homeless urban designs
Two of the winning projects of the Unpleasant Design competition:
A maze lock for public toilets, bars and restaurants to avoid drunkards entering the toilet and passing out or damaging the property.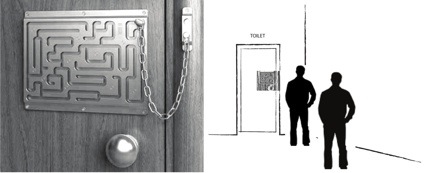 Ankita Thaker, Maze door lock
SI8DO is a social-integration urban furniture designed to improve the working conditions of immigrants who work at the traffic lights selling tissues.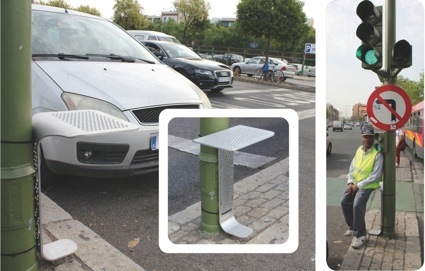 (bau)m_arquitectura, SI 8 DO – Social integration furniture Sevilla