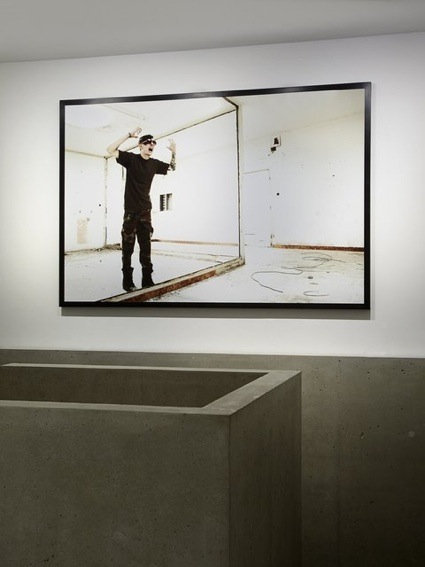 Perpetrator, (detail), 2008
There is a lot to say, dislike (portraits of perma-tanned, bejeweled ladies) and like (all the rest) about u s e r u n f r i e n d l y, UBERMORGEN solo exhibition at Carroll/Fletcher.
Whether it's a painting, an installation or a website, everything in u s e r u n f r i e n d l y comes with an uncomfortable background. Take Perpetrator: the photo of a young man shouting in an abandoned train station. The print is part of a series of photo and video works inspired by the life of Guantanamo Bay military guard. His name is Chris Arendt and he is, we read, an offspring from a white trash meth family. Arendt registered for the army at 17 and was sent to Guantanamo Bay two years later to serve as prison guard in Camp Delta. He saw and did things he could never forget and never forgive.
In 2008, Chris stayed at the UBERMORGEN house for two months. They didn't realize that things could go wrong…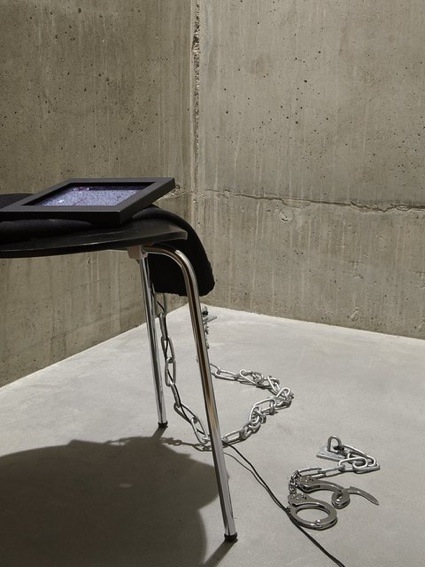 Superenhanced (A Parallel Universe), 2013
The exhibition keeps this level of tension and mental provocation throughout the rooms, relentlessly encouraging visitors to think about censorship, mass surveillance, torture, democracy, e-commerce, etc. The kind of issues that can't be more contemporary, yet, are hardly ever brushed upon in other contemporary art exhibitions (or fairs, i'm looking at you Frieze!)
Some of the works in the exhibition explicitly invite visitors to participate. Superenhanced (A Parallel Universe) recreates the instruments and conditions of an interrogation facility complete with handcuffs, a hood and shackles. You can either play the part of the prisoner or of the interrogator who's guided in their task by a helpful interrogation software run on the tablet at their disposal. I didn't chain myself to the chair, thank you but i did love the way the installation makes use of the elegant concrete architecture of the gallery. You have to almost crawl through a very low passage in order to access the interrogation room. It has no ceiling so anyone in the upper level can monitor what you're doing down in that space.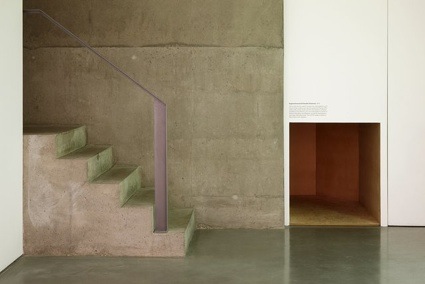 Superenhanced (A Parallel Universe), 2013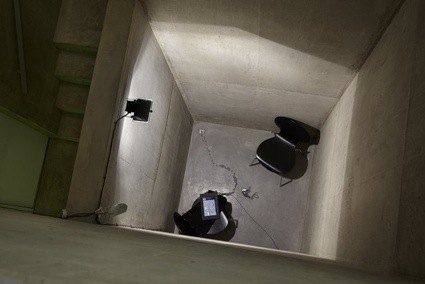 Superenhanced (A Parallel Universe), 2013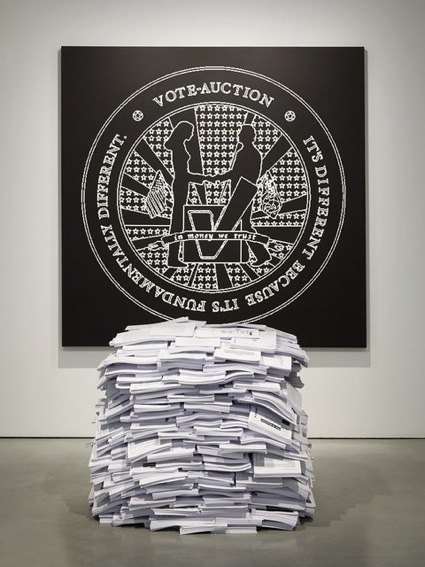 [V]ote-Auction Seal, 2000
u s e r u n f r i e n d l y shows new works but also some of UBERMORGEN's 'classics'. Such as [V]ote-Auction, one of my favourite projects EVAR! In 2000, UBERMORGEN posed as 'Eastern European business people" who gave American voters the opportunity to sell their vote in the election campaigns opposing Al Gore an George W. Bush. "Bringing capitalism and democracy closer together" was the tagline of the enterprise.
Mayhem ensued! The project gained enormous media attention, the legal system started an investigation in 14 States. And so did the FBI, the CIA and other organizations. In total the project generated 2 500 news features. The works was also at the origin of the Internet Domain Legislation by ICANN, the governing body of the Internet. Quite impressive for an intrusion into mass media that required only cheap and low-tech instruments. Ubermorgen calls this type of action "actionism" and "media-hacking."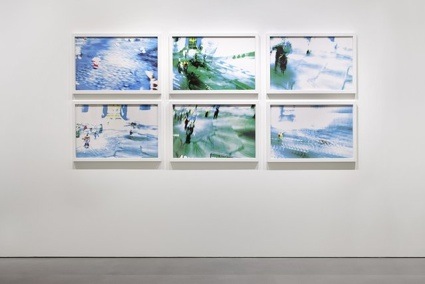 Chinese Gold, Belgrade Sessions, No.s 1-6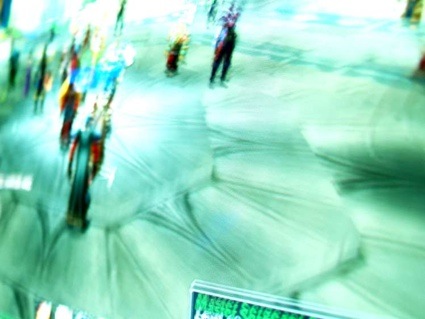 Belgrad Session
In China, there are over 2000 online-gaming workshops employing young people called Gold Farmers to play MMORPG games. The farmers acquire ("farm") items of value within a game, usually by carrying out in-game actions repeatedly to maximize gains, sometimes by using a program such as a bot or automatic clicker.
They sell the in-game gold coins and other virtual goods they've harvested to players and/or farming organizations and get "real" money in return. Players from around the world then use the golden coins to buy better armor, magic spells and other equipments to climb to higher levels or create more powerful characters. Many other workers, however, intensely dislike the Gold Farmers because they disrupt the rules of the game.
UBERMORGEN's Belgrade series depicts WoW screenshots of hardcore, underground Western gamers fighting Chinese Gold Farmers to stem the trade. The images were taken during a game session at a large arcade in Belgrade. A first series of Chinese Gold was actually documenting the other side of the East vs. West battle by photographing the Chinese gaming workshops.
Do You Think That's Funny?, 2013
"This work is one of the results of our meeting with Snowden. We're in receipt of an encrypted data package that circulates as Dark Data inside ethernet cables organised by four 'Beagle Bones'. Any manipulation will result in the immediate deletion of all files." Hans Bernhard
The 'amnesiac' netbooks run TOR privacy software and are wiped clean every reboot. 'The Fridge' (the body) is filled with energy drinks. The CCTV cameras stream and record all government and non government activity inside the gallery.
The installation is actually a working space where any visitor can sit down and use the computers. There's even Club-Mate in the mini-fridge. What else could you want?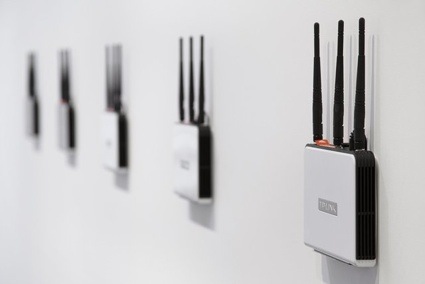 Net.Art, 1999-2010. Curated by Aram Bartholl
All the works in the show deserve a few comments and explanations (except obviously the above-mentioned perma-tanned bejeweled ladies) but I'm going to close this hasty and very partial review with the row of wifi routers that Aram Bartholl hung at the entrance of the gallery. The artist selected a series of UBERMORGEN online works and assigned each of them to a single router which is not connected to the Internet. To see a specific artwork, visitors have to connect to each network individually through their own smart-phones, tablets or laptops.
OFFLINE ART is a new and very pertinent way of showing internet based art within a typical white cube. Simply hanging monitors on the wall doesn't capture the works' native environment. Accessing them via a smartphone or tablet provides a more authentic experience.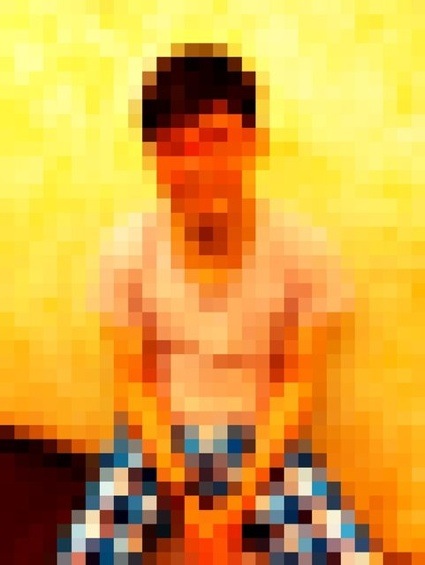 Singapore Psychos, Neo, 2013
FAD has an interview with UBERMORGEN and Furtherfield has an insightful article on the exhibition and more generally on the work of the artists.
u s e r u n f r i e n d l y is at the Carroll/Fletcher gallery until 16 November 2013.