On Thursday, i did a tour of Artissima, the contemporary art fair in Turin. One of the objectives of the fair this year was to be 'affordable'. "We are not interested in having artworks that costs 10 million euros. We want to enable young people and those who have a passion for art but a limited budget to become collectors," explained to La Stampa Andrea Bellini, the Director of the Turin art fair. I didn't ask for any price so i'll take his word for it. I did notice a fair amount of young and i must say rather exciting artists in the booths.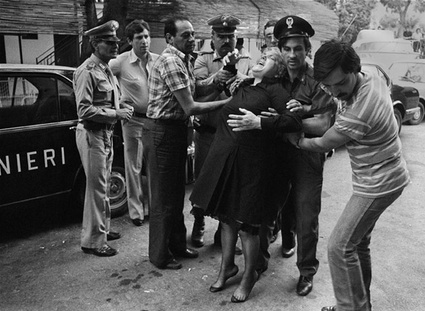 Capaci. 1980. Woman who believes her son has been killed. ©Letizia Battaglia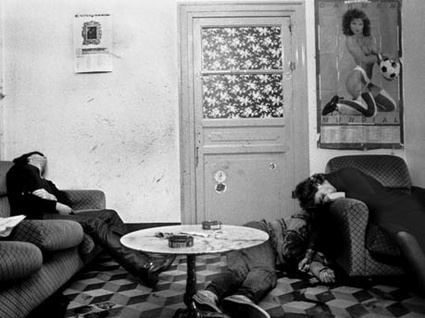 Palermo, 1982. Nerina was a prostitute. The mafia killed her along with her two friends because she had not 'respected the rules' ©Letizia Battaglia
Well, that was a pretty inappropriate introduction because i'm actually going to focus on a photographer who gained fame in the '70s and '80s for her documentation of the internal war of the Mafia in Sicily at its bloodiest, and its devastating impact on the rest of the society.
Just like Weegee and Enrique Metinides Letizia Battaglia was covering the cronaca nera, the crime stories for a newspaper. In her case, the left-wing L'Ora in Palermo.
In 1974, when the mafia moved from organised crime to heroin trafficking, mafiosi became more brutal. They murdered anyone who would stand in the way of their business, from the chief of police to family rivals. By 1981, there was one killing every three day. Sometimes many more.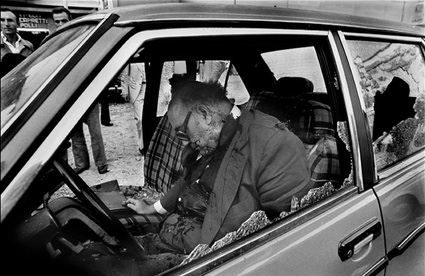 Palermo.1979. Judge Cesare Terranova, communist deputy member of the Antimafia Commission Parliament, has just been killed in an ambush. Marshal Lenin Mancuso, the body guard responsible for his safety, died in the hospital shortly afterwards. ©Letizia Battaglia
At the time, the Cosa Nostra was identifiable. It had faces one could photograph and associate with crimes. Today, mafia is much less visible. Battaglia's pictures, because of the corruption, silence, violence and suffering they laid bare, played a crucial role in the anti-mafia campaign. They show anti-mafia Judge Cesare Terranova shot in his car, corpses of mobsters abandoned by the road, tears of the wives and mothers when they discover the scene of the crime, arrests of a mafia boss, teenagers pretending to be though guys with attitude and guns.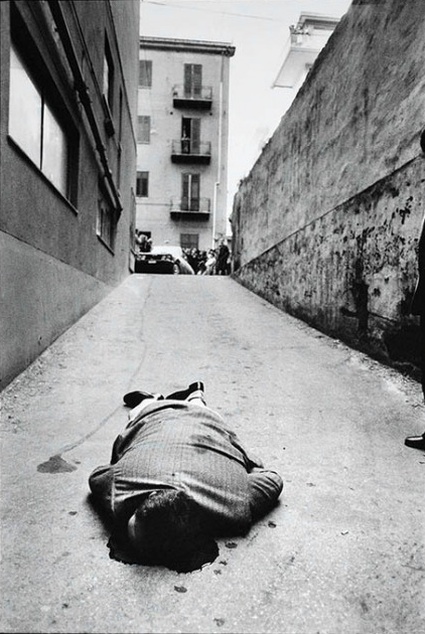 Letizia Battaglia, Dead man lying on a garage ramp, 1977
Some of her photos were even used as evidence of corruption against Giulio Andreotti, a man whose authority in Italian politics was so powerful he was known as Divo Giulio, "divine Julius" an epithet of Julius Caesar. In 1993, when prosecutors in Palermo indicted the ex-prime minister, the police searched Battaglia's archives and discovered two 1979 photographs of Andreotti with an important Mafioso he had denied knowing. These pictures were the only physical evidence of the politician's connections to the Sicilian Mafia. Battaglia's life, after she retired from photography, is as awe-inspiring as her images: she's a photoreporter known for taking risks but also an editor and environmental writer and politician.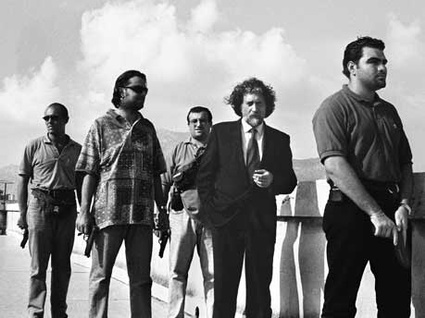 Palermo, 1998. Police Justice Roberto Scarpinanto with his bodyguards. Scarpinanto was lead prosecutor in the trial of former Prime Minister Andreotti ©Letizia Battaglia
The Cardi Black Box gallery in Milan brought the work of Battaglia to Artissima, along with two other photographers of tragedy: Enrique Metinides and former Swiss police lieutenant Arnold Odermatt who during almost 50 years recorded car accidents.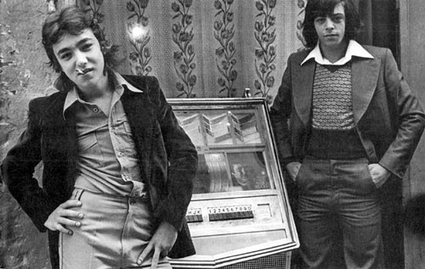 Palermo 1976, Quartiere Albergaria. Letizia Battaglia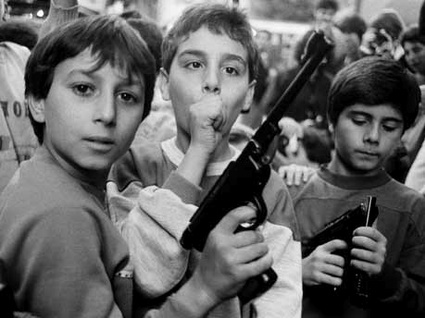 Palermo, 1986. The day of the Dead. ©Letizia Battaglia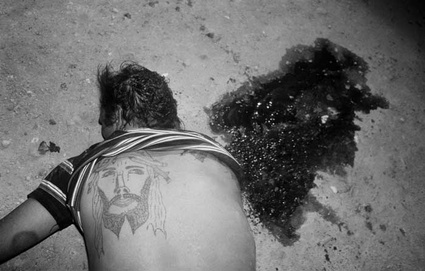 Palermo,1982. The two christs ©Letizia Battaglia
Wikipedia has a list of webpages where you can find more photos of Battaglia.