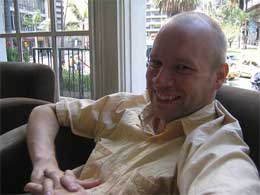 Meet one of the Godfathers of the Finnish media art mafia…
Juha Huuskonen is an artist, curator, VJ, software designer and he is also the organizer of the Pixelache electronic art festival.
Through a series of performances, exhibitions and club events, Pixelache brings together young creators from diverse disciplines who playfully and critically experiment with media and technology. The festival also features practical workshops and seminars addressing current issues in the development of digital media.
Pixelache is held each year in Helsinki has also traveled to other destinations including Medellin (Pixelazo), New York, Montreal, Paris (Mal Au Pixel) and Stockholm (PixelVÄRK).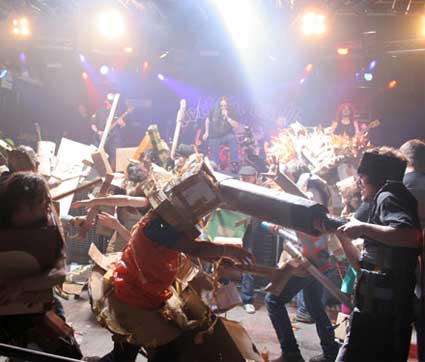 Pixelache 2008 Helsinki will feature the first edition of Baltic Boxwars: Northern League
Juha is currently busy preparing the 7th edition of the festival Pixelache University, Exploring the Crossroads of Art, Science, Technology and Urban Culture, held in Helsinki on March 13 to 16.
Pixelache University will focus on education and ask questions such as Does the educational system have room for hackers, circuit benders, environmental activists and VJ artists? What would be a suitable curriculum for nurturing independent grassroot initiatives?
Furthermore, Pixelache has opened its very own educational programme with a curriculum which consists of monthly Pixelache events (presentations, workshops, concerts and parties).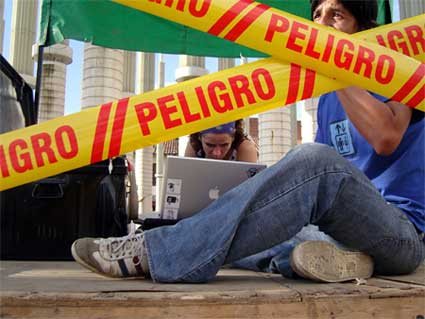 Pixelazo Bailable at Parque de las Luces. Photo Juha Huuskonen
I met Juha for the first time at Belsay Hall, in the North of England. He had commissioned 3 media artists to get some inspiration from the 17th century manor house and inhabit it with their art installations (review here and here again). Then we saw each other again in Colombia where Juha had invited me (hey! lucky me!) to participate to Pixelazo. I had him sit down in a bar for an interview. That was back in June.
Transcript of our Medellin conversation.
How could I define Juha Huuskonen?
When people ask what I do I tend to answer that I am a software engineer (because that is my official education) who is lucky enough to make a living as an artist but in fact I put most of my efforts into organising events and developing organisations.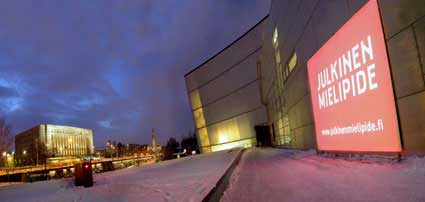 PLAN*B FOR ARKADIANMÄKI by Juha Huuskonen, Tuomo Tammenpää, Aura Seikkula & co (2005). Photo: Juha Huuskonen
How was Pixelache born?
The first Pixelache festival in 2002 was put together in an improvised manner, with a tiny budget of a couple of hudred euros. The purpose was to bring local active people together to discuss and present experimental work that fell between the categories – not art, not design, not research, but kind of all of these at the same time. This type of work is of course shown in all kinds of international festivals (today even more than a few years ago) but the other special thing about Pixelache has been that we've focused on showing work by young, emerging creators and taking risks by showing work that is still in the concept or prototyping stage. This is something that we are still trying to stick to, even though the festival has grown quite a bit and involves more established artists as well. Education – all kinds of seminars, workshops and presentations – has also been a very important part of Pixelache from the beginning.
IMAchannel performance by katastro.fi, 1998 . Photo: Pirje Mykkänen
The longer history of Pixelache can be traced back to katastro.fi, a loosely organised media art collective that started in 1998. During its heydays, katastro.fi had around 50 members and worked on rather large scale projects, such as eko.katastro.fi and 2000.katastro.fi. The founders of katastro.fi were involved in demoscene, a subculture that evolved around software piracy and creative experimentation with early home computers (Commodore, Atari, etc). Katastro.fi brought together some of the most successful Finnish demo groups (Komplex, Orange, CNCD, Sonic, Virtual Dreams, etc) which had been active already since late 80s/early 90s. In the demo scene, people would get together in parties (events that nowadays can attract up to thousands of young people) and show the stuff they were working on. The way demoscene functioned as an informally organised, highly social network focused on developing new work and ideas has influenced my own practise a lot.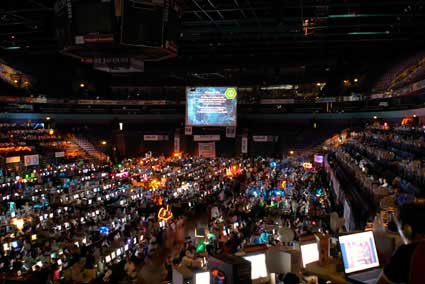 'Assembly' demoscene event in Helsinki, Finland . Photo:Pekka Aakko
Where does the name Pixelache come from?
I found the word Pixelache sometime in 2001, in an article that was predicting new words that would be used in the future. The word was supposed to describe an "overdose of digital media." I knew myself how that feels, for me the feeling of overdose comes from seeing too much of the same, how all media and technologies become standardized, closed, stiff and boring systems over time. I googled for the word "pixelache" and got zero results, so it was a word waiting to be grabbed. So, we first had a nice sounding name, the concept of the event evolved afterwards. Pixelache festival actually tries to act as an antidote for 'pixelache', presenting projects that challenge the standardizations.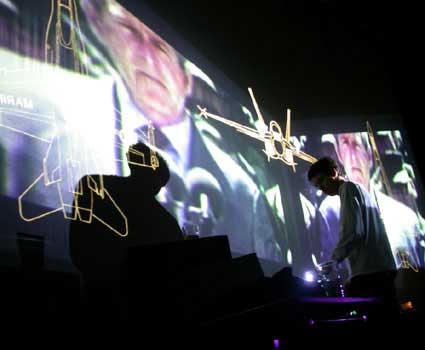 Light Surgeons at Pixelache 2003, Helsinki. Photo: Antti Ahonen
How did Pixelache end up spreading to other countries?
Our international events started in 2003, when we organised Pixelache festival in New York and Montreal. Both festivals were organised on a shoestring budget, with a lot of effort and enthusiasm from both organisers and artists. We carried most of the necessary gear and artworks as luggage, organised free/very cheap accommodation and traveled on a Greyhound bus between New York and Montreal.
The events in New York and Montreal brought together a quite unusual combination of local organisations that all had a lot of influence in planning the festival program. In addition to international guests, both events featured a lot of local artists, many of whom were later invited to Helsinki. We have maintained this way of working ever since. The model is sort of opposite to ISEA: instead of a separate international jury, the local organisations are in charge of the program, they never have to present projects that they don't consider relevant for the local context. The program decisions are aided by an on-going discussion between various partners within the Pixelache network.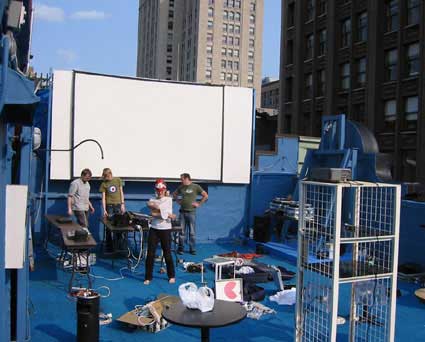 Pixelache NYC on top of Gershwin Hotel, 2003. Photo: Antti Ahonen
I think the reason why organisations want to work with Pixelache, or start their own Pixelache edition, is that Pixelache takes seriously the work done by emerging authors but does it without trying to be pompous. Another thing that makes Pixelache interesting is that we work at lot with international networks and subcultures, such as VJ scene, hacker and activist communities, etc. The current active nodes in the Pixelache network are Pixelache Helsinki, Mal au Pixel Paris, Pixelvärk Stockholm and Pixelazo Medellin. Pikslaverk is about to start in Reykjavik and we've been actively collaborating with piksel.no in Bergen, RIXC in Riga (Locative Media Workshop), Plektrum in Tallinn, Mediawala festival and Doors of Perception in New Delhi, Interferenze in San Martino Valle Caudina and several other events.
What's the story of the creation of Pixelazo?
Pixelazo started with a random encounter – Vanessa Gocksch from Colombia contacted us in response to our open call for proposals, and eventually came over to Helsinki in spring 2005. Vanessa is running an organisation called Intermundos which works with marginalized communities in Colombia (for example kids from the ghettoes and indigenous Colombian tribes) and facilitates them to get involved in using media and technologies, focusing on free / cheap / DIY tools that are available to them. Vanessa and Intermundos have been a fantastic partner to work with, they are one of the rare organisations in Colombia who have the credibility to work with both grassroot organisations as well as established cultural institutions. It took two years to get to the first Pixelazo event, meanwhile we did some test runs by organising workshops with events like Salon Internacional del Autor Audiovisual in Barranquilla and Bogotrax in Bogota.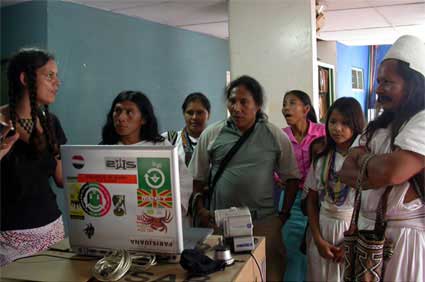 VJ workshop for Kogi & Arhuaco tribes, 2005. Photo: Juha Huuskonen
Pixelazo has been a great source for inspiration and ideas for future Pixelache events, Colombians are not so overwhelmed with gadgets and technology as we in the Western world are, but they can take the time to develop their own DIY solutions. Colombia is also immensely rich in culture, even though much of it is hiding in the slums or deep in the jungle, not easily reachable by random tourists. In this sense the bad reputation given to Colombia in the international media has actually been a blessing, the fact that there has not been much tourism has preserved a lot of the culture that would have otherwise been commercialized and/or destroyed already a long time ago. But this seems to be rapidly changing, more and more tourists are coming to Colombia and Uribe has made the country a lot safer, but unfortunately in a building-high-walls-around-gated-communities kind of way, copied from the United States.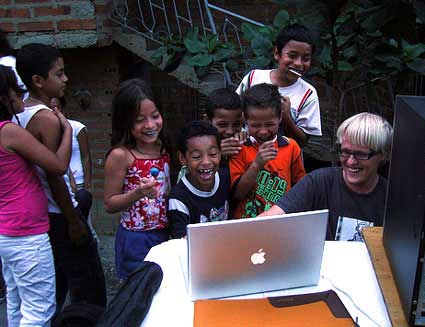 Pixelazo music & VJ workshops in barrio Santa Cruz la Rosa, Summer 2007. Photo: Juha Huuskonen
The future goal of Pixelazo & Pixelache is to bring more ideas and cultural influence from the South to North. For example at the first Pixelazo event we had some guest from the Nasa tribe, the way they see their life is that they are constanly weaving a web of people and knowledge, spreading it around the mountain range where they live in. This is documented in their traditional handcraft, weaved bags that contain information that looks like digital data. When they started using radio, they used radio cicleta, radio bicycles to act as mobile transmission units. This way radio technology can be made transparent, the transmission station is always moving inside within the network of the tribe, it does not become a hidden black box, a top-down authoritative tool like we have adopted it. They have now started using web and internet tools as well, all based on open source, it will be interesting to see how this develops.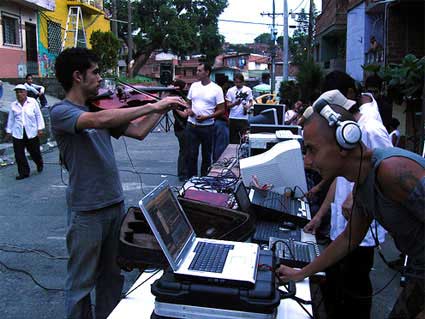 Pixelazo music & VJ workshops in barrio Santa Cruz la Rosa, Summer 2007. Photo: Juha Huuskonen
What happens if I want to set up a Pixelache in another country? Is there a strict receipt to follow?
I guess step number one would be to get in touch with us, with Pixelache Helsinki or some of the other nodes in the network. Rest of the process has so far been informal, we've built collaborations slowly and by starting with smaller events. Right now there is a kind of pressure to make the process more formal and easier, so that more Pixelache events could be established since quite many people have contacted us about this during the past couple of years. We've been working on a Pixelache manifesto, a sort of 'constitution' for Pixelache events (not in EU style though :), something we can agree on and use a reference to develop the events in future. It's still under work, but it will probably contain at least following statements:
Multidisciplinarity: it's an event that brings together hackers, artists, architects, activists, but also people from the commercial new media / tech world.
We focus on working with emergening artists, rather than established ones.
We show prototypes, concepts, things in developments, projects which are not perfectly ready.
We try to bring together, support and try to understand how different sub-cultures can function, it's not just art, it's also hackers, community networks, VJs, etc.
There are also some themes that seem to appear in different ways in various Pixelache events: public space/locative media/borderline between physical and virtual space, do-it-yourself/hacking/missusing technologies, organisational strategies/collaboration/democracy, etc. VJ community and audiovisual performances have had a prominent role in all Pixelache events.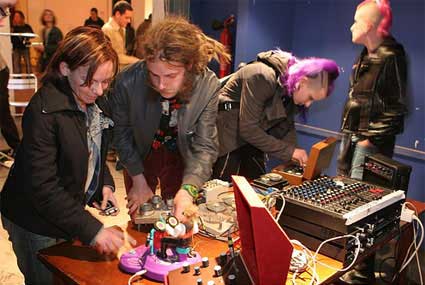 Association for Experimental Electronics, Mal au Pixel 2006, Paris. Photo: Antti Ahonen
Over the years we have developed working methods that makes it easier to organise this type of events, there are some of the tricks that new Pixelache festival nodes can adopt if they want. This has mostly been about treating the organiser team and the artists as one big team that can help the event to happen, by using e-mail lists, wikis, etc. For example one little innovation, asking the artists to put info about their travels online in a wiki themselves, took away a massive travel agency type of work from the organisers (there are often around 100 international artist/contributors arriving to Pixelache). The other great effort used to be the publication, but we have managed to cut down the work effort by using a simple design template and a wiki to put it together, we also make it in A4 size so that we can print it at a photocopy place on the last minute and later on anyone can download and print it at home as well. All these methods help us to remain an independent, grassroot initiative even though the festival has been growing in scale quite a bit.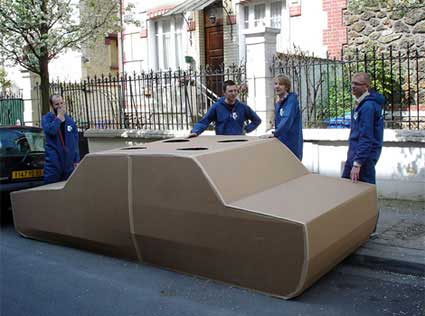 Orgsmobile at Mal au Pixel 2006, Paris. Photo: Johan Sandsjö
When you talk about Pixelazo you usually say *we made" " we were invited", etc. Who is behind that "we"?
'We' is most often the bunch of people involved in organising Pixelache Helsinki, there is a core crew of 5-10 people who have been involved for a longer time, and a larger group of people who get involved occasionally. The larger 'we' includes the international Pixelache network and our local collaborators.
But the question 'who is we?' is actually very important for us, after all these years we are still trying to figure out what it means to be an independent, grassroot organisation. This is something we've been exploring also in previous Pixelache festivals, with the 'Dot Org Boom' theme in 2005 & 2006 and 'Architectures for Participation' seminar in 2007. With the emergence of all the 'Web 2.0' tools and networks, the role of the diy / independent / experimental / alternative media and tech organisations in changing. The revolution of 'citizen media' eventually has happened, via myspace, youtube and facebook… But in quite a different way than 'we' were expecting.
When I interviewed you, we were both in Medellin, a few days after you left the city and flew to Leticia which to me (I've never been) looks a lot like the jungle. Can you gives an overview of the Leticia chapter? How did it go? If you look back at what happened there, do you think it might have any influence on the next Pixelazo?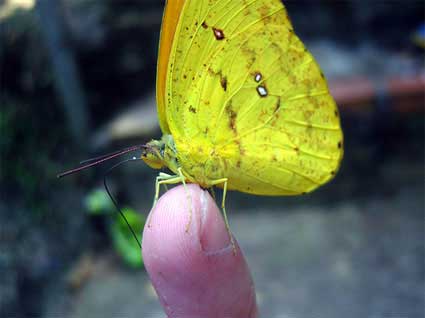 Pixelazo / Selvatorium 2007, Leticia, Amazonas, Colombia. Photo: Juha Huuskonen
The purpose of the visit to Leticia (a town in Amazonia, in the border area of Colombia, Brazil and Peru) was to prepare 'Selvatorium', an artist residency and other activities out in the nature, with indigenous tribes involved. Vanessa has been working with the indians for a longer time and has documented some of their practises at Intermundos website… So we don't need to start from zero, but it's still a great challenge to figure out the 'right' way to try to bridge the gap between North and South. I don't think there is an easy solution available, with such a huge gap between the cultures. As I said before, I think we have a lot to learn from South, but we should also try to make a positive contribution to the local life, without imposing our own values and systems on them. Also it's kind of ridiculous to work on projects dealing with nature, and to burn a great amount of kerosene when people fly over the Atlantic to get there. Hopefully someone will donate us a big sailing boat soon….
Thanks Juha!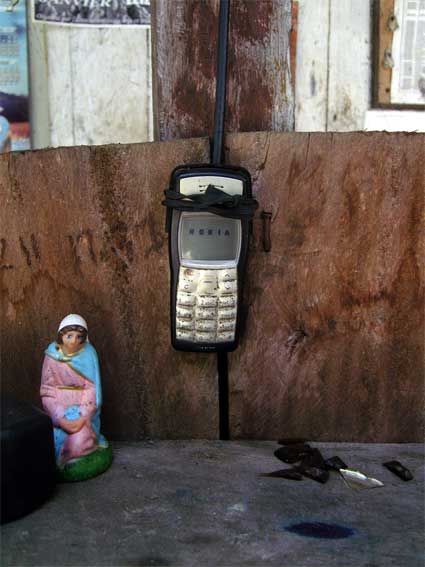 Pixelazo / Selvatorium 2007, Leticia, Amazonas, Colombia. Photo Juha Huuskonen
Next Pixelache appointments:
Pixelache Helsinki 2008: Pixelache University, 13-16 March 2008
Mal au Pixel 2008, Paris, 17-25 May 2008