Just discovered:
Hellen Chadwick's 1977 performance/installation In the Kitchen typifies her initial involvement with the feminist art of the 70s.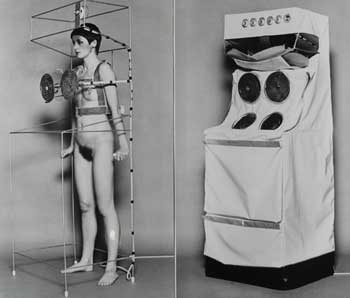 She encased four models in modern appliances, using metal frames so they could still move around the gallery at will. The machines then became humanlike, with electric rings turning into breastplates and the spin-dryer's drum became openly equated with a womb. The models' faces and expressions remained enigmatic, symbolising the female body as a machine paralleling the idea that we are not our own property, that we are not ourselves. (via)
Somehow i'd expect fashion designers to come with similar concepts today (Hussein Chalayan's Living Room collection jumps to my mind but he had a very different perspective on it). So before i marvel at fashion collections, i'll try to remember that artists are so good at the "been there done that" game.
Helen Chadwick's work is part of the exhibiton Role Play: Feminist Art Revisited 1960-1980. One of the key elements of the exhibition is the sexualization of women and their bodies, and the desire to reclaim their bodies for themselves.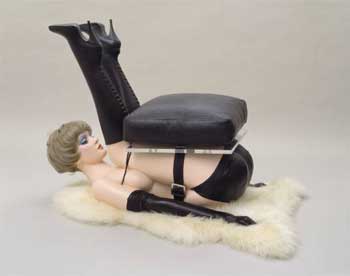 At the Galerie Lelong in New York, March 15 through April 28.
Via artcal.
Can't help mentioning a work that deals with the same issue in a more tongue-in-cheek way. In 1969 Allen Jones produced three female figures, each slightly larger than life size. The 'Hatstand', 'Table' and 'Chair' ladies were cast in fibreglass in editions of 6 by a firm of commercial sculptors who makes shop window mannequins.