The new episode of #A.I.L – artists in laboratories, the weekly radio programme about art and science i present on ResonanceFM, is aired this afternoon at 4pm (London time.)
Today i'm talking with Alison Craighead and Jon Thomson, aka Thomson & Craighead, a duo of artists who have been creating video, sound, installation, desktop documentaries and other online pieces since 1993. Many of their art works appropriate and recontextualise found footage, spam messages, live statistics or even local tweets to make artworks that talk about the way we perceive and position ourselves in the information age.
We'll be talking about how to handle and archive materials found on the web, the absence of any image documenting war in certain parts of the world, spam and other jolly subjects.
The show will be aired today Wednesday 8th May at 16:00. The repeat is next Tuesday at 6.30 am (yes, a.m!) If you don't live in London, you can catch the online stream or wait till we upload the episodes on soundcloud.
Never Odd Or Even, a survey of Thomson & Craighead's work is opening on May 24 at the Carroll/Fletcher Gallery in London. There will be karaoke, Space Invaders and i'm looking forward to that one.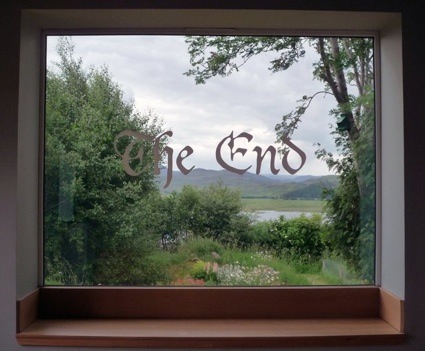 Thomson & Craighead, The End, 2010