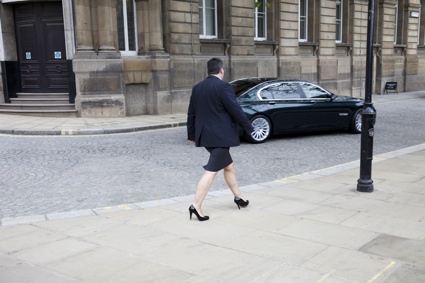 Franck Allais, Subverting The City
KK Outlet, a communication agency slash art gallery slash bookshop, is now showing Franck Allais' comical Subverting The City, street photos of city boys dressed in their usual grey suit attire from the waist up but in pencil skirts and heels from the waist down.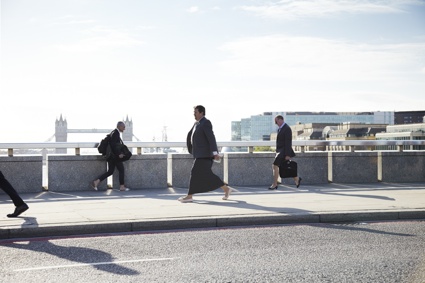 Franck Allais, Subverting The City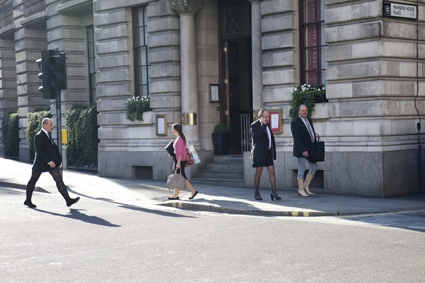 Franck Allais, Subverting The City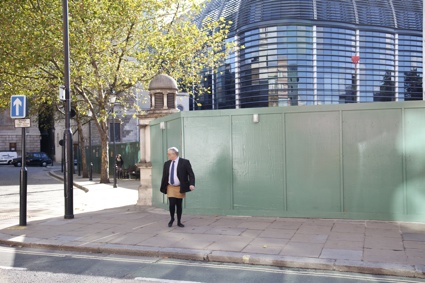 Franck Allais, Subverting The City
And i was going to leave you with this when i realized i might as well add a quick sequences of of images illustrating exhibitions i've seen around town recently.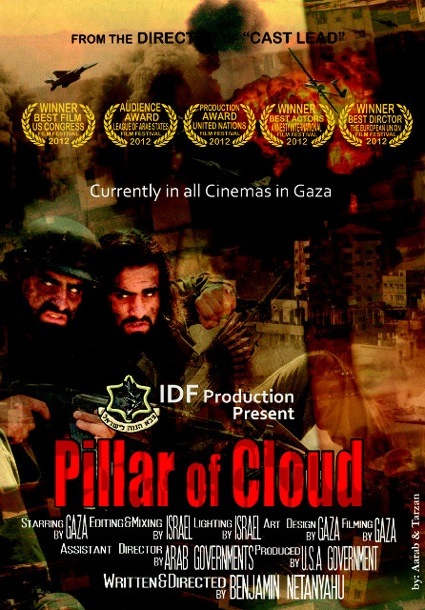 Tarzan and Arab, Pillar of Cloud, 2012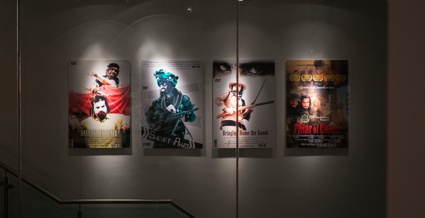 Tarzan and Arab. Photo P21
Starting with Refraction: Moving Images on Palestine at P21, a new gallery focusing on contemporary art from and about Palestine. It's a lovely place with a bar selling cakes and Palestinian almonds.
There's Tarzan and Arab! Their posters pastiche the Hollywood war movie genre. The title of each film sounds very action movie: Summer Rain, Autumn Clouds, Defensive Shield, Sea Breeze, Cast Lead, etc. The cruel irony is that each of them is also the name of a Israeli military operation against Palestinians. Their latest creation is Operation Pillar of Cloud which refers to the eight-day Israel Defense Forces offensive on Gaza.
Pillar of Cloud, as the poster states, is a film by IDF Production, produced by U.S.A. government and directed by Benjamin Netanyahu (assisted by Arab Governments.)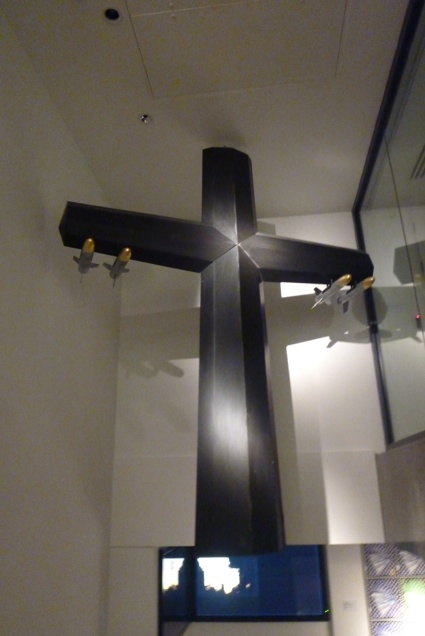 Laila Shawa, Stealth Cross-Metamorphoses
Laila Shawa's Stealth Cross-Metamorphoses, a cross equipped with four rockets, looms over your head as you go down the stairs of the gallery.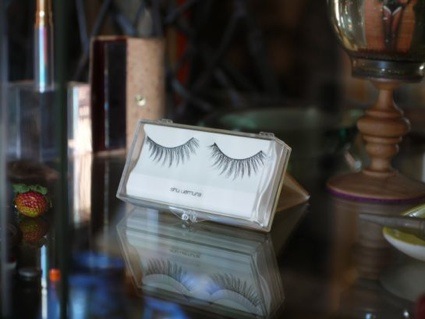 Heidi Specker, Via Napione, Motiv XIII, 2010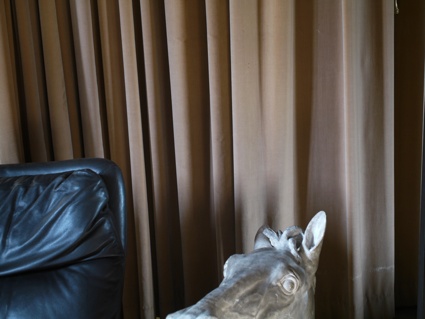 Heidi Specker, Via Napione, Motiv VI, 2010
Next! Heidi Specker is at Brancolini Grimaldi with, among other works, the Via Napione 2 series of photographs taken in the house of architect and designer Carlo Mollino.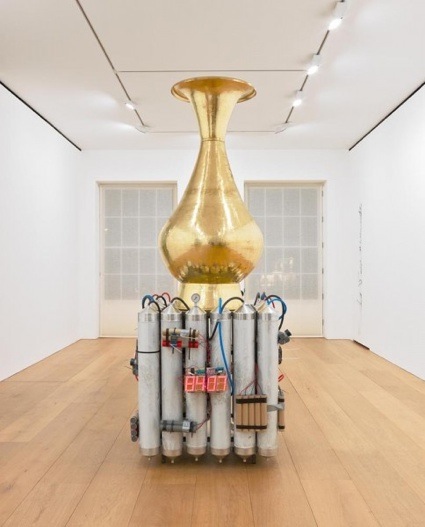 Adel Abdessemed, Le Vase abominable, 2012-2013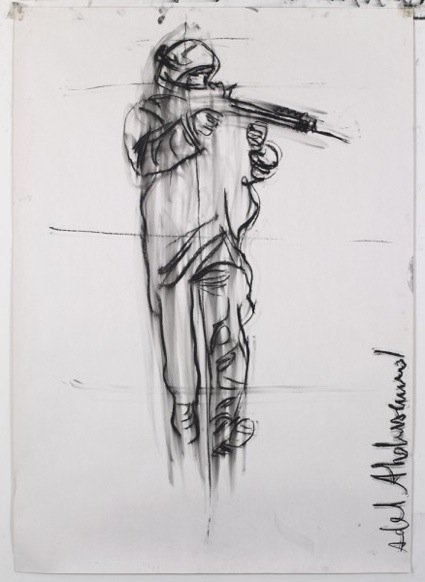 Adel Abdessemed, Soldaten, 2013
Adel Abdessemed, an artist who has my eternal gratitude for turning my ham-addicted boyfriend into a vegan, is at the David Zwirner gallery. The show is about war, violence, and spectatorship. There's an aptly-titled Le Vase abominable positioned on top of explosive devices. No explanation about the meaning of the work but there is a guided tour of the exhibition on March 7 and i do intend to find out. Upstairs, among other works, are drawings featuring soldiers in full battle gear. The animation in the adjacent room is fascinating on its own but i just read what it is about and i'm even going to copy/paste the text accompanying it: State is projected onto all four walls in a separate room and features labyrinth-like drawings which recall Republican prisoner protests at HM Prison Maze in Northern Ireland during the late 1970s and early 1980s. Fighting for their right to wear their own clothes on the basis that they were not convicted criminals, they wrapped themselves in blankets rather than the provided uniforms and refused to leave their cells, which in turn were not sufficiently cleaned. They consequently smeared the walls with their own excrement, beginning the so-called "dirty protests."
Never a dull moment with Abdessemed.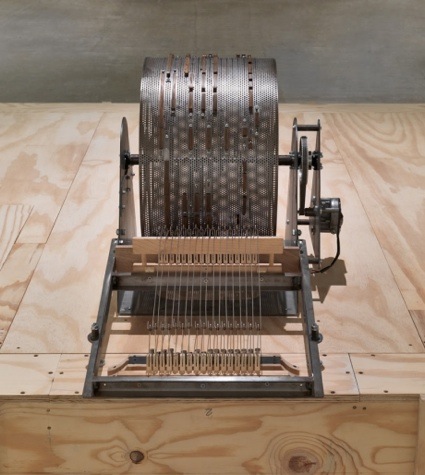 Massimo Bartolini, Afterheart, 2012
The central work in Massimo Bartolini's exhibition at Firth Street Gallery is a scaled-up barrel, like that of a giant musical-box, slowly revolves, opening and closing the valves of a wind organ whose pipes form part of the structure on which the mechanism sits. The music produced by the organ has been composed in collaboration with the artist by Italian composer Edoardo Marraffa. Surprisingly soothing and seductive.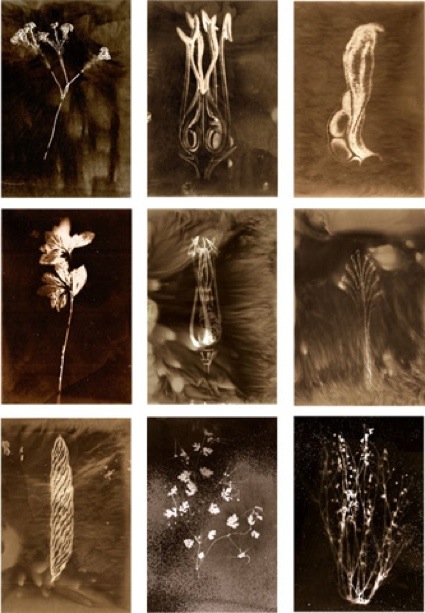 Anais Tondeur, Chernobyl's Herbarium, 2011
Anais Tondeur's Tchernobyl Herbarium documents the trauma endured by the plant specimens found in the Chernobyl exclusion zone. At the GV Art gallery.
Zoe Leonard, Beauty Calibrator, 1993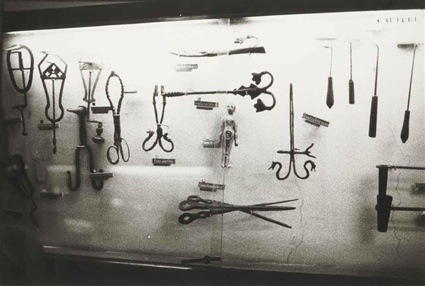 Zoe Leonard, Série Instruments Gynécologiques, 1993
Viral Research is the second exhibition dedicated to the Collection Sandretto Re Rebaudengo that i visit at the Whitechapel Gallery. The first i saw was all about Maurizio Cattelan. His dead squirrel, cheese carpet and hanged self-portrait. Viral Research is supremely different. I particularly liked the b&w photos of Zoe Leonard.
Allison Schulnik, Hobo Clown with Bucket, 2011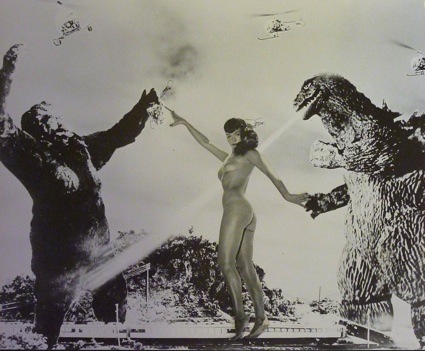 Jeneleen Floyd, War of the Worlds
Paradise Row has a few good works in Kiss Me Deadly, a group show of new art from Los Angeles framed by the sensibilities and concerns of film noir culture that flourished in L.A. in the 1940's and 50's.
I'll close with one of Michael Bauer's paintings at Alison Jacques gallery.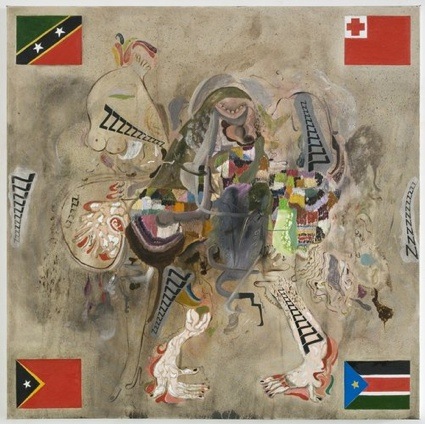 Michael Bauer, Slow Future – Basement 1973, 2011