One last project exhibited a few weeks ago at the Sight + Sound festival in Montreal. You might remember that a while ago I interviewed Arthur Heist about the workshop Analyze Dat: TOR Visualization & online black markets. Before that, i talked with Nicolas Maigret about The Pirate Cinema.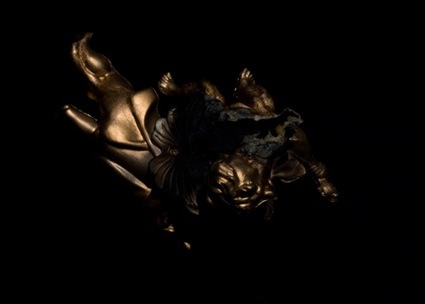 Organic polymers
This time, i had an exchange of emails with Mario De Vega to talk about Thermal, a performance in which he uses microwave ovens to alter the molecular composition of different materials. The work also uses custom-built hardware to sonify the electromagnetic activity produced by the overheating of the content of the ovens.
Hi Mario! Thermal is an audio-visual performance in which several objects are modified using a microwave oven. Now I'm sure you've been asked that questions many times but isn't it dangerous to put objects inside a microwave? The photos from the performances look a bit on the hazardous side to me. Do you have to take certain precautions?
I over-expose danger and confront human vulnerability through a frontal situation. Security advices are given before the performance starts and audience are free to leave the room. I give information and advice of possible danger.
Of course, by overheating a device which development comes from radar technology research from WWII, confronts a complex paradigm: the oven could explode during the performance, gases are highly toxic and electromagnetic activity aim to be materialized thorough acoustic pressure.
Thermal is a confrontation with our own vulnerability using an electronic device that mainly everyone can recognize, a device that modified nutritional facts, social interaction and climate. The action has a political content itself without intending being political as principle. It confronts and intimidates through presence, ambiguity, over-exposed information and acoustic pressure. It also has a visual aim. I'm interested in how electronic devices or arrangements suggest context through ambiguity, in other words, I'm interested in producing events and situations in which codes are visible but not completely "readable". We could be able, in this case, to recognize an object (microwave oven) but our understanding of things reduce our approach, resulting in a situation with dislocated semantic structure in which things are there, frontal and visible and more over we can not understand what is happening.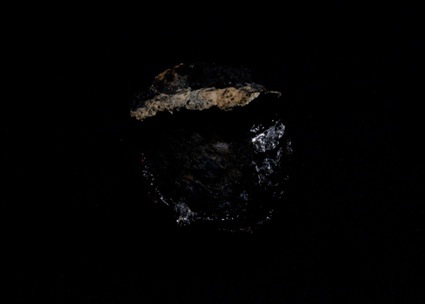 Polyurethane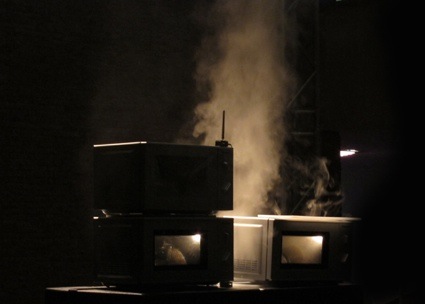 During the performance, you put materials such as wax, ceramic, magnesium, carboxylic acid, pvc, etc. inside the microwaves. Could you describe how some of them react? Did any of the material you used react in a way you did not expect?
This has mainly a sculptural mean; with Thermal I'm interested in research materialization, irritation and modification as main topics. I modify materials, amplify, expose the process and materialize the results through different outputs. Technically, by irritating the molecular composition of matter, microwaves reflection change by absorption. We can think this in terms that certain materials absorb more than others, and here absorbing means less reflection and less dynamic range in an audio event.
We can understand amplification through four semantic layers.
The first one has the aim to amplify electromagnetic activity, high frequency mainly into the 2.4 GHz range. For this I use SNUFF and LIMEN, electronic devices based on logarithmic detectors used to demodulate high spectrum electromagnetic signals into a human audible ranges.
The second later is luminal activity. Using mainly a custom amplifier (BABEL) to convert lumens into sound.
The third part is electro-mechanic, using mainly a contact microphone to amplify friction and mechanic activity produced by the oven, rotating plate movements, for example.
The forth and last is probably the most dynamic part, reduced in a switch. On / Off. I turn on and off the device in order to maintain tension and produce a dynamic event.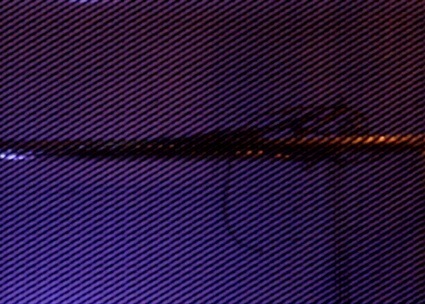 Window of the microwave oven during performance
More generally, could you describe what is going on during the performance? What can the audience see, smell and hear?
What you hear is mainly activity that in a normal situation humans would not be able to codify as acoustic pressure. I use electronic media to demodulate, amplify and over expose highly toxic electromagnetic pollution produced by an electro-domestic device used by 40% of the population worldwide. Burnt plastic and overheated corrosive materials are toxic; smell is an important issue for Thermal.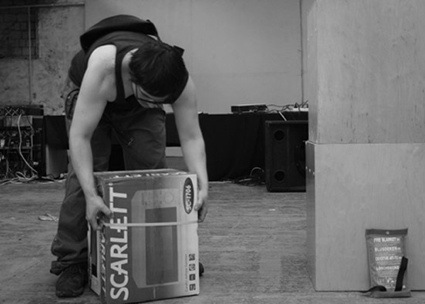 Moscow Biennale, Moscow, 2009
If I understood correctly, the main instrument for this audio-visual performance is the microwave oven. Did you have to modify the household appliance for the work?
No, the ovens are not modified. This would be a very complex and even dangerous task. For me it's even more interesting to use the devices as they are, I just simply amplify its activity.
Any upcoming project, event or research field you'd like to share with us?
Probably I should then here expose deeply my apologizes to delay this interview so long. I've been working in a solo exhibition in Mexico City during the last two years (SIN); the opening was on the 20th of June in a Museum located downtown named Laboratorio Arte Alameda. It's composed by 6 site-interventions, curated by Carsten Seiffarth and a retrospective salon curated by Michel Blancsubé.
An upcoming publication compiling 10 years of my work will be published this month, and an editorial project about thermal must be finished this year, as well as a vinyl edition with artkillart.
Thanks Mario!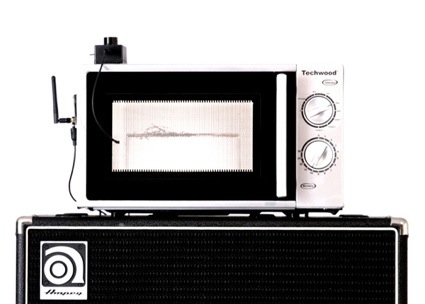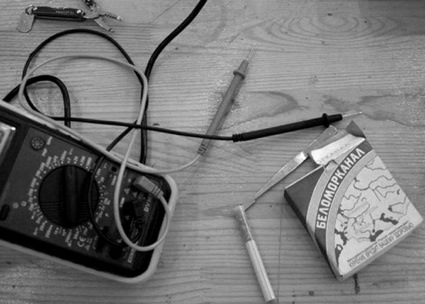 If you're curious about Mario's work, head to Berlin Art Link, they recently visited the artist's studio.
Other works exhibited at Sight and Sound, a festival produced by Eastern Bloc in Montreal: Analyze Dat: TOR Visualization & online black markets and The Pirate Cinema, A Cinematic Collage Generated by P2P Users.
Photo on the homepage: © Kimberley Bianca / transmediale. All other images courtesy of the artist.