The upcoming dorkbot New York has a very appealing programme.
almost certified (grade A noise for non-discerning consumers), by Kelli Cain and Brian Crabtree, is a mechanical sound installation of robotic drum machines that make music by playing an exotic range of real eggs, ranging from araucana to ostrich to bantam, etc.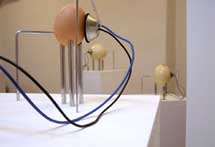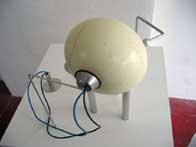 Chris Korda will present Whorld, an open-source live video software that uses math to create a seamless animation of psychedelic images.
For the past year and a half The Botmatrix collaborated with The Les Freres Corbusier theater company on their latest play Heddatron, an adaptation of Henrik Ibsen's play Hedda Gabler complete with 5 robots. The Botmatrix will discuss their experiences collaborating, designing and building the robots for the theatrical run.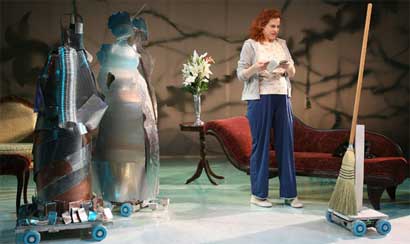 In the play, the robots' lines are delivered using prerecorded text to speech. Two of them are life-size tin men who hover behind Jane and transport her in an enchanted world ruled by robots. The cast includes a scurrying suitcase-like creature in a white wig (for Ibsen's Judge Brack); a balletic walking broom (as the maid, Berta); a silver two-sided daguerreotype figure (as Auntie Julie); and a creeping cluster of vine leaves.
Heddatron runs only through Feb. 25, at the HERE Arts Center on Sixth Avenue, New York.
Reviews of Heddatron: Wired, Variety, the NY Times, and NY theatre.
Next dorkbot: Wednesday, March 1st at 7pm at Location One in SoHo.