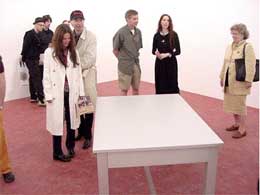 The star of ars electronica was The Robotic Chair, by Raffaello D'Andrea (CA), Max Dean (CA) and Matt Donovan (CA). I must say that i was highly suspicious of it. I remember having experienced so much frustration by another piece from Dean and D'Andrea The Table: Childhood, 1984–2001.
I saw it at at the Biennale di Venezia in Italy in 2001. The robotic table selected a visitor in the room to build up a kind of non-verbal communication with him/her. It didn't interact with everyone, just one person at a time. I spent two days at the Biennale and kept coming back in that room. The table never chose me.
The table was controlled by an algorithm, a video camera on the ceiling was tracking the chosen visitor and the table. If that person was unresponsive, The Table tried harder, following him/her or turning on its axis. I liked the way The Table was switching the roles of viewer and art piece: the attention of other visitors was focussed on one particular person, making him/her the "object" of attention. Check the artist's website for some videos.
Now about the Chair. It's actually a very plain chair when it stands firmly on its wooden legs. Then you hear a "bang" and it lays disarticulated on the floor. Very slowly (one wants to say painfully) and with the help of the camera above them, the different parts try to find each other again and re-assemble themselves. It does that several times in an hour (at least at the opening).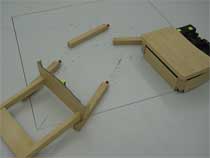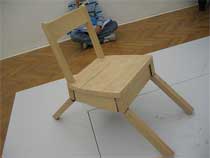 As JL reminds, there's a video on you tube that has been blogged again and again but it's a few months old and it was the "work in progress" version. Versatile Media has a video of the version shown at ars electronica.
Not my favourite piece (my heart belongs to the Table although i never got anything in return) but still very impressive.
My images on flickr.