The Pachinko Hakubutsukan (Pachinko Museum, more pictures) boasts 148 machines, many of them rare and historic mementos of the game's industry.
"I am really grateful for my encounter with pachinko. I wanted to say thank you to pachinko and wanted to return something" to the game, explained Tetsuya Makino, its manager.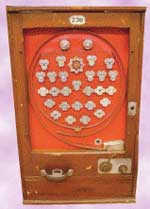 photo(1) one of the oldest pachinko machines from 1946 – photo(2) Masamura Gauge All 10 from 1950
The vertical pinball game, in which steel balls are released from the top and players try to get them into winning holes, causing the machine to discharge additional balls into a tray at the bottom that can be exchanged for prizes or cash, has increasingly become more high-tech as the game evolves and machines are quickly replaced. There is now an estimated 17 million players nationwide and the game is believed to generate 20 trillion yen in year sales.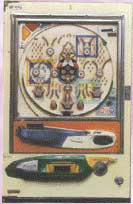 photo(3) All 10 TenW from 1950 – photo(4) Sita Kurage from 1969
The popularity of the game can be explained by the fact that any form of gambling, despite the ubiquitous existence of pachinko parlors, has been officially prohibited in Japan unless it is run by a government-related body. Even pachinko is a form of gambling, the government has allowed it to thrive for decades in a legal gray zone.
Winning players are rewarded with goods ranging from DVDs to ties and stationery, according to the number of steel balls they accumulate. Those prizes can be sold to a prize buyer, whose counter is always located next to the parlor. The buy-back agency then returns the purchased prizes back to the parlor.
The agency and parlor are technically two separate bodies and thus do not violate the gambling prohibition.
Thanks for your help Konomi.
Via The Japan Times. Pictures. Amusing facts about Pachinko, via Japundit.