Last week, i spent an hour at the Next Level – Art, Games & Reality exhibition at the Stedelijk in Amsterdam. There was no catalogue, and the information printed on the boards next to the works was not particularly generous. Nevertheless i quite enjoyed the show, it had no pretention to be the bestbiggestwildest ever and i was surprised to see that mums, dads and grannies seemed to have as much fun watching the works as the kids.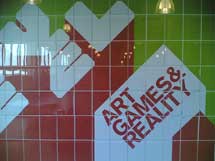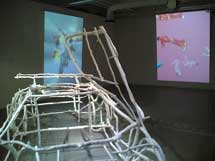 I had blogged but never seen any work by Brody Condon before. His Karma Physics was my absolute favourite. Not just because i have a soft spot for Elvis (read with absolute consternation yesterday that his Graceland Mansion has been designated a National Historic Landmark), but all those pink, white and blue Elvis(es) softly dancing and flying in silence on the wall turned out to be one of the most mesmerizing pieces of art i had seen for a long time.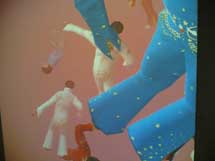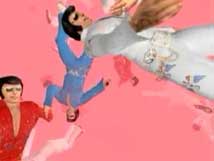 The other infinite self generated projection based on a game mod of Unreal 2003 there was KarmaPhysics , but i didn't find it as hypnotising as the Elvis one. Ram Dass, an early advocate of lsd. somehow his head caught on fire(image)
Condon's Lamborghini Diabolo is based on the Need for Speed games. The life size 1985 Lamborghini model is made out of branches casted in polyuethane.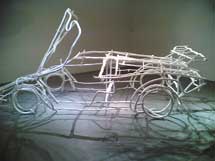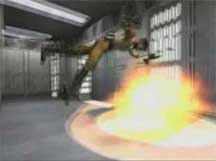 His Suicide Solution is an investigation into the morphology of death in game. It's a documentation collected over the last year of committing suicide in over 50 first and third person shooter games. Each time he shows the moment at which the player gets hit. I found it a bit depressing, though the other visitors laughed a lot. The title of the work refers to the song of the same title by Ozzie Osbourne, who in 1984 was accused of being responsible for the suicide of an American teenager.
The Dutch participants developed new works especially for this exhibition.
Joes Koppers developed a space in which the visitor can be part of an interactive game. Your entry in the room of the "Touch Me" installation is recorded and shown on the screen with a big arrow above you head that invites other visitors to blast you, which they never miss to do. Koppers plays with the fact that the majority of video games revolve around destroying as much as possible in order to achieve a goal. By allowing 'real' people to enter the reality of the game, he mixes our reality with the fiction of the game and demonstrates that the boundaries are becoming increasingly vague, especially seeing as games are becoming an increasingly important factor in our society.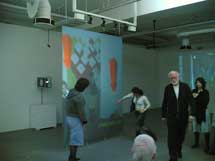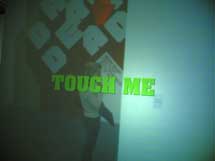 Other works:
– Cargo Geert by Jan Mulder shows the vacuity of driving a car.
– Jan Van Nuenen's Warning Petrol Pipeline is a b&w video animation depicting a futuristic industrialized world.
– Chance Encounter, by Persijn Broersen and Margit Lukacs (authors of the wonderful Zwarte Licht wallpaper and installation), is a very slow and poetic video animation (image below).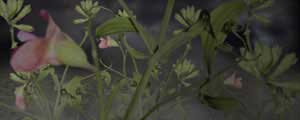 – The GameKings (who doesn't strike me as neing artists!) were showing San Andreas, an edited version of Grand Auto Theft; World on Warcraft and a selection of current Japanese games.
My pictures (as lousy as usual.)

Next Level – Art, Games & Reality, runs through June 18, at the Stedelijk Museum, Amsterdam. For a review in Dutch and better pics, check Bright.