Off Grid is devoted to the margins of urban culture: graffiti, gangs, consumer excess, detritus, and street interventions.
Artworks, performances and interventions will explore alternatives to and subversions of mainstream and highlight the advantages and disadvantages of metropolitan life, examining ideas of inclusion and exclusion, collaboration and intervention, consumption and waste in the context of public space and community.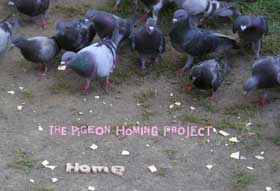 At the Ottawa Art Gallery, 8 April – 5 June 2005.
Via Space and Culture.
Image is from Annie Dunning's Pigeon Homing Project.