The Kinetica Art Fair (part 1)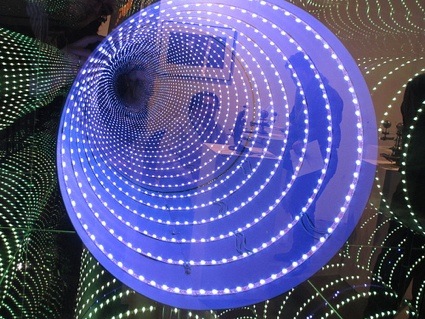 Hans Kotter, Tunnel View, 2011 (Patrick Heide Contemporary Art). Image by Danny Birchall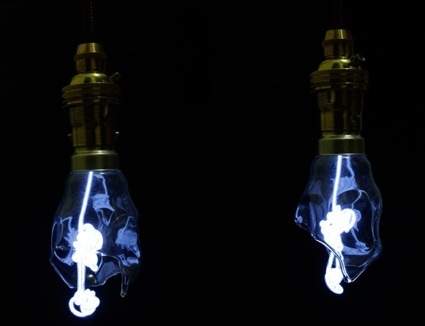 Christopher Stoneman, Incandescent Yolk
Last half of my report from the 4th Kinetica Art Fair where some 300 works demonstrated the fascination that artists have for scientific knowledge. The theme this year was "Time, Transformation and Energy", a group of terms that you could apply to almost any work focusing on kinetic, electronic, robotic, sound, light, time-based and multi-disciplinary new media art, science and technology anyway. As i wrote yesterday, Kinetica is a joy. It's surprising, exciting, and its laid-back atmosphere provide plenty of opportunities to discuss with artists, curators and other visitors who are as interested in technology-infused art as you and I might be.
Some of the pieces are candidly whimsical, others explore responsive architecture, pay homage to Jean Tinguely or to Newton's third law, take the form of small models of celestial mechanics, or of experimental music gigs on modified Fisher Price Turntables.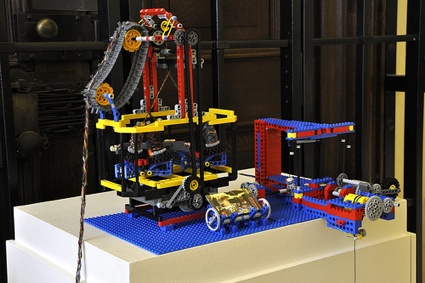 Alex Allmont, Plaiting Machine
Alex Allmont 's LEGO Plaiting Machine is the epithome of what i was expecting to find at Kinetica. The machine slowly weaves together three yarns of wool through the force of gravity. To regulate its speed the system uses an ornate clock escapement from the late 19th century called a 'flying pendulum'.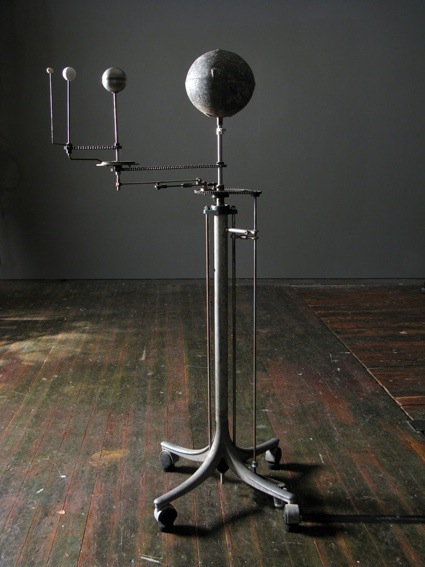 Mark Zirpel, Orrery #3, 2009. Photo American Craft Council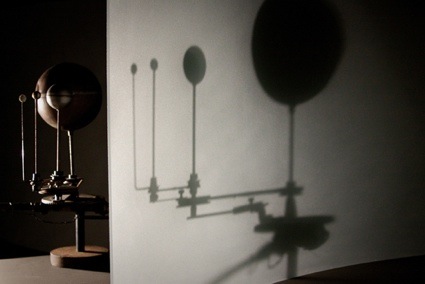 A work by Mark Zirpel, focusing on celestial mechanics. Picture: Mark Zirpel
Mark Zirpel has been focussing on celestial mechanics, particularly the connections between celestial and terrestrial phenomena. He became fascinated with the antikythera mechanism, recovered from a shipwreck off the coast of Greece in 1901. After decades of being puzzled by its functions, scientists finally determined that it was the first analogue computer. The 2,000-year-old gear mechanism could predict the position of the planets at any point in time. However, some of the models that Zirpel was showing at Kinetica were directly inspired by orreries, mechanical devices that illustrate the relative positions and motions of the planets and moons in the Solar System in a heliocentric model. The first working model of the kind was engineered for the Duke of Orrery back in 1704. Zirpel used discarded materials (from washing machine parts to bicycle components) and intentionally ignored the design of the original orreries so as to create a more personal version of the mechanism. Besides, his delicately-crafted mechanical models of the solar system are powered by the sun.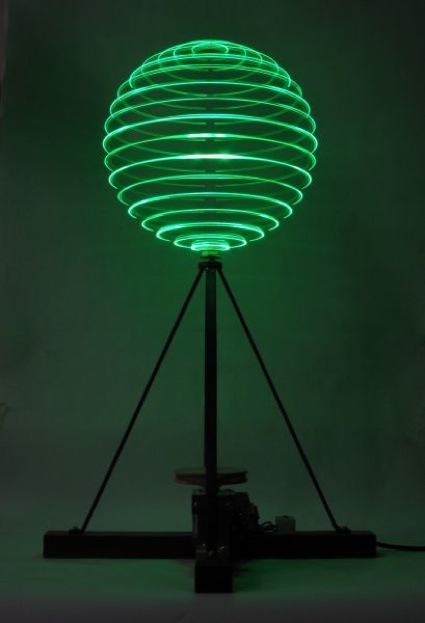 Tom Wilkinson, The Green Ray No. 2 (Homage to Inaccuracy), 2012. Picture: Tom Wilkinson
Green Ray lights spin so fast, their traces produce a spherical form, the work deals with the illusion that the world consists only of solid bodies.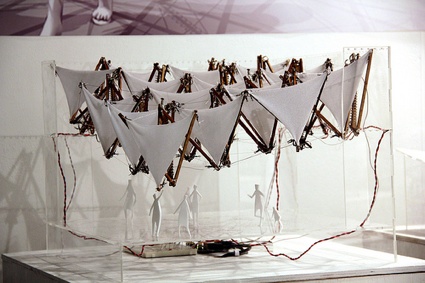 AA-D_Lab + ShariShariShari, Architectural Intelligent Canopy
The intelligent canopy, designed during a Summer workshop at the Architectural Association, demonstrates how "intelligent architecture" responds to the immediate environment. The roof consisting of tensegrity structures shrinks and expands kinetically, its artificial muscle moving in response to environmental stimulus and modes of the space. The prototype model exhibited at Kinetica changes its shape where it senses light.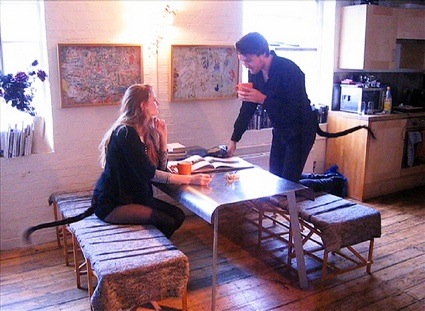 Greyworld's Tail
greyworld's 62cm long Tail comes in various patterns and can be clipped to the belt or waistband. Using the remote control you can make it move at various speeds or dance in time to the music. Apparently hordes of people are keen on getting one for themselves.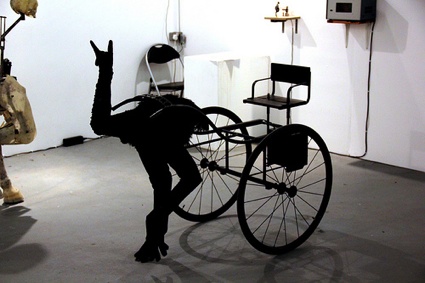 Tim Lewis, Pony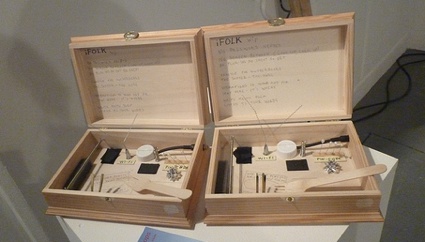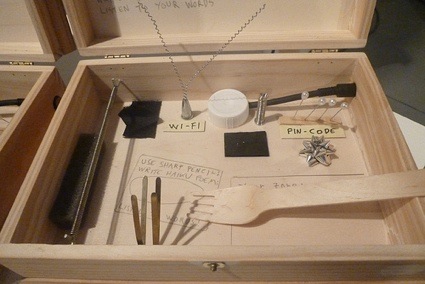 Acoustic laptops are wooden briefcases containing springs, stones, metal, rubber, string, needles, memorabilia as well as cheap contact mikes (piezos) to amplify their sounds and turn the case into a musical instrument.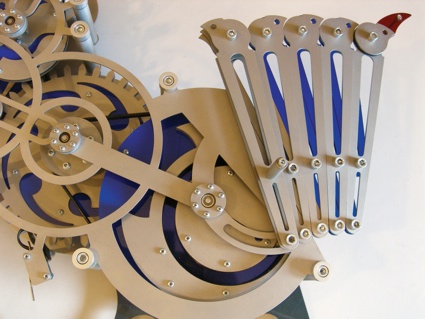 Piotr Jedrzejewski, Detail of city, mass, machine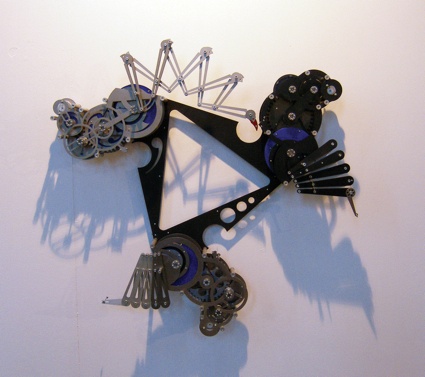 Piotr Jedrzejewski, City, mass, machine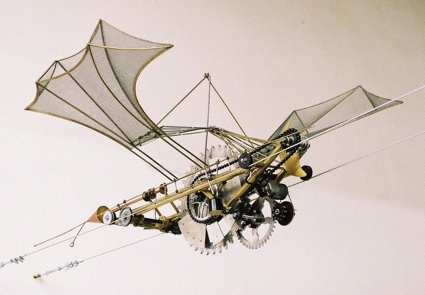 Piotr Jedrzejewski, Down with feathers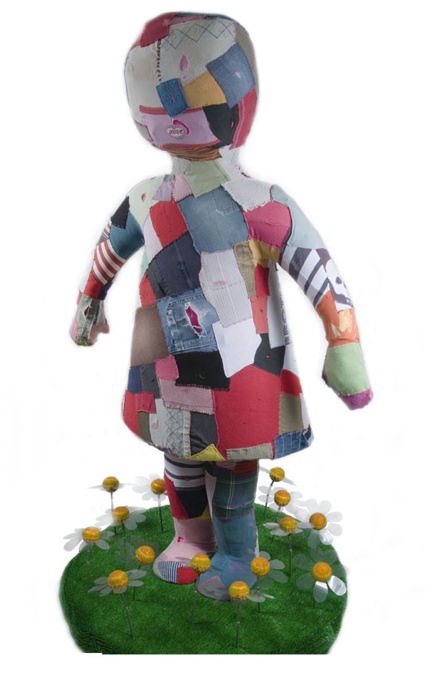 Sophie Cullinan, Worn, 2010
Sophie Cullinan's Worn is just a big patchwork doll that you inflate at the press of a button. For some reason, i couldn't stop watching it.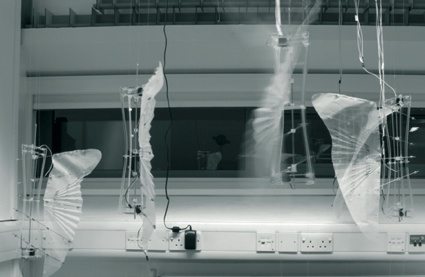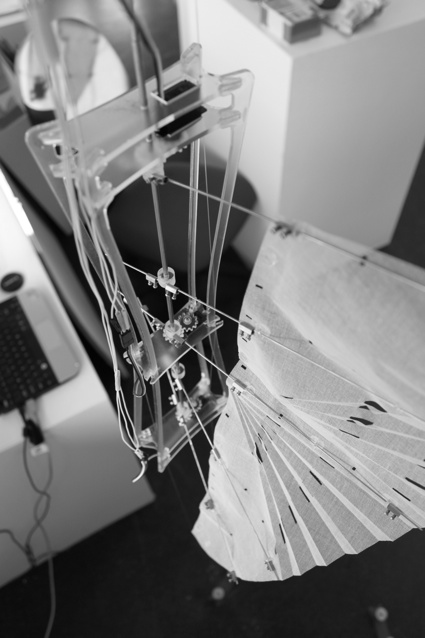 Sylvia Ilieva, Living Architecture, represented by University of Westminster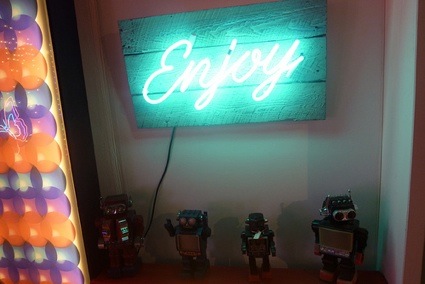 Image on the home page from Danny Birchall's photo set. Photo galleries on flickr and The Telegraph.
Previously: The Kinetica Art Fair (part 1), Soundwaves at the Kinetica Museum.