The Holo-Dek gaming center in Hampton displays a series of innovations for video game addicts.
One of them is a room with a 13-foot screen, lit by a powerful projector, which is in turn controlled by an Alienware computer, a machine built just for gaming. When projected at this size, video game unfolds at human scale. An opposing soldier appears about six feet tall, and railings and fences come up about waist-high.
"Basically, this is a video gaming theater… like a movie theater for gaming. Everybody gets a state of the art PC and at least a six-foot screen," says Mike Fortier, co-founder of Helo-Deck.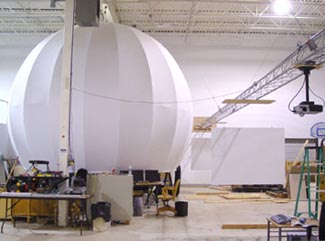 Another of the company's gaming creations is a 20-foot-diameter globe screen with a robot at its center. When finished, the interior will be wholly lit with the game of your choice, 360 immersive degrees of tropical island or race track or deep space, and the robotic seat at the center will simulate acceleration, or the oscillation of driving over gravel, or the continuous spin-out of a car that has lost traction.
Via SelectParks The Wire.
Photo by Josh Pierce.