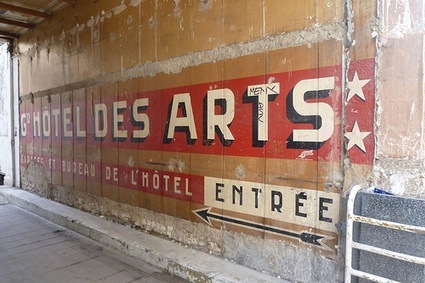 Having finally found some time to go through hundreds of pictures, notes and a decidedly chubby catalogue, i'm ready to start a series of reports from last month's visit to International Design Biennial in Saint Étienne, France. The theme of this 6th edition was Teleportation. The biennale, the website says, intends to explore paths of discoveries that will tend in their extreme expression to lead to a possible teleportation as the dematerialization of movement which appears to be an incredibly revealing notion of our era.
The topic was fairly loosely explored. I doubt i would have noticed any difference had they called it dreams or near future or speed or boundaries. But that's about the only negative comment i'm ready to make about the event. It was big, it was often smart, intense, joyful and ambitious and that's far more than an old blasée like me can ask from any design event.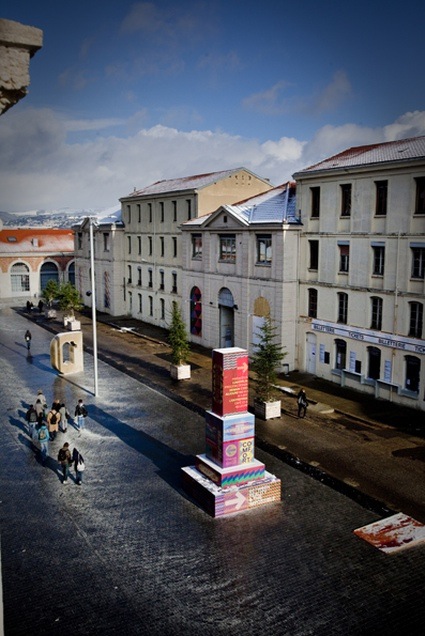 © Pierre Grasset
Taking place at the Cité du Design, a former arms factory in the center of the city, the most exciting exhibitions of the biennial aimed at democratizing design without ever dumbing down its discourse and challenges.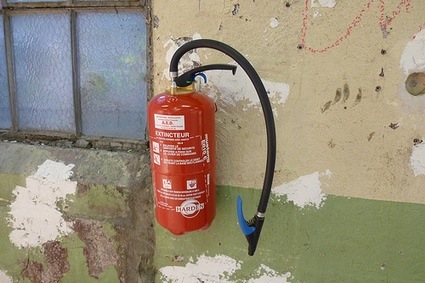 Heating was in short supply as you might expect in any ex-industrial building but food was yummy, inventive and often organic.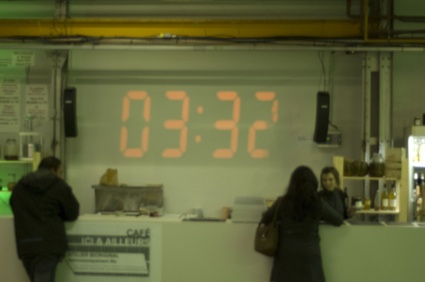 At the organic bar. © Benoît Maharaux
Special mention for the architecture of the design shop: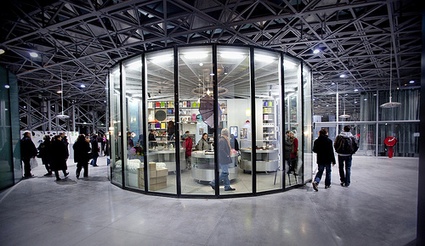 The design shop. © Pierre Grasset
I'll kick off with a quick review of La Ville Mobile (The Mobile City.) The exhibition, curated by Constance Rubini, attempted to picture what cities will look like in a not too distant future. It didn't actually have much to teach to most of you who, i suspect, have been interested in the exponential saturation of megacities, flashmobs, the challenges facing public transport, foldable bikes, and other urban issues for a while.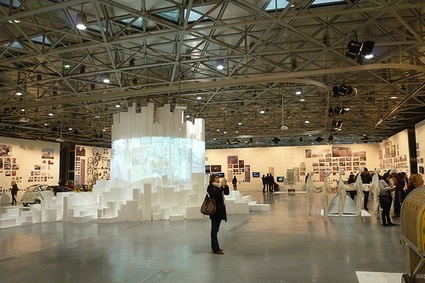 General view of the exhibition
It did however bring a theme which is not often included in conferences and exhibitions about mobility and future cities: Forced Mobility which bring attention to the exclusion of socially deprived groups.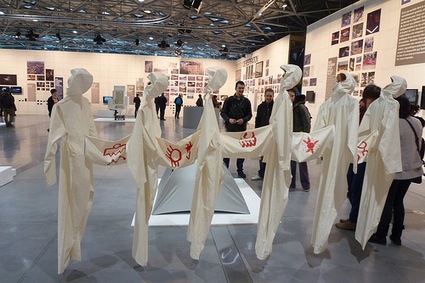 Lucy+Jorge Orta, Refuge Wear
Among the works exhibited were a couple of works by Lucy+Jorge Orta, Krzysztof Wodiczko's Homeless Vehicles, Electroland's Urban Nomad Shelter, Michael Rakowitz's paraSITE, etc.
And then there was this wonderful short video showing a series of attempts to subvert 'anti-homeless furnitures' in Paris. Also called antisites, they are occupied by pebbles, spikes, fences or even uncomfortable vegetation that prevents people, whether they are homeless or not, from sitting near a building or lying on a public bench. Stéphane Argillet and Gilles Paté call the braves who resist this architecture of oppression the "fakirs" of public places. In their short video The Fakir's Rest, they demonstrate a few fakir tactics.
Gilles Paté and Stéphane Argillet, The Fakir's Rest, Paris, 2003
And now a few images to illustrate the rest of the exhibition La Ville Mobile: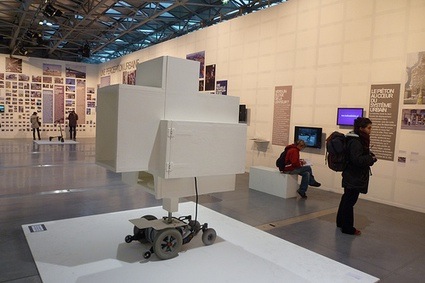 Jurgen Bey, Studio Makkink & Bey, Slow car, 2006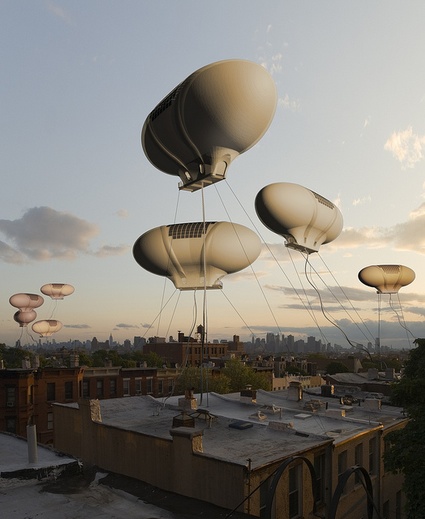 Cloud City, Studio Lindfors, Brooklyn, New York, 2008. © Studio Lindfors
Cloud City is one of the proposals that emerged from a competition that challenged designers and architects to imagine temporary housing solutions in the event of New York City being struck by a catastrophic coastal storm. The helium-filled blimps would plug onto the rooftops and float above the flood-stricken city.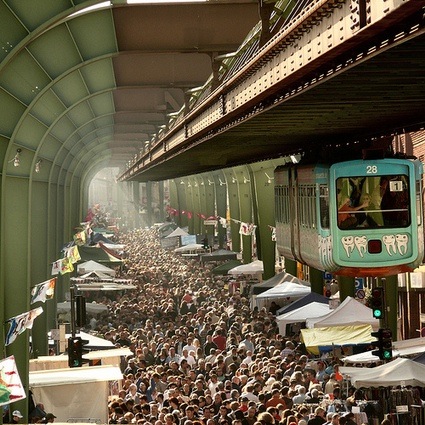 Suspended Monorail in Wuppertal, DE. Built in 1900, it's the first monorail ever built, it also the oldest on still in use. © Photo Dietmar Fritze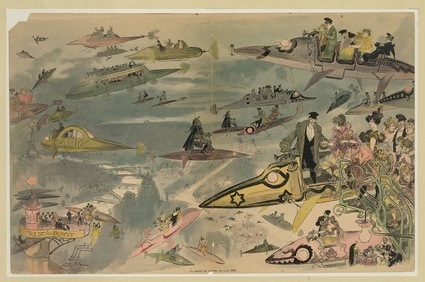 Albert Robida, La Sortie de l'opéra en l'an 2000, circa 1882. "Print shows a futuristic view of air travel over Paris as people leave the Opera. Many types of aircraft are depicted including buses and limousenes, police patrol the skies, and women are seen driving their own aircraft."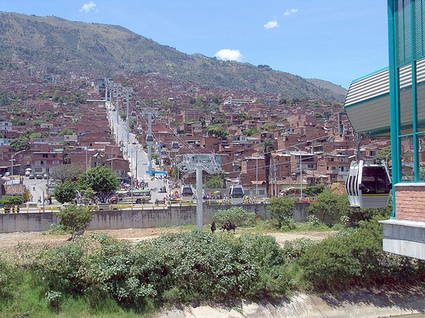 MétroCable. Médellin, Colombie. Inaugurated in 2004, the cable cars connect the city center with the hilly Santo Domingo area, one of the poorer districts of the city © POMA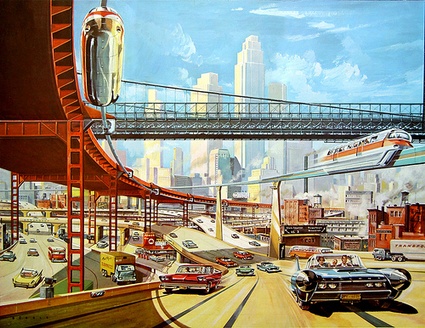 Klaus Bürgle, Highway traffic, 1959. © Klaus Bürgle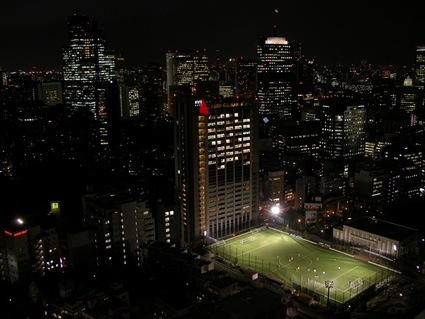 Urban Sport, football field in Tokyo. © Marc Lemahieu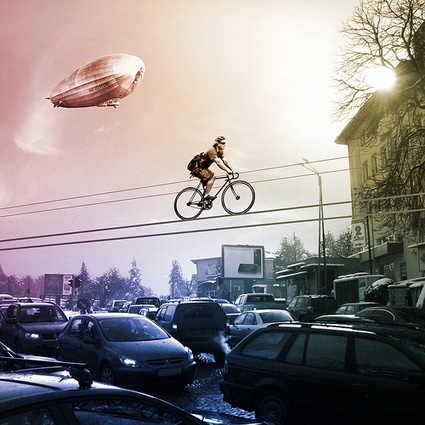 Martin Angelov, Kolelinia, 2009. © Martin Angelov. Who needs bike lane when you can enjoy a network of suspended steel wires?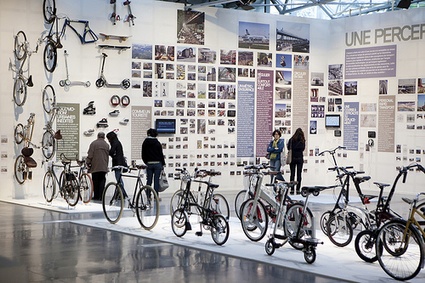 View of the exhibition space © Pierre Grasset
Also on view at the Design Biennial: The House That Herman Built.
Related stories: Casa per Tutti / House for Everyone, Lucy + Jorge Orta's Antarctica expedition, Drink Water, REACTIVATE!! Part 2, Instant urbanism, the Shellhouse, Design for "urban nomads", etc.