Paddy Hartley has created face corsets that alter the shape of the wearer's face. Through the corsets, the artist examines perceptions of beauty and alternative means of achieving the wearer's ideals of perfection.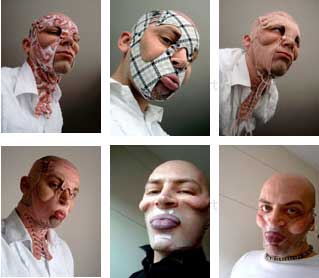 The corsets have been developed with Ian Thompson from the tissue-engineering group at Imperial College London, whose research involves making and refining bioactive glass implants to reconstruct faces damaged by accidents or surgery. Bioactive glass has a very similar composition to bone, and its surface opens within hours of implantation, and allows tissue to grow into it.
Paddy, Ian and Andrew Bamji, an expert on the historical origins of facial reconstruction, will discuss during the Rearranging Face evening, which takes place on October 5 and marks the launch of a series of events at the Dana Centre (London) dedicated to exploring the future of face research. Attendants will be able to try on the face corsets, handle the bio-implants, watch footage of them in the making.
UPDATE: BBC has wild pics of people with the face corset on!