With Invisible – The Shadow Chaser, players have to sense and capture "ghosts" with a vacuum cleaner. "Invisible" goblins sneak around, but you can only see their shadows.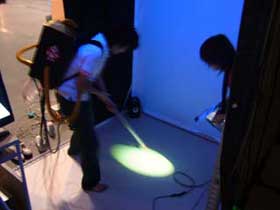 The system allows "hunters" to feel the presence of 3D virtual objects using only indirect information such as the shadows and sounds of goblins instead of direct images.
When the goblins move, players can hear their footsteps. The volume of the sound changes depending on the goblins' position on the floor. When players capture goblins, they hear the goblins' scream and vacuuming sounds.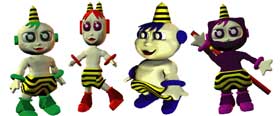 Players can also get a haptic sense of capture. When they catch a goblin, small motors in the hose of the device vibrate sequentially from the nozzle toward the handle. Then a large vibrating motor in the backpack presents a sense that the captured goblin is struggling. At the same time, water is moved from a tank on the ground to another in the backpack, so players feel the weight of the captured goblins.
The projector displays a 3D object's existence and behavior.
Developed by the Nara Institute of Science and Technology.
Images 1, 2 and 3 (thanks Konomi.)
Presented at Laval Virtual, (via Yahoo.)