Craftwerk 2.0: New Household Tactics for the Popular Crafts, an exhibition curated by Clara Åhlvik and Otto von Busch for the Jönköping county museum in Sweden, has been prolonged to March 21, 2010.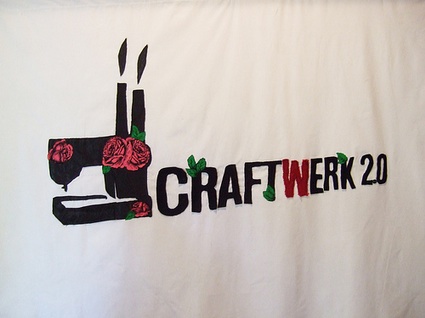 Image by Cross-stitch ninja a.k.a. Maria Halvarson
I'm going to get out of my comfort zone and write about an exhibition which, alas!, i haven't visited. Still i felt the post was due because 1. god knows if i'll ever set foot in Jönköping to report about this show or any other one for that matter, 2. Craftwerk presents the work of talented Swedish (and non-Swedish) artists/crafters i might otherwise never have got to know.
The pieces on display -whether they stem from activism, relate to techno-enhanced textiles, or are objects anyone can buy on Etsy- challenge today's conceptions of economy, durability, sustainability as well as the public's expectation of what art and design can be. Interestingly, the title of the exhibition plays on the idea that Alexander Dorner, director of the Hannover Museum during the 1920's, had of a modern museum. He defined it as a Kraftwerk, a dynamic and flexible powerhouse that would embrace other fields and disciplines and consequently function as a bridge between the art and society as a whole while. That's exactly what the workshops, lectures and the Craftwerk exhibition at the Jönköping County Museum are trying to achieve.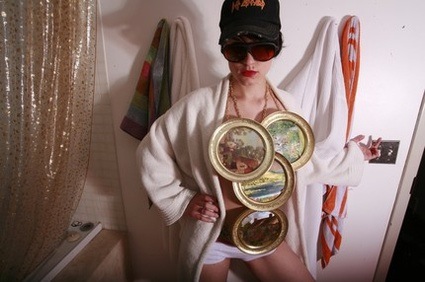 Elizaveta Kameleon Yankelovic's necklace
Blurb about Craftwerk 2.0: New Household Tactics for the Popular Crafts:
Over the last decade there has been a surge in crafts among young practitioners, often combined with political aspirations and networked efforts over the internet. From being a personal hobby the textile crafts have gone public and methods, techniques and tools are shared among users in ways similar to what we have seen in internet phenomena like Facebook and Wikipedia.
Craftwerk 2.0 explores the new "updated" textile crafts that are developed by a new generation of serious amateurs, innovative craftsmen, engaged entrepreneurs and political practitioners. Once again the home is the workshop where economic and ecologic innovation happens – not only in the labs of the industrial expertise. After decades of outsourcing, the new modes of production are in the hands of the layperson.
Now how about a few works and artists i've discovered while reading about the exhibition?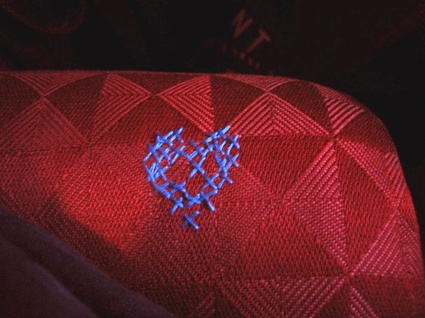 Ulrika Erdes, Public Embroidery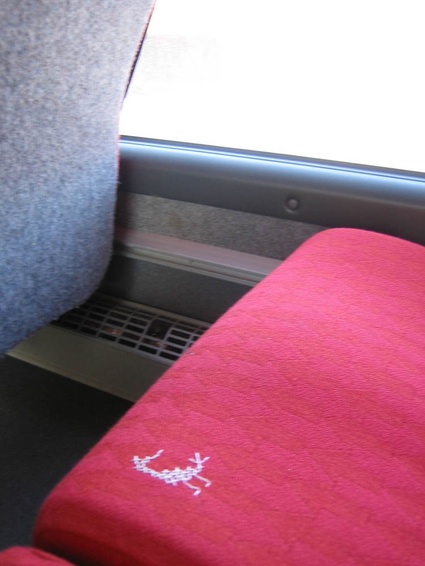 Ulrika Erdes, Public Embroidery
Ulrika Erdes has been embroidering on bus seats as a means to reclaim public space with textile crafts and to bring more feminine expressions into a cold functionalist and masculine world. You're invited to be take her cross-stitch patterns on the bus with you today!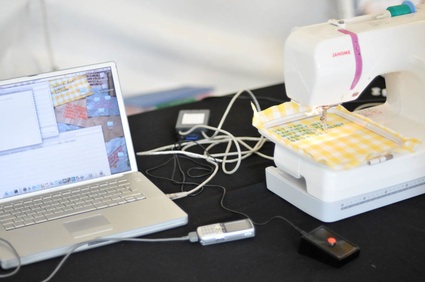 Åsa Ståhl and Kristina Lindstöm, Stitching Together. Photo by Otto Von Busch at the Malmö Festival 2009
Stitching Together, by Åsa Ståhl and Kristina Lindstöm, is a "hacked" digital sewing machine. People forward the machine one of their personal SMS and it dutifully embroiders it.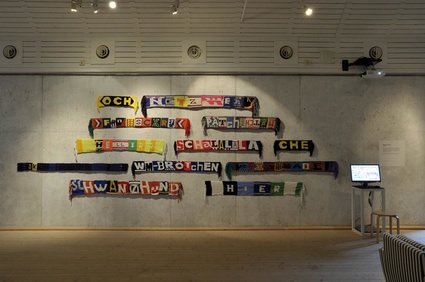 Rüdiger Schlömer, Schalalala. Photo credit Göran Sandstedt
Rüdiger Schlömer's Schalalala is a a fan scarf remix project. Using the Remix-Interface software, football team fans can mix and match elements of existing scarves to create individualized knitted fanscarvess. Et voilà! The humble fan scarf becomes a social media in itself. Schlömer created a special edition of fan scarf letter archive especially for the workshops at the exhibition, using the typographies of popular local teams.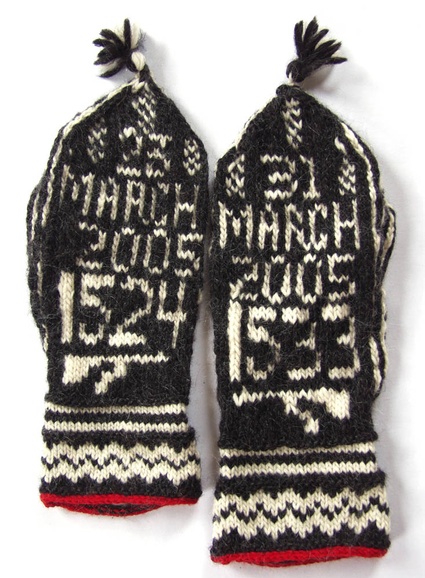 Lisa Anne Auerbach, Body Count Mittens
The number you can read on the first hand of the Body Count Mittens is 1524, it's the number of American casualties in Iraq on March 23, 2005, the day Lisa Anne Auerbach started knitting the mittens. 8 days later she began the second mitten. The number had jumped to 1533. The amount is much higher now.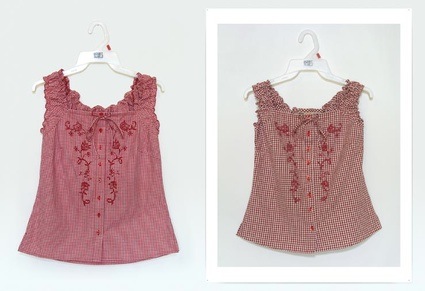 Zoe Sheehan, Shopdropping. Faded Glory Ruched Shoulder Tank (China Red), 2003. Left: purchased item – Right: photograph of duplicate
Zoe Sheehan bought for a few dollars a series of garments at Wal-Mart, copied them by hand, using matching pattern, fabric, and embellishments. She then sew the tags from the original item into the duplicate and 'shopdropped' it on the Wal-Mart rack for potential sale at the original price.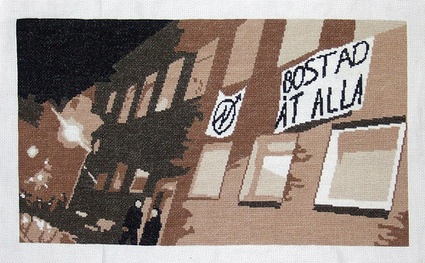 Cross stitch ninja, Homes for all
In 2008, there were a number of squats all over Sweden as a protest to the housing shortage, in particular in biggest cities. "Cross Stitch Ninja" a.k.a. Maria Halvarson (part of the famed online collective Radical Cross Stitch) decided to make a cross stitch based on a photo from an article about one of these squatting actions. The text on the banner says "Homes For All".
Views of the exhibition space: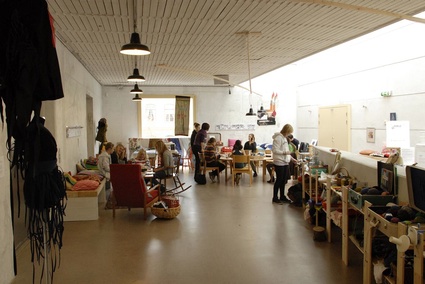 Photo credit Göran Sandstedt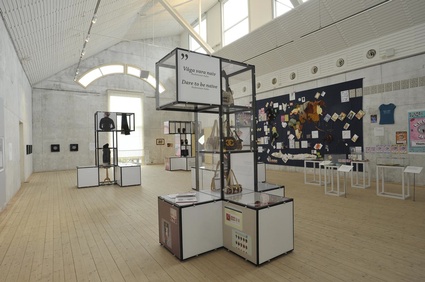 Photo credit Göran Sandstedt
Photo credit Göran Sandstedt
Craftwerk 2.0: New Household Tactics for the Popular Crafts exhibition will continue until March 21st at the Jönköping county museum (Sweden.)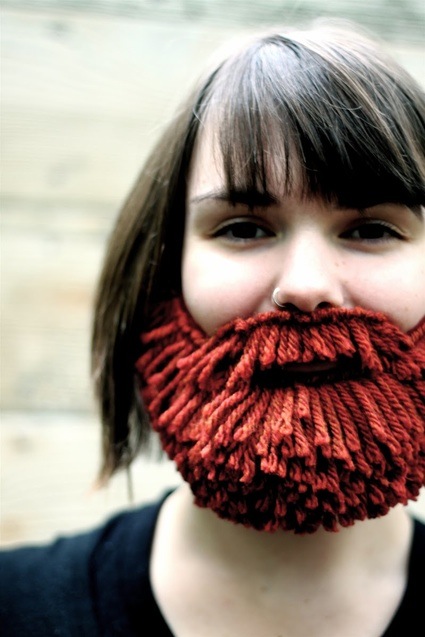 Erin Dollar, I Made You a Beard (you can get yours over here)
Related exhibitions: Diritto Rovescio, Threads that weave art, design and mass creativity, Pricked: Extreme Embroidery and Delirious knitting show at Craft Council.
And also: Fashion-able. Hacktivism and engaged fashion design, Interview with Cat Mazza (microRevolt), Interview with Otto von Busch, Book Review: KnitKnit: Profiles + Projects from Knitting's New Wave.