Project Runway is a reality series in which twelve fashion designers compete for a New York Fashion Week runway show and $100,000 to launch their own clothing line.
The challenge of episode 1 was to design a glamorous outfit for a night on the town, made from materials bought at a popular Manhattan supermarket.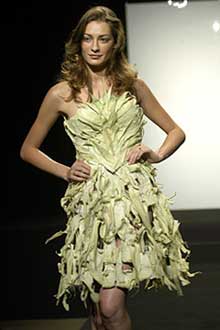 Austin's winner outfit was made of corn husk and duct tape (more stylish but less fun than the "Rope Candy, Lifesavers, Tic Tacs" outfit).
Dried husks were rubbed between the palms of his hands to make husk flakes that he then applied onto the duct tape that shaped the pattern.
Via Styleborg.