The worst way to kick off a new year for an art blogger is to see an exhibition so good you're left wondering if the rest of the year won't be a 12-month letdown.
Manipulating Reality, a show running until January 17 at CCCS in Florence, is brilliant. The exhibition explores the theme of the manipulation and reconstruction of reality through photographic images and videos. Because my blogging slowness is becoming legendary and the exhibition closes real soon, i thought i would be best to post a quick entry about one of the artworks i discovered in the exhibition before coming back with a much wordier report.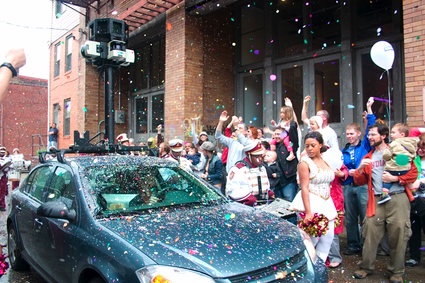 Ben Kinsley & Robin Hewlett, Street With A View (Performance Still), 2008
Street With A View addresses the tension between surveillance concerns and the triviality of the images captured by Google Street View. As most of you know, this online service is based on photo material gathered by a panoramic camera attached to the roof of a vehicle driven at slow speeds through city streets all over the world. The mapping system has given rise to debates about privacy and the right to publish and use for commercial purposes the images of individuals and of entire neighbourhoods.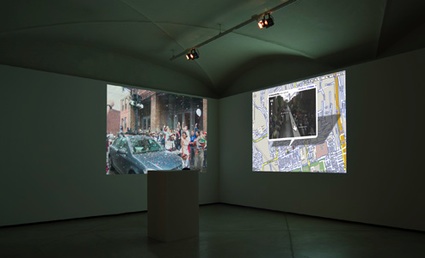 Street with a View, 2008. Installation views. © Centro di Cultura Contemporanea Strozzina, Firenze; Valentina Muscedra
With the complicity of both the inhabitants of Sampsonia Way in Pittsburgh and Google Street View, artists Ben Kinsley and Robin Hewlett staged collective performances and actions that took place just as the Google Car was driving through the neighbourhood: a 17th-century sword fight, a lady escaping through the window using bed linen, a gigantic chicken, a parade with a brass band and majorettes, the lab of the inventor of a laser that makes people fall in love, etc. The images that document the events have become an integral part of the Google image archive.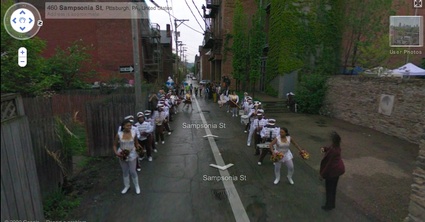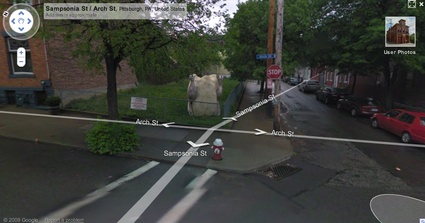 The Street With A View is an ironic comment on the idea of access to reality through mass-media images. Users of Google Maps can have the impression that they have seen (and therefore know) the streets of Paris, New York or Pittsburgh without ever having set foot there. With their series of collective performances and actions, Kinsley and Hewlett create an analogy between their carefully planned and coordinated artistic events and the equally fictitious reality presented by Google. As images cannot replace direct, physical experience, they always constitute a reconstruction, if not indeed manipulation, of the real world, but one that we are led to regard as real in today's media-driven society. According to Paul Virilio, the representation of reality in an image then becomes a reality in turn, but of lower degree. The image has replaced the word, thus creating a visual truth that has become the contemporary language most used and of most importance in the globalized world.
More videos
Manipulating Reality is open until January 17 at CCCS-Strozzina in Florence.