This one might be the last project i'll blog from the Design Interactions graduation show.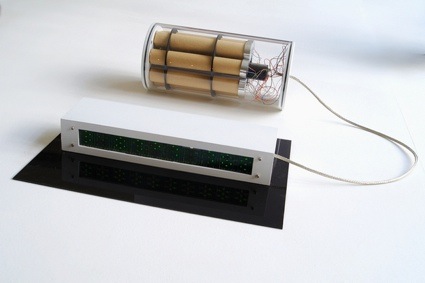 Diego Trujillo had two interesting projects in the exhibition. The main one was The Generated Man, a software work that flips around the way Google usually creates a digital persona of web users based on their previous behaviour.
For some abstruse reason, i decided that i'd focus on his other project: the 300 Years Time Bomb. There's something both disquieting and strangely appealing about a bomb engineered to explode in exactly 300 years time. Even if none of us will be there to experience it.
The bomb's timer displays the years in seconds making us question what meaning such a large number holds and changing our dramatic relationship with countdown timers.
The explosive is found 100 years after countdown is initiated, by this time it has acquired historical importance and is put on display in a blast proof building. Several generations await for the moment when it finally goes off in this controlled and safe environment. Time and efficient electronics make the nature of the explosive change from an immediate threat to a spectacular display.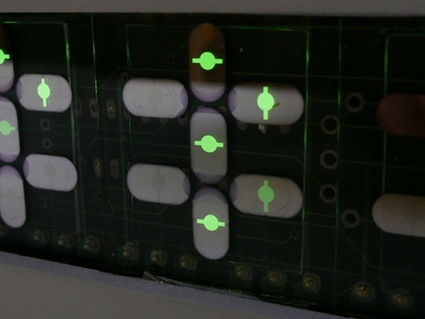 Extracts of a Q&A with Diego Trujillo:
300 Years Time Bomb sounds like an action movie to me. Not just the title but also the drama, the fact that it is found 100 years after countdown has started. hence two questions:
One: Was cinema an influence at any point in this project?
The project is in fact very influenced by film, specially the design of the bomb as an object. I realized that the image of a bomb most of us have comes from action film. Real explosives are reserved to such a small portion of the population that most of us don't know what they might look like. Hence, common concepts of a bomb rely on fiction.
After I choose a time bomb as an illustration to talk about time, my research focused on the many ways bombs and countdowns are shown on films. This research is broad enough to write a book on. Some of my favourite explosion countdown scenes are from Alfred Hitchcock's Sabotage, the card countdown from Last Action Hero and the spherical bomb rolling down the stairs in The Shadow. However I decided for a more standard Die Hard style or 007 explosive, as they tend to be easier to read objects in which the detonation mechanism can be read on the design.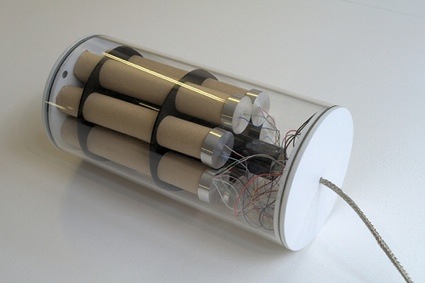 And Two: The project comes thus with the skeleton of a scenario. Do you want us to fill in the gaps and think about who created this bomb, to what purpose and why wait 300 years? Or did you elaborate a longer scenario?
There was originally a longer scenario. I consciously cut the maker and the purpose of the bomb out of the project as I felt it was getting too political. The same happened when I thought who would make a building to display it. The risk with a detailed scenario was that the focus could shift to a broader debate on terrorism, warfare, politics and economics rather then time. I feel there are many interesting implications that the existence of such an object would have, but I felt it was more interesting for an audience to imagine them under their own ideological standing rather then run the risk of going off topic.
Why wait 300 years was a question I answered quite thoroughly, but again it added many layers which were hard to fit in a gallery based installation. Several ideological and political stands are represented in architectural structures that do last hundreds of years. To a radical mind, many of these buildings would represent a threat to future generations. Another scenario would be manufacturing a perfect crime, if the explosive goes off after the maker has died and has been forgotten then there isn't even a suspect. Once more I felt that these two scenarios could be projects on their own and that there were enough elements for people to make up their own stories.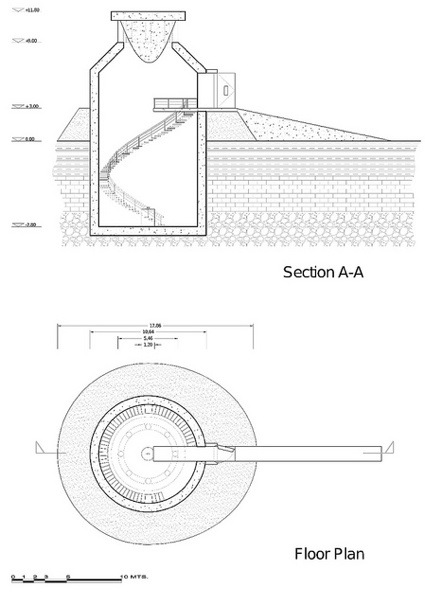 Sorry for the silly questions but is this a working prototype?
As much as humans enjoy seeing things blow up, this is not a working prototype. I don't have the knowledge or materials required to make a real explosive. I do like that it is convincing enough for this question to get asked though.
What will happen to the time bomb after the show, are you planning to keep it at your house? put it in a super safe place in case an accident happens? (i guess this question makes sense only if you answer 'yes' to the previous question.)
I will keep it in my house. Since it is not a working bomb I am not worried about accidents. However, the home I will store it in is in Mexico City meaning that getting it on an air plane could get a bit tricky, I still have to figure that out.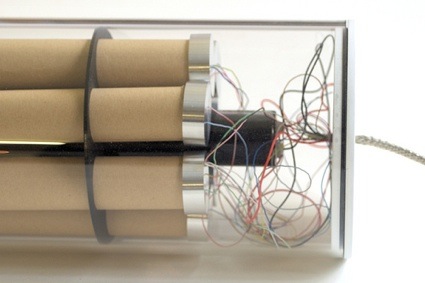 I suspect that as an interactions designer you're quite comfortable with working with electronics. But with this time bomb, you had to think extra long term. Pieces of electronics are usually not meant to last more than a few years or decades in some cases. So did you change anything in the way you worked, the materials you used, knowing it would have to last 300 years?
This was the thing I spent the most time with. I had to make electronics that would at least be perceived to last 300 years. The first thing I thought about was the battery (represented by a glass cylinder filled with black liquid). I found an experimental battery being developed at MIT called Cambridge Crude which is supposed to be efficient at storing and delivering electricity.
Then I thought about the display. This is where most of the attention would be as this is where the concept of the project is represented. I had to redesign the standard 7-segment display in a way that it would be read as energy efficient for my scenario to be plausible. I started designing a typeface based on it being energy efficient rather than readable or elegant.
When I started looking for materials to manufacture this, I came across organic LEDs (OLEDs) which are very energy efficient and can be printed in any shape. They are however still very experimental technology. By chance, I met with people from Polyphotonix, a U.K. based OLED company that sponsored and manufactured the display. They made all the individual panels for it by printing the OLED compounds onto conductive glass, this was particularly hard to connect as glass cannot be soldered and I had to come up with a mechanical way of getting electricity to the glass.
The nice thing about using custom made OLEDs is that they are very different from any existing display. Not being a standard part, no one really knows how long they'll last so the scenario becomes plausible as a result of looking at a new technology that people aren't used to seeing.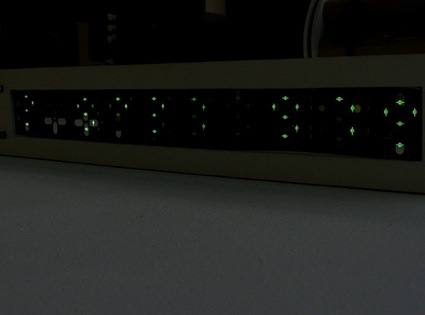 Your text says "The bomb's timer displays the years in seconds making us question what meaning such a large number holds and changing our dramatic relationship with countdown timers." could you explain in more details what you mean by that?
Being heavily influenced by action films, I realized that any countdown timer has a dramatic element to it. That was the first thing I explored when I thought of the bomb, how will the suspense hold for so long? That would be the first effect very long lasting electronics would have on this system. I made a short animated video early in the project to explore how that 5-4-3-2-1 moment would collapse when the countdown has a massive number on display.
Thanks Diego!
All images courtesy DIego Trujillo.