A software that can be installed on a pc and used with a standard telephone, generates pictures of moving faces from speech is helping hard of hearing users.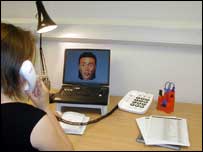 Synface – synthetic face – was developed by researchers at the Royal Institute of Technology in Stockholm, and University College London.
The system recognises the different sounds in speech from the person at the other end of the line and then recreates the lip movements on a moving artificial face displayed.
This enables the user to lip read real-time speech as well as listen in the usual way.
Unlike videophones, the other user does not need to have their phone attached to a computer and can use their existing phone.
The device should be available within five years and scientists envisage the technology could be used with mobile phones, PDAs and future communication devices.
From BBC Health.