The free digital publication TABOO ‒ TRANSGRESSION ‒ TRANSCENDENCE in Art & Science 2018 features a series of texts presented at the 2018 TTT conference in Mexico City.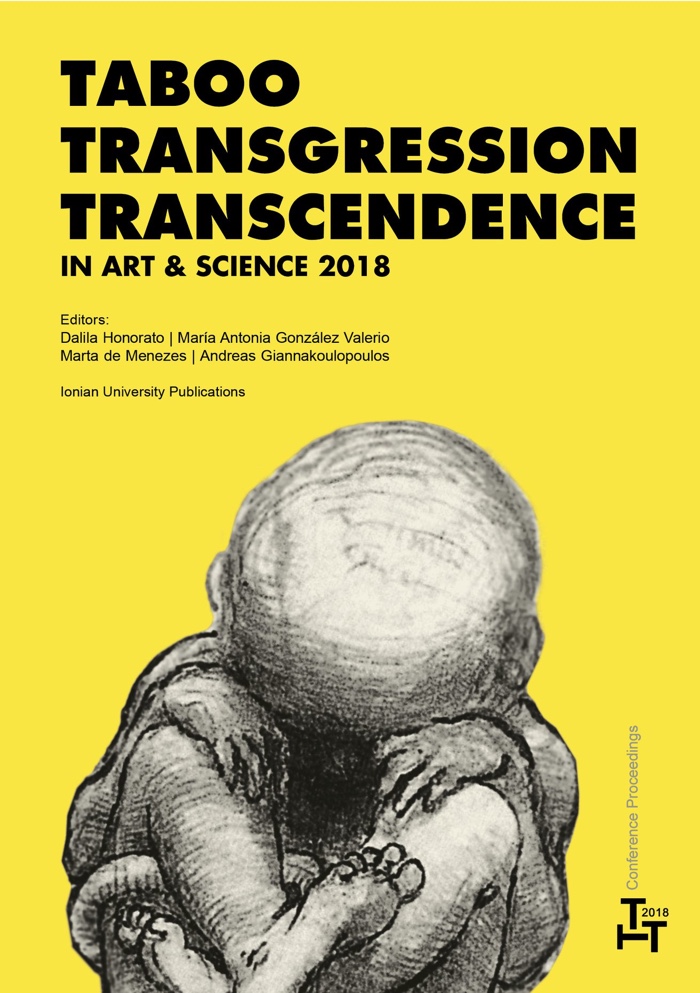 Taboo ‒ Transgression ‒ Transcendence in Art & Science explores the nature of the forbidden and the aesthetics of liminality in art that engages with technology and science.
The proceedings are accompanied by photos that document the talks and the accompanying exhibition. As usual in this type of publication, some essays are stronger than others. Some are pleasant to read, others made me sweat. But all in all, the content makes for a fascinating dive into the world of art, science and uncomfortable questions. Here's an overview of some of the essays i've particularly enjoyed:
In Coping with new categories and complex phenomena: a thought-in-progress, Roberta Buiani looks at the new types of bacteria and viruses, bioengineered species, digitised creatures and other complex life forms that have been recently created, often through scientific and technological discoveries and manipulations. She then outlines the questions and debates they have generated over the past 10 years. How do we define the boundaries of these life forms? How do we rethink the models we've inherited and used for centuries but that do not reflect anymore the proliferation of life forms designed, redesigned and invented in laboratories? How does this conversation reflect on a concept of nature that has now incorporated an idea of artificiality?
Wet-Lab art practitioner Adam Zaretsky offers a thought-provoking reflection on his own work which is characterised by a crossover between bioart, bioporn and medical atrocity as well as by the "refusal to live a dopamine-starved suburban non-existence". His contribution to the publication consists in an introduction and a copy of a license he started working on a few years ago while shooting a performance movie called pFARM. The licence, originally devised to protect the organiser from legal issues involved in producing porn films that showed bioart human experimentation as actually enacted, can also act as a guideline to other artists and creators whose practices might disrupt body integrity.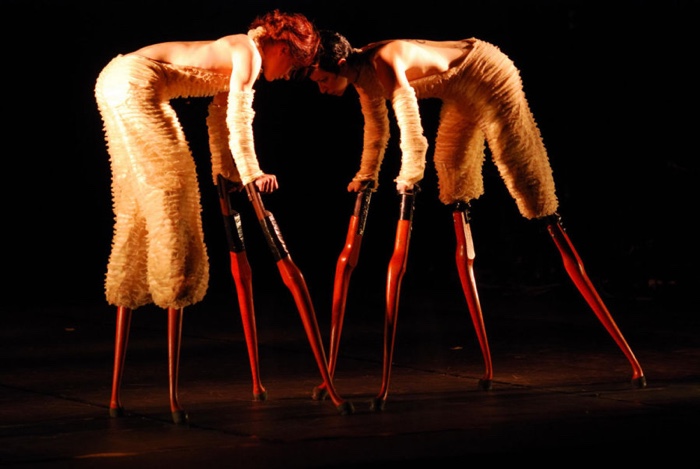 Lisa Bufano and Sonsherée Giles, One Breath is an Ocean for a Wooden Heart, 2007. Photo via Kontejner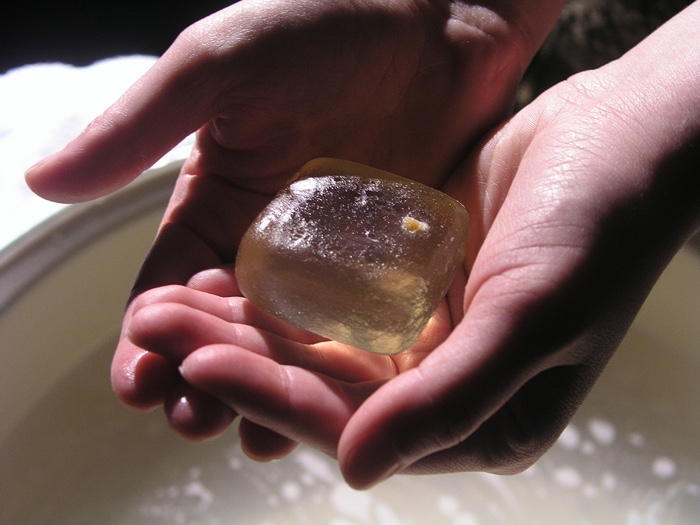 Zoran Todorović, Agalma, 2003-2005
I was very happy to read Kontejner's essay. Since 2002, the Zagreb NGO has been a pioneer in the production, exhibition and thinking around the entwining between art, science, technology and body. Their text goes through some of the key moments of their curatorial practice. I'll just mention Zoran Todorović's Agalma, a series of events which involve crafting and allowing audiences to try soaps made of the artist's skin and fat. As well as Lisa Bufano and Sonsherée Giles' incredible dance performance on wooden stilts.
Olga Timurgalieva's contribution used recent art practices conceived with or for other species as a springboard to reflect on speceism as a fundamental aspect of Western subjectivity. Two of the most powerful examples she chose to illustrate the decentering of the human in bioart multispecies interaction are Caitlin Berrigan's Lifecycle of a Common Weed and Miriam Simun's Recipe II: Human Cheese.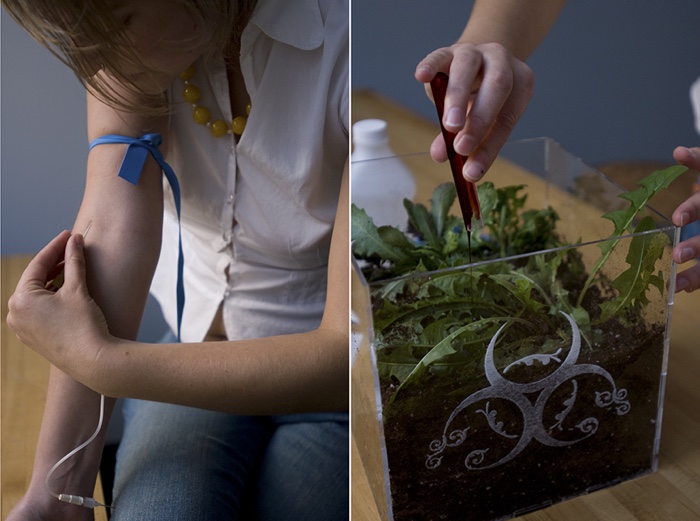 Caitlin Berrigan, Life Cycle of a Common Weed, 2007. Photos by Alia Farid
In the performance, Berrigan -who is suffering from hepatitis C- gave some of her blood to a dandelion plant. While the blood carrying the virus is dangerous for humans, it constitutes a nitrogen-rich fertiliser for the plant. At the same time, the artist was drinking dandelion root tea as a treatment to cure her liver of viral infections. "In this way, her hepatitis positive performatively shared care, violence and suffering with the weed commonly unaccepted in urban areas."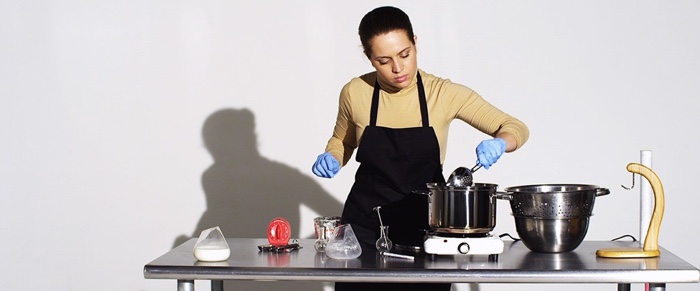 Miriam Simun, Recipe II: Human Cheese, 2011
During the Recipe II: Human Cheese performance, Simun offered the audience homemade cheese produced from human breast milk bought online and mixed with goat's milk. The artist called the performance a "multispecies collaboration" between mammals and companion species including microbes.
Another absorbing essay was Nicole Clouston's. She explained how her artistic practice, which involves collaborating with microbes and in particular the ones living in soils, reveals how interconnected we are to other non-human species and how we have a duty to treat them as companions that deserve care.
Rachel Treide analyses Joe Davis' Malus ecclesia, an ongoing research project in which Davis has encoded sections of the Wikipedia entry for 'Good and Evil' into the genome of the oldest species of apple available on Earth. With this project, she argues, Davis has created a living library that does not rely on human memory.
Sharry Taylor and Efrat Gold have a fascinating essay that reflects on the enduring and problematic legacy of DSM (Diagnostic & Statistical Manual of Mental Disorders), a book published in 1952 which continues to be instrumental in our understanding of "mental illness" and its association with work and socialisation.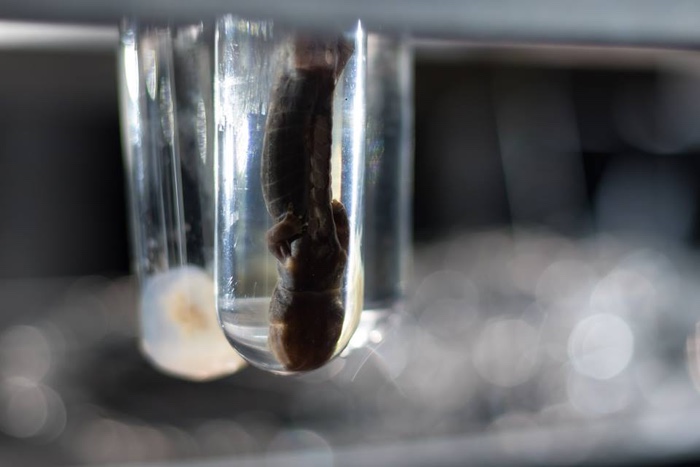 Robertina Šebjanič, Lygophilia (Neotenous dark dwellers)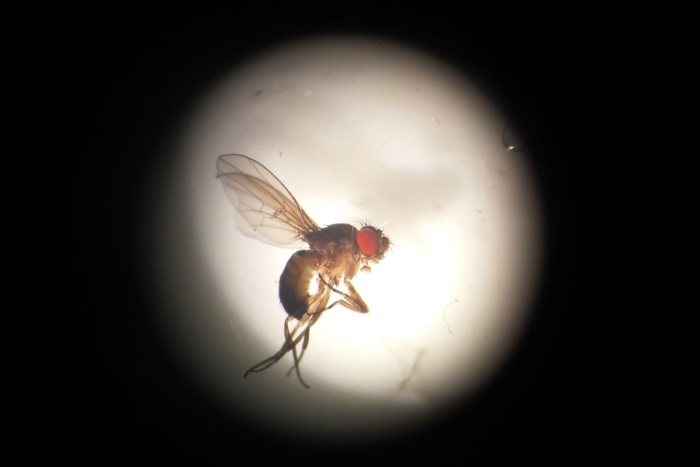 Andy Gracie, Drosophila titanus, 2012 Photo by Andrew Gracie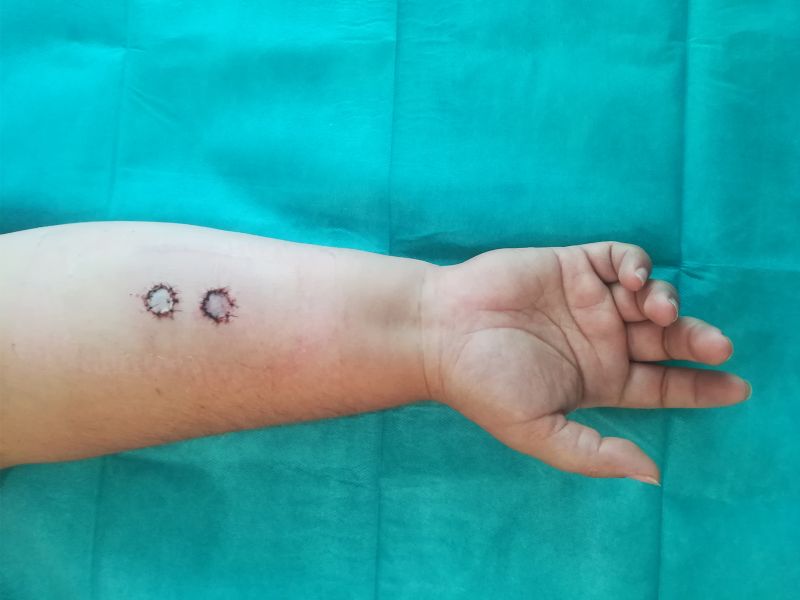 Marta de Menezes and Luis Graça, Anti-Marta, 2018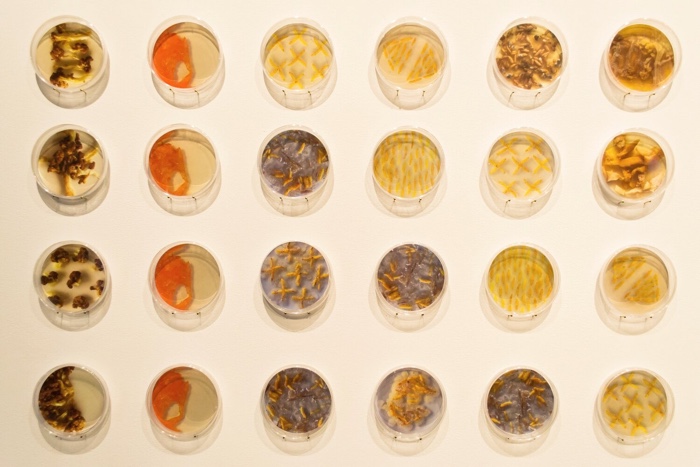 Jude Abu Zaineh, Maqlouba, petri dishes, documentation of Maqlouba, brass nails, 2019. Installation shot by Philip Habashy
The book closes on a documentation of the exhibition Espacios de Especies / Spaces of Species which took place in parallel to the conference at the Centro de Cultura Digital in Mexico. The chapter includes the texts of the exhibition as well as the introduction by the curator María Antonia González Valerio and Marta de Menezes.
I wish i had seen the exhibition. It was packed with what looks like thought-provoking works such as Victoria Vesna's Bird Song Diamond, a research project that aims to permit humans to understand the grammar and meaning of bird songs. Or Robertina Šebjanič's Lygophilia, a series of research-based artworks that explore the dwellers of places dark and inhospitable for humans. Or Brandon Ballengée's long term art and science inquiry into the impacts that the 2010 oil spill had on the biodiversity in the Gulf of Mexico. Or Kathy High was showing Gut Love: You Are My Future which examines research in fecal microbial transplants and gut biomes to better understand the importance of bacteria's function in our bodies. I'm also very curious about Anti-Marta, a skin transplant exchanged between Marta de Menezes and her partner Luis Graça.
The call for paper, poster and artist talk for the upcoming edition of TTT, in Vienna this time, is already up. The deadline is 31 March 2020.