This merry little machine is the SUBARU RoboHiter , an outdoor cleaning robot currently on show at Aichi World Expo. It cleans the floor whatever weather, is able to pick up a garbage can and is equipped with GPS, position recognition and a moving system using a laser sensor and triangulation.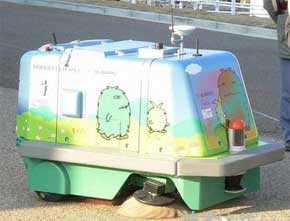 RoboHiter can communicate with two of its robot mates to ensure a synchronized cleaning of fixed areas.
Picture from CleaningInfo.