Zilvinas Kempinas, Double O, 2008. Photo by Mick Visser
Let's pretend it's November 2010 and i'm writing a perfectly timely report from the STRP festival in Eindhoven. Well, i did try at the time (cf. The Physiognomic Scrutinizer and Pattern Recognition – Art for animals) but that was very far from making justice to the programme. STRP is one ambitious art & tech affair which most of the taxi drivers who dropped me to the old klokgebouw venue unceremoniously called 'The Party'. STRP does indeed offers one hell of 10 day long party: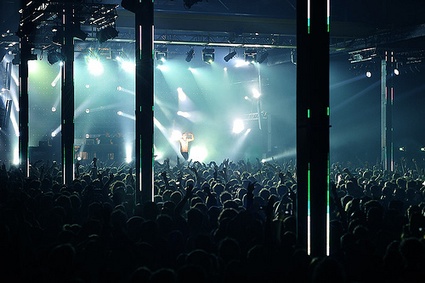 Photo by Mick Visser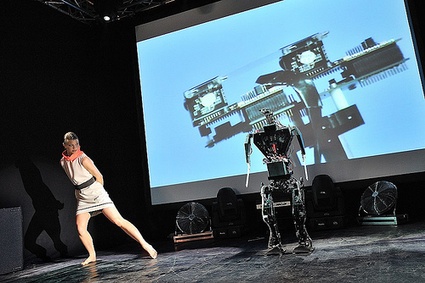 2 of a Kind. Photo by Mick Visser
The last edition of STRP attracted almost 30,000 visitors. They came for the concerts and parties of course, but also for the performances, exhibitions, screenings, live discussions, conferences, games and workshops.
The exhibition was particularly exciting with its mix of low tech and high tech. Zilvinas Kempinas' Double O which i had seen only in contemporary art fairs so far is made of just two fans and a strip of recording tape. You switch on the fans and hey presto! you get a sculpture that hovers between sheer poetry and vintage tech. At the other end of the spectrum were works such as Acclair's Art Valuation Service (AVS) that monitors your brain activity as you visit STRP's art exhibition.
For the first time since its creation, STRP dedicated part of his enormous exhibition space to a survey of the work by a young artist. They had the magnificent idea to chose Lawrence Malstaf, an ex-theatre set designer who's been quietly building his artistic career in the mid-1990s. The international new media art circuit discovered Malstaf's work a couple of years ago and his installations have been gracing the likes of ZKM, Vooruit and the Japan Media Arts festival ever since.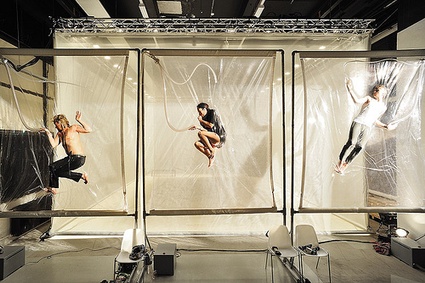 Lawrence Malstaf, Shrink, 1995. Photo by Mick Visser
Malstaf's most puzzling and iconic works were there. From the now world famous vacuum-packing experience provided by Shrink….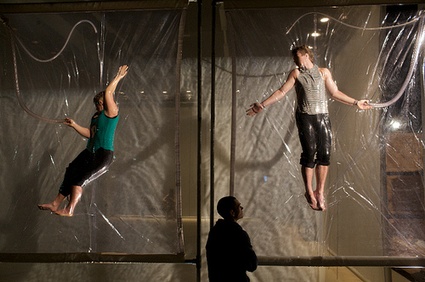 Lawrence Malstaf, Shrink, 1995. Image by Boudewijn Bollmann
… to the ars electronica anointed Nemo Observatorium: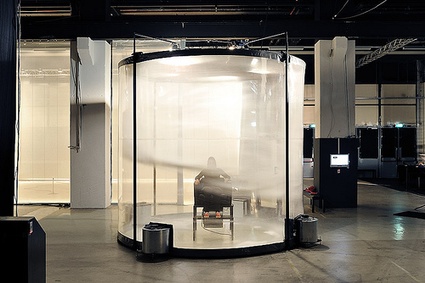 Lawrence Malstaf, Nemo Observatorium, 2002. Photo by Mick Visser
And then there were pieces which are equally noteworthy but might not have attained the same media-attention just yet. Such as a belt to navigate invisible architecture, the moving labyrinth of Nevel…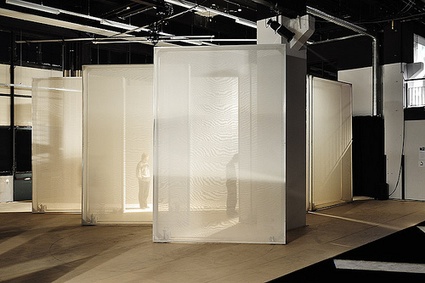 Lawrence Malstaf, Nevel. Photo by Mick Visser
… a duo of conveyor belts running very slowly in opposite directions. Rolls and wheels hidden underneath add a tactile dimension to the experience.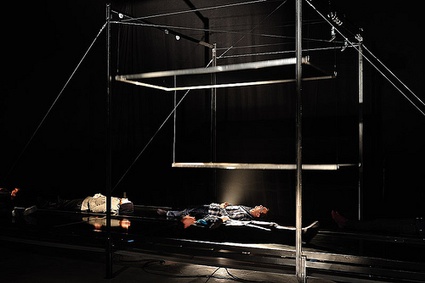 Lawrence Malstaf, Transporter, 2008. Photo by Mick Visser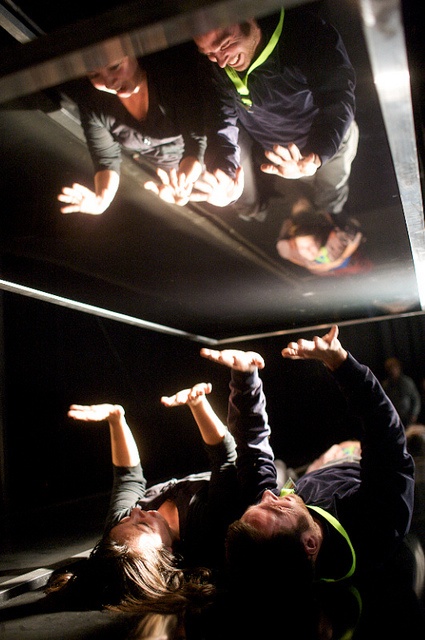 Lawrence Malstaf, Transporter. Image by Boudewijn Bollmann
I was both attracted and horrified by Shaft which has you laying with your face under a transparent shaft where plates hover and dance until they collide and break on the bulletproof glass. Just. Above. Your nose.
Lawrence Malstaf, Shaft, 2004. Video by ONIRISTV
More goodies awaited in the other exhibition rooms:
Lyndsey Housden & Yoko Seyama's Transient Landscapes is a performance installation that constructs and re-constructs the architecture of a room. On entering this field of vertical white lines performers as well as visitors can shape the space into patterns and images reminiscent of cityscapes and landscapes.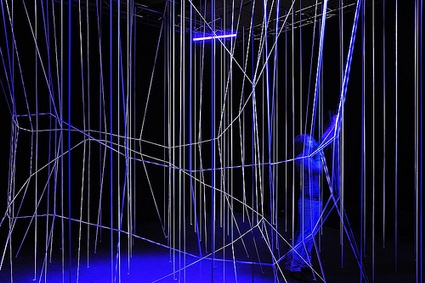 Housden & Seyama, Transient Landscapes Photo by Mick Visser
I felt immensely sorry for the poor electric fish brought from the Amazon River to be squeezed in a tank, endlessly photographed by curious visitors and form a choir based on their sonified electric fields.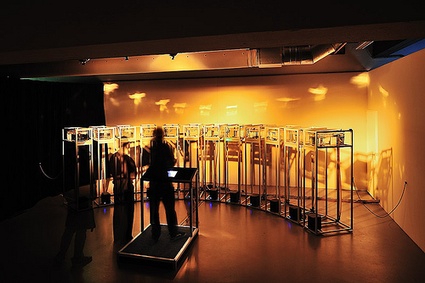 Malcolm MacIver, Marlena Novak & Jay Alan Yim, Scale, 2010. Photo by Mick Visser
Colin Ponthot's Monster Happy Tape is a blob of used audio tape hanging from the ceiling. By grabbing one of the yellow cables with magnetic heads at their extremity, visitors could play back sounds that might have been registered on the tape. A particular success with the kids who probably needed to be explained what a tape and a walkman are/used to be but also how physical sound can be.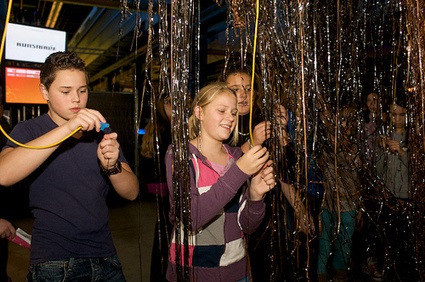 Colin Ponthot, Monster Happy Tape. Photo by Boudewijn Bollmann
The installation was part of the REwind: Compact Cassette programme which reminded visitors that the tape cassette was originally developed by Philips in Eindhoven back in the early 1960s.
In another building Christoph De Boeck had built a Staalhemel, a 'steel sky'. Tiny hammers tap rhythmic patterns on steel plates, activated by the brainwaves of a visitor wearing an EEG scanner.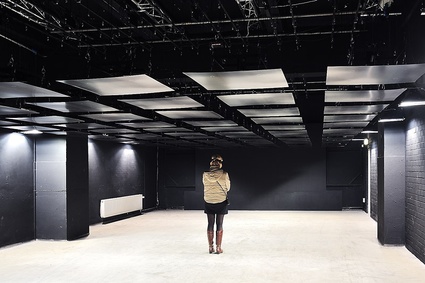 Christoph De Boeck, Staalhemel, 2010. Photo by Mick Visser
There was also a big plush cat in the adjacent room: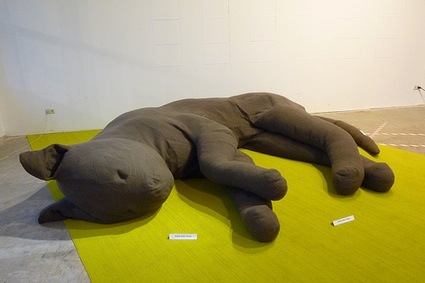 More images on flickr: Photos by Mick Visser, photos by Boudewijn Bollmann and mine.
Previous posts about the last edition of STRP: The Physiognomic Scrutinizer and Pattern Recognition – Art for animals.