Staging Disorder, edited by Christopher Stewart and Dr Esther Teichmann.
(available on amazon USA and UK)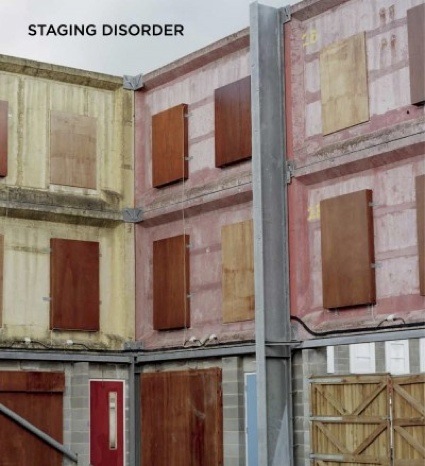 Publisher Black Dog writes: Staging Disorder brings together work that considers the contemporary representation of the real in relation to photography, architecture and modern conflict.
The concept of 'staging disorder' looks not to how photographers have staged disordered reality themselves, but rather to how these artists have recognised and responded to a phenomenon of staging that already exists in the world.
Military simulations of rooms, houses, planes, streets and whole fake towns in different parts of the globe provoke a series of questions concerning the nature of truth as it manifests itself in current photographic practice.
(…)
In highlighting the resonance that these projects have with one another, the publication develops a thesis on contemporary photography at a point when we are currently witnessing a shift away from a critical discourse that has been preoccupied by theoretical concerns related to artifice and illusion.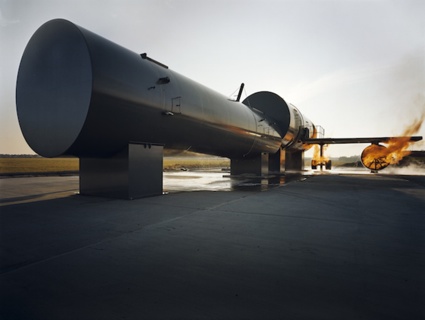 Richard Mosse, Airside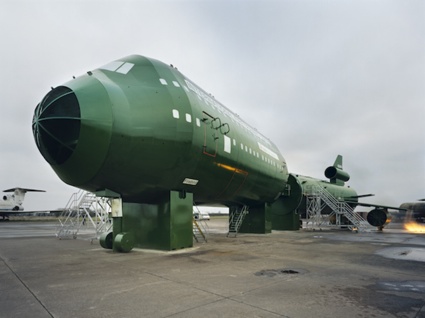 Richard Mosse, Airside
Everything in this book is fake: fabricated streets that barely look real, sculptures of airplanes that look like cheap overblown toys, American soldiers who pretend to be the enemy and paint anti-US slogans on the walls, etc.
These images come with a description that immediately imbue them with dread, tragedy, horror ad terror. There is often little to see though. An empty room with a chair in the middle or a wall with graffiti but that is often enough to have us speculate about the brutality deployed there. These are architectures specifically designed for rehearsal, for pre-enactment of conflicts and acts of violence. We will probably never see any of the locations documented by the 7 photographers whose work is included in the book but the photos are nevertheless chilling because the danger they evoke is often set in civilian, even domestic context.
The photos presented in the book are astonishing and often spectacular but they also make us reflect on a society that fears and feeds on threats and catastrophe. Staging Disorder also invites us to consider the role of photography, a medium which relation to truth is routinely being questioned, when it comes to documenting a reality that is fabricated.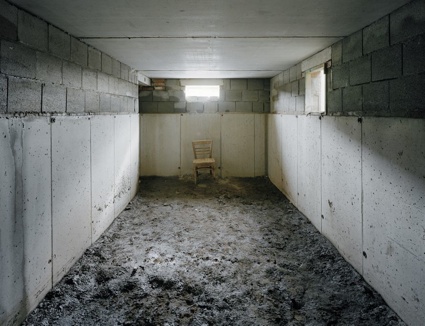 Beate Geissler and Oliver Sann, Personal Kill #13, 2006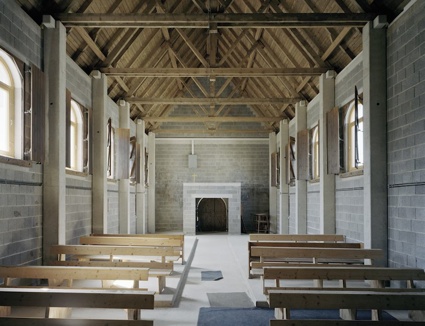 Beate Geissler and Oliver Sann, Church West, Übungsdorf, 2008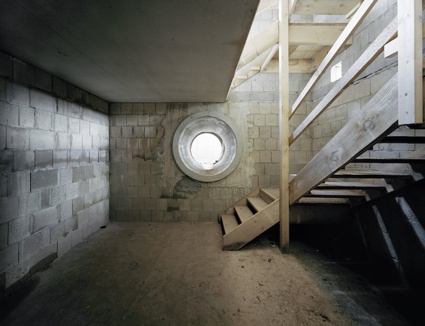 Beate Geissler and Oliver Sann, Personal Kill #11, 2006
In military lingo, killing with direct contact is called a "personal kill." Beate Geissler and Oliver Sann visited a place in Bavaria (Germany) where American soldiers are trained to do so. The settings are not the usual battlegrounds. They are mundane, civilian spaces where, increasingly MOUT (Military Operations on Urban Terrain) are taking place.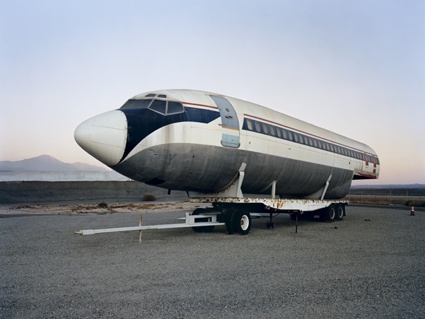 Richard Mosse, Airside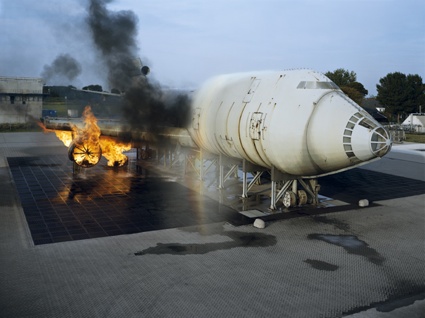 Richard Mosse, Airside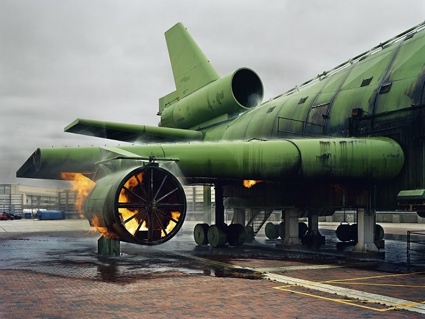 Richard Mosse, 747 Heathrow
The image of a plane on fire has always evoked fear. Our post 9/11 world has made the same image even more tragic, shocking but also strangely fascinating. In his "Airside" series, photographer Richard Mosse captures the disaster-response training practice of setting life-size model airplanes on fire.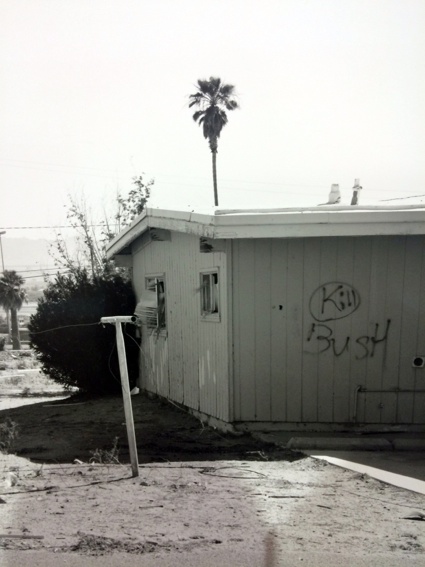 An-My Le, 29 Palm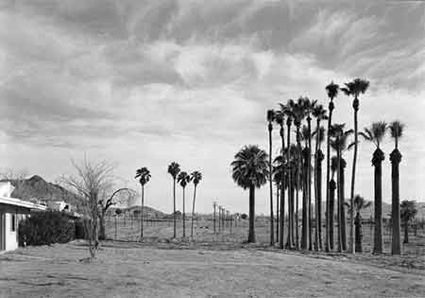 An-My Lê, 29 Palms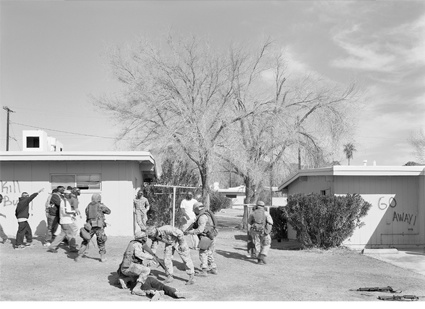 An-My Lê, 29 Palms
An-My Lêtraveled to a Marine base called 29 Palms, in the California desert. This where soldiers train before being deployed to Iraq or Afghanistan. The series show the American soldiers both rehearsing their own roles and playing the parts of their adversaries.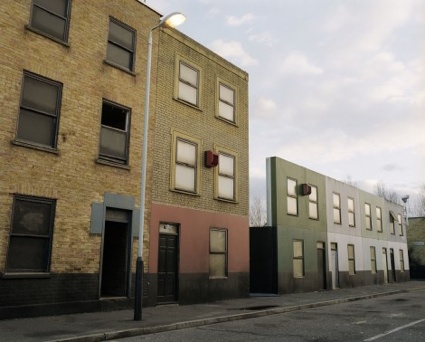 Sarah Pickering, High Street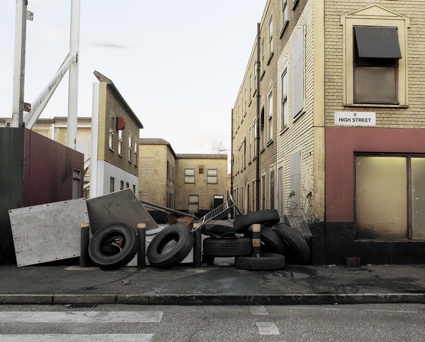 Sarah Pickering, Public Order
Public Order is a series of photos of the Metropolitan Police Public Order Training Centre, a simulated urban environment where officers rehearse responses to football riots, protests, acts of terrorism and other acts of civic unrest.
The fabricated training locations look a bit like the fake backdrops used to shoot Western movies. The largest of these, Denton, is a huge network of fake streets and cinder-block facades, with all of the hallmarks of a midsize British working-class city, including a football stadium, a nightclub, and a Tube station.
Pickering's images demonstrate better than any newspaper article the omnipresent anxiety and fear of terrorism that pervade our society. "My work explores the idea of imagined threat and response, and looks at fear and planning for the unexpected, merging fact and fiction, fantasy and reality," she states.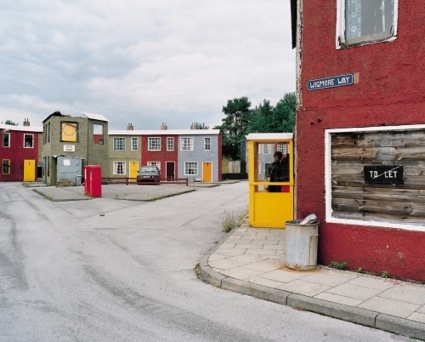 Claudio Hils, Close Quarters Battle Range, village centre
In military context, Red Land-Blue Land are terms that define a site divided into the territories of friend (blue) and enemy (red.) The military training ground of Senne in Germany is one such site. Claudio Hils documented a ghost town that looks normal until you start to identify cartridge cases, overgrown graves, human-shaped targets, wooden backdrops that represent streets, etc.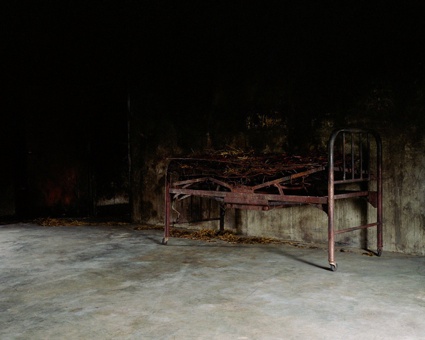 Christopher Stewart, Kill House, 2005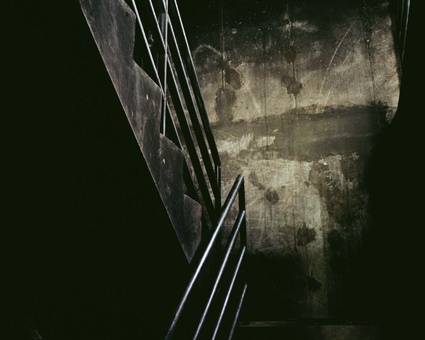 Christopher Stewart, Kill House, 2005
At the time of the work, an estimated 25,000 private military personnel were stationed in Iraq, collectively forming the second-largest fighting force in the country after the US Army. Mostly funded by US tax dollars, these armed security services handle tasks that include training local forces, surveillance, fighting but also 'clearing' domestic houses in war zones such as Iraq or Afghanistan. The mercenaries aren't trained in US boot camps but in places like the one located in a vacant area of Arkansas and depicted in Christopher Stewart's photographic series Kill House.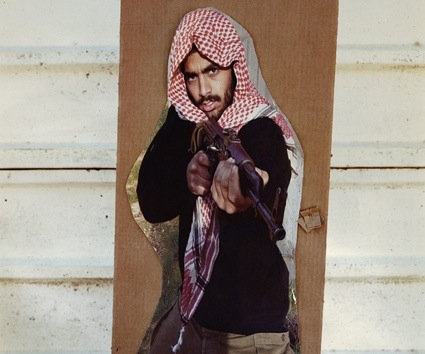 Adam Broomberg & Oliver Chanarin, Chicago #10, 2006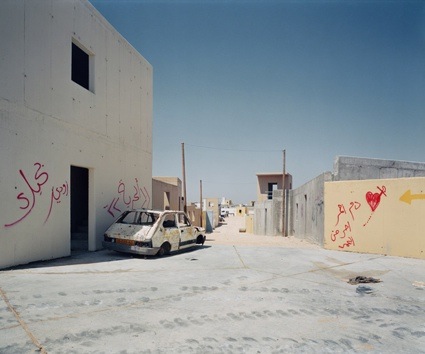 Adam Broomberg & Oliver Chanarin, Chicago #2, 2006
The Chicago series documents a fake Arab town built in the middle of the Negev desert by the Israeli Defense Force for urban combat training. "Everything that happened happened here first, in rehearsal," write Adam Broomberg & Oliver Chanarin. All wars led and to be led by Israel in the future get a test run in the streets of Chicago, where the only traces of human beings are photographs of Arab militia used for target practice. Chicago comprises different settings that reflect the terrains where the IDF might have to strike: a fake refugee camp, a fake downtown neighbourhood, a fake rural village, a dense market area, etc.
Staging Disorder is also an exhibition currently open in the galleries of the London College of Communication. The show runs until Thursday 12 March.