Sonic Agency. Sound and Emergent Forms of Resistance, by Brandon LaBelle.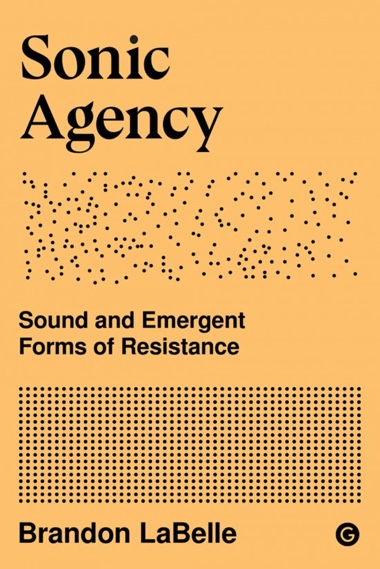 Available on amazon USA and UK.
Publisher MIT Press writes: In a world dominated by the visual, could contemporary resistances be auditory? This timely and important book from Goldsmiths Press highlights sound's invisible, disruptive, and affective qualities and asks whether the unseen nature of sound can support a political transformation. In Sonic Agency, Brandon LaBelle sets out to engage contemporary social and political crises by way of sonic thought and imagination. He divides sound's functions into four figures of resistance—the invisible, the overheard, the itinerant, and the weak—and argues for their role in creating alternative "unlikely publics" in which to foster mutuality and dissent. He highlights existing sonic cultures and social initiatives that utilize or deploy sound and listening to address conflict, and points to their work as models for a wider movement. He considers issues of disappearance and hidden culture, nonviolence and noise, creole poetics, and networked life, aiming to unsettle traditional notions of the "space of appearance" as the condition for political action and survival.
During the Haitian Revolution, as the French soldiers sent by Bonaparte to reconquer the territory approached by boat, they could hear that Haitian slaves were singing a melody. They soon recognised it: La Marseillaise, the French revolutionary song, the patriotic call to fight against tyranny and foreign invasion. By making the famous anthem to freedom theirs, the Haitians defined themselves as citizens, not slaves. The French soldiers were confused, they realized they were the abhorred foreign oppressors of their own patriotic song.
The story ends well for the Haitians. The French army did attack them but the uprising led to the founding of a slave-free state that was ruled by non-whites and former captives. The Marseillaise sung by the people oppressed by the French was my favourite anecdote in Brandon LaBelle's book. Each of the stories he conveys in Sonic Agency illustrates the agentive potentiality of sound, its power to exceed arenas of visibility, to interrupt the dominant order and support social and political struggles.
LaBelle identifies 4 mode of sonic agency, each with its own potential tactics and ways of building alternative frameworks of sociality:
– The invisible looks at how the unseen quality of sound might be mobilized as a basis for emancipatory practices.
– Anchored in the urban context, the overheard stems from interruptions and disruptions that encourage unplanned social encounters.
– The itinerant is dedicated to those who have lost their home either because of eviction or forced migration and who have, as a consequence lost their rights to the city. With the itinerant, lies another potential for acts of interference, estrangement and eventually maybe also a new appreciation of diversity (sonic or not).
– The Weak teaches us how to use fragility as a position of strength. It consists of passive resistance, peace prayers, hunger strikes, silent vigils, candle-lit marches, etc.
I must confess that Sonic Agency was not the book i was expecting. I was awaiting activist practices that use sound in a louder, more straightforward way. I was expecting more stories like the one of the Haitian rebels, more creative ways of getting your voice heard, more practical and easy to replicate examples of subverting the visible and leaving your mark in the public sphere.
Once i had absorbed the surprise of opening a book that wasn't as obvious as i might have wanted, i ended up enjoying the journey. It's a very theory-heavy journey but at least you're in excellent company as LaBelle calls upon the expertise of Aimé Césaire, McLuhan, Bifo Berardi, Richard Sennett, Villém Flusser, Rastafarian culture, Edouard Glissant, Hannah Arendt, AbdouMaliq Simone and other thinkers to articulate how a sonic agency can support speech and action in a contemporary world dominated by forces intent on stifling them.
If you're interested in what sound can do, this time with the most unpleasant ends in mind, i'd highly recommend another MIT Press book: Sonic Warfare. Sound, Affect, and the Ecology of Fear by Steve Goodman.
Image on the homepage: Protesters taunt a line of military police during an anti-Vietnam War protest outside the Pentagon in 1967 (Bettmann/Getty Images), via Timeline.