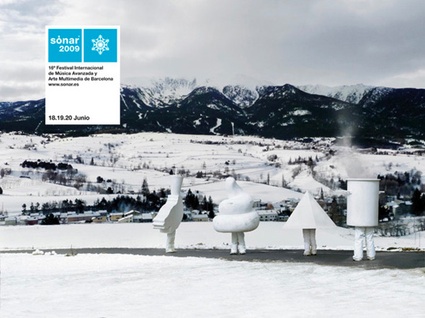 Given my notoriously campy taste in music, you will be relieved to know that i'm going to carefully avoid reviewing the music side of Barcelona's International Festival of Advanced Music and Multimedia Art. What's left then? Fashion, a bit of advertising and the SonarMàtica exhibition.
Sonar's participants' fashion sense was tamer than i expected this year. Hop! Hop! Let's move on to the festival's advertising campaign which have, so far, shown an unconstrained taste for shocking, surprising and amazing. Taxidermied animals, Smiley, people with pee stains on their pants, creatures of worrying genetic heritage, notorious fraudsters and even Maradona have starred in Sonar's posters and promotional videos. Have a look at the photo set of Sonar's most provocative ad campaigns and at the video that the festival created back in 2001. That year, broadcasters refused to air the original video but didn't object to this ridiculously censored version.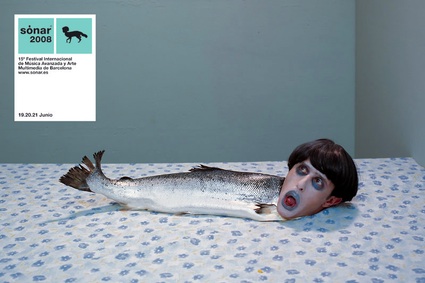 One of the images for Sonar 2008
This time, the Sónar image is on the safe side but it is nevertheless striking. The heroes of the posters and video are cute majorettes from the world of dreams, who have lost their bearings in the land of the living as a result of calls from a fiendish telephone booth. Follow their 14 minute long adventures:
SonarMàtica is actually what usually brings me to Sonar. The title of the exhibition this year was Mecànics. It aimed to give a platform to some of the driving forces behind nowadays' artistic and mostly DIY creation: mostly centres of production based in Barcelona (with notable exceptions such as MediaLab Prado in Madrid) which were given the opportunity to showcase ongoing projects and postgraduate projects but also to organize workshops, tours and open rehearsals.
Mecànics is the third and final exhibition in the SonarMàtica XIXth Century trilogy, a research project drawing comparisons between the nineteenth century and the twenty-first century. Unlike the two previous exhibitions, Et Voilà!, which highlighted the relationship between magic and technology, and Future Past Cinema, which looked at the recovery of pre-film formats in contemporary, Mecànics had a fairly diluted identity/ The reason for that lays probably in the fact that the exhibition was showcasing the best of what Barcelona makes in art production center rather than exploring with brilliance and cohesion a defined theme. The result is rolllercoaster that leads you from gems to strikingly weak pieces.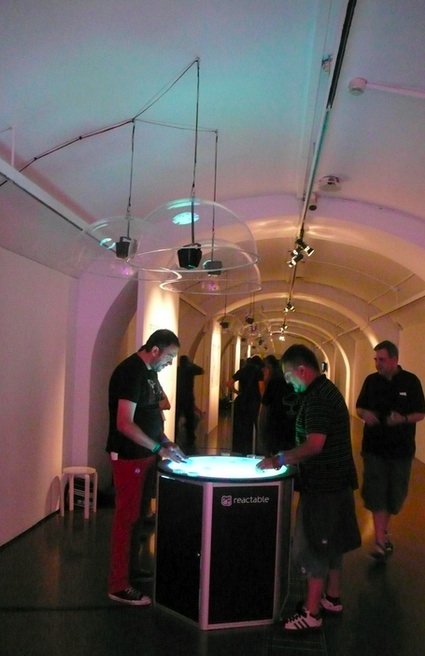 Lovers of interactive tables were having a blast this year
I caught myself thinking i shouldn't have bothered. This edition of SonarMàtica had decided to write off SonarCinema, Digital à La Carte and also the artists talks and debates i had enjoyed so much last time i was there (unless, damn! i've missed it). A few projects i've (re)discovered in the exhibition made it worth the trip though:
The Sounds of Science (los sonidos de la ciencia), developed by Jay Barros during MediaLab Prado's Interactivos?'09: Garage Science workshop, uses off the shelf and mostly recycled equipment to create audio visual remixes of sounds and images captured from the urban micro-environment, to "lay-down" some beats and frequencies that serves as a musical score for a visual display of what exists beyond the realm of our everyday vision. At the heart of the project is a home-made microscope designed with a CCD sensor from a camera and the lens from a CD player. Image processing programs analyze various samples from protozoa gathered in urban environments and turn them into algorithms which provide the basis for visual and sound composition.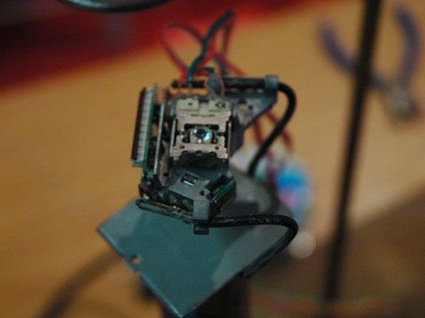 L'Orquestra dels Luthiers Drapaires (the Luthiers Drapaires Orchestra) is made of spectacular robotic instruments that have been created out of technological waste found on rubbish dumps and in the street. Telenoika has decorticated the waste and enhanced it with a little help from circuit prototyping and acoustic research.
"Luthiers Drapaires" is proof that the waste we generate provides enough raw material to build sophisticated devices. Besides, the growing amount of tools and information available online provide everyone with the possibility to access the knowledge needed to turn rubbish into artworks.
Video by mediateletipos
For Sónar, the orchestra was composed of a percussion set made of electromagnetic pistons; a theremin made from two radios; an adapted television which works as an oscilloscope; a guitar made of string, a crate of wine and the engines from a hair removal machine; and a set of automated tubular bells.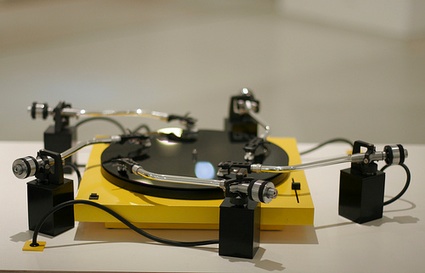 Prepared Turntable, 2008
Yuri Suzuki brought some much-needed poetry to the exhibition. He displayed some of his charming Physical Value of Sound pieces but also a 2004 piece called Jelly Fish Theremin. The movement of a fish in a horizontal bowl controls the sound, air- conditioning, the visual image and lighting.
Small gold fish were swimming inside the instrument at Sonar but the original work used a jellyfish: I used jellyfish as the control center, since jellyfish are made up of 98% water, and I thought that the will of the water would be reflected in the movement of the jellyfish, if only a little. If we were able to create a space controlled by jellyfish, wouldn't it be the ultimate place of relaxation?
And if you understand japanese…
For a pretty accurate and smart review of the exhibition with videos, just run to mediateletipos.
Image on the homepage courtesy Yuri Suzuki.