In Korea, game makers are developing systems that will enable office workers to play with lower risks of getting caught.
A new game system developed by CCR is designed so that you can play the game without opening up any windows. The icons are planted at the bottom of the screen, where you usually find shortcut icons and tabs for programs currently open on your computer.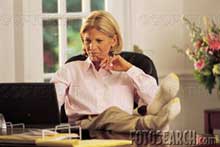 "We are specifically targeting office workers in their 20s and 30s. Now, workers can play games with fewer worries of being discovered," a CCR official said.
Acknowledging the demand for low-profile game-playing, developers also offer games to be played on "mini windows." If you hear approaching footsteps, a press of the F11 key will shrink the large window into a small one.
An official at game developer Nexon said that the feature was especially popular among office workers. "In a racing game, you can't stop in the middle, because you're competing with other people. However, shrinking the size of the window makes it less noticeable."
Via JoongAng Daily.