Pulse Data just unveiled the smallest PDA for blind people.
The BrailleNote PK pocket sized PDA supports Wi-Fi and Bluetooth connectivity and can sync with Microsoft Office and Outlook, or play MP3, Windows Media, and other audio files. It should be shipped early in the fourth quarter of 2004.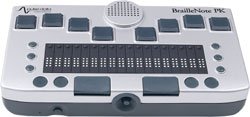 From Geekzone.
Related entries: Mobile phone for blind people, Location-based game for blind people, GPS for visually impaired, Voice-based guidance system for mobile phones.